Main content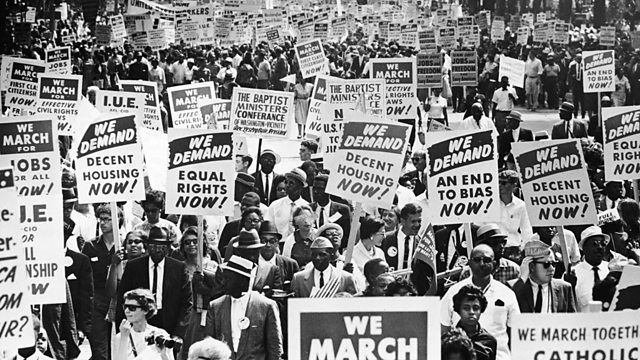 This Train Rides Again
Using as its spine a 1963 documentary on board a Chicago train taking civil rights campaigners to the March on Washington, we recreate that journey to review the march's legacy.
In 1963, the legendary American broadcaster, Studs Terkel, presented a radio programme, 'This Train,' in which he followed African Americans travelling on a train from Chicago to Washington. They were part of the March on Washington, which culminated in Martin Luther King's "I Have a Dream" speech. The thousands who took part wanted to achieve jobs and freedom for black Americans. One woman on the train spoke of her hopes for a better future for her relatives, "after I am gone."
Afro Caribbean dramatist Kwame Kwei-Armah revisits the original broadcast speaking to some of those who made that journey including the 95 year old organiser of the march, himself a descendant of a slave and the civil rights activist the Reverend Jess Jackson. He hears about the hopes with which they set out fifty years ago, and whether they feel that King's Dream has been realised in today's United States. He recreates Studs' journey riding a modern day train from Chicago to Washington meeting passengers and staff including the colourful character Lou, a sleeping car porter, to discover how present day dreams and aspirations compare with 50 years ago.
He discovers many people have not only forgotten the March on Washington but those who do tend wrongly to assume it was only about racial integration. He hears how the job aspect of the march has been overlooked and how economic opportunities are still unequal.
On arrival in Washington he meets the only surviving March on Washington speaker John Lewis and others involved in the organisation of the actual day. The programme combines these contemporary interviews with extracts from Studs Terkel's programme. In this rich soundscape of modern America and its railroad we tell the story of the legacy of Martin Luther King and his words.
Producer: Kati Whitaker
A Kati Whitaker production for BBC Radio 4.
A selection of programmes covering Martin Luther King's 'I Have A Dream' speech.
Featured in...
50th anniversary of Martin Luther King's 'I Have A Dream' speech: programme selection.