Main content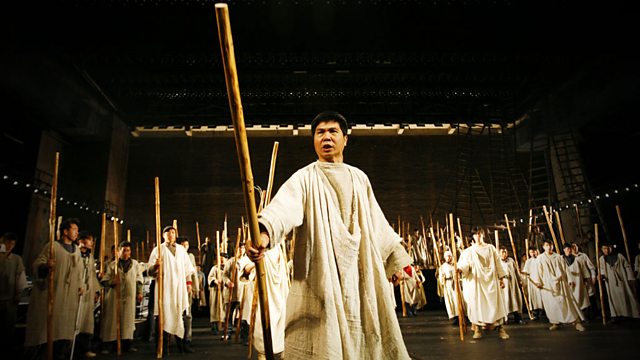 Edinburgh Festival special
Featuring theatre productions Coriolanus and Leaving Planet Earth, new film Elysium, Peter Doig exhibition, and choices from the Fringe.
Saturday Review from the Edinburgh Festival
Theatre: Leaving Planet Earth. Old Earth has nothing left for us, so it's time for a new beginning. The audience is transported to a New Earth for this site-specific 'out of this world' theatre production by the award winning theatre company Grid Iron. Following the story of humanities first migration into space, it asks questions about our connection to this planet. Should we leave this world, and if so, who will endure and at what cost?
The film Elysium also explores humans leaving planet Earth, this time the rich, who leave for the luxurious Elysium, a vast space station orbiting the planet, with technology to treat all diseases, while the rest are left behind to fend for themselves against a harsh and unjust regime in an over populated society and can only dream of a new life amongst the stars. Matt Damon is Max, a man determined to be cured on the satellite and Jodie Foster is Elysium's Secretary Delacourt, the hard-line protector of the mega wealthy colony.
The internationally renowned artist Peter Doig is known for his inventive style and huge vibrant canvases. For the first time, the Scottish National Gallery is mounting a major exhibition of his work in the country of his birth. Called No Foreign Land, it showcases works created since 2000, a time Doig has spent in Trinidad, and shows how this tropical island has inspired his work.
The Tragedy of Coriolanus tells the story of General Caius Martius who returns to Rome a hero. Having conquered the city of Corioles he is named Coriolanus and runs for Consul. But too proud, and rejected by the people, he seeks revenge on the city. Director Lin Zhaohua's production for the Beijing People's Art Theatre includes two heavy metal bands and Pu Cunxin, one of China's most famous actors.
And guests David Schneider, Gail Tolley and Peggy Hughes discuss the favourite moments from the Edinburgh Fringe.
Producer: Andrea Kidd.
Credits
| Role | Contributor |
| --- | --- |
| Interviewed Guest | David Schneider |
| Interviewed Guest | Gail Tolley |
| Interviewed Guest | Penny Hughes |
| Producer | Andrea Kidd |
Subscribe to the Saturday Review podcast
Podcast
Sharp, critical discussion of the week's cultural events, with Tom Sutcliffe and guests