Main content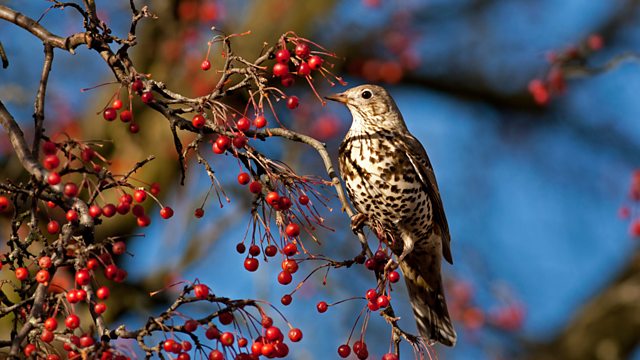 Mistle Thrush: Part One
Brett Westwood presents the story and sound of the mistle thrush.
Tweet of the Day is a series of fascinating stories about our British birds inspired by their calls and songs.
Brett Westwood presents the Mistle Thrush. Loud rattling calls, like someone scraping a comb across wood, tell you that Mistle Thrushes are about. From midsummer to early autumn, bands of Mistle Thrushes roam the countryside, where they feed on open pastures, among stubble or on moorland. These birds are very fond of the white sticky berries of mistletoe and spread the seeds into cracks of tree bark when they wipe their bills or defecate.
Mistle Thrush (Turdus viscivorus)
Image courtesy of Jenny Hibbert (rspb-images.com)
Podcast
Discover birds through their songs and calls. 265 programmes of 90 seconds, over a year