Main content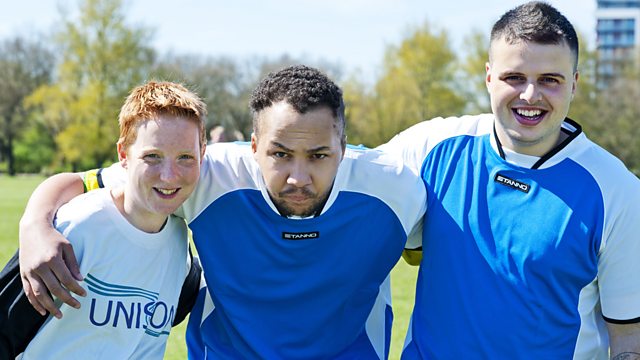 Football, Madness and Me
Documentary following three people with mental health issues who embark on a new kind of therapy by taking part in a football league where everyone has a mental health problem.
Each year in Britain, as many as one in five young people will suffer from a mental illness, but now three sufferers are about to embark on an extraordinary new kind of therapy. Hayley, Adam and Jamal are taking part in a football league where everyone has a mental health problem. Over the course of a year of matches and training, this documentary follows them as they find out whether playing football can transform their lives for good.
Hayley, 28, is a former child football star who played for England as an under-18 but stopped when she started suffering from depression. Ten years on she still experiences mood swings and has a tendency to self-harm. She knows the potential of football to change lives and feels that playing regularly, along with helping to train others, will help her reconnect not only with her gift but also regain her confidence.
Jamal is 27, has paranoid schizophrenia and lives in a secure unit, unable to come and go as he pleases. He's currently allowed to leave the unit once a week to play in the football league. Football is his passion. It can't cure him, but can it bring him closer to getting his independence?
Adam is 21 and suffers from obsessive compulsive disorder. He has been prescribed antidepressants, but daily life is still a struggle. He feels the need to wash many times a day, and fears of contamination keep him confined to just one or two rooms of the house. Adam has lost touch with old friends and hopes that getting out regularly, joining a team and enjoying the personal contact it brings will help him get back into society and rebuild his life.
Filmed over a year, both on the pitch and off, this is the story of three courageous young people and their attempts to turn their lives around. Can football really help them recover?