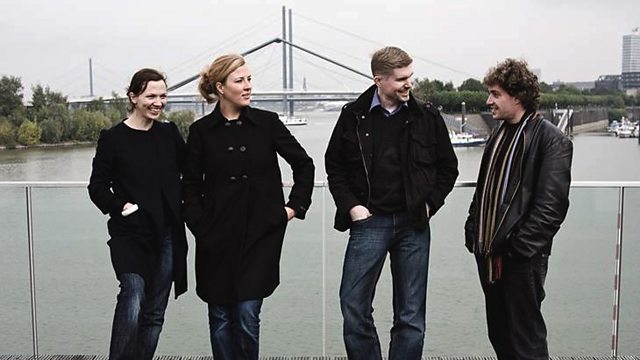 Signum Quartet, Jennifer Johnston, Leonard Elschenbroich
Continuing Radio 3's summer series featuring members of the BBC's New Generation Artists scheme. Now in its 14th year, the NGA scheme is a showcase for young artists who are beginning to make a mark on the national and international music scene. The scheme offers them unique opportunities to develop their talents, including concerts in London and around the UK, appearances and recordings with the BBC orchestras, and special studio recordings for Radio 3.
Presented by Clemency Burton-Hill
A feast of great chamber works today, including Brahms's two songs with viola, a Beethoven violin sonata, and Schumann's evergreen Piano Quintet. Plus a rare chance to hear Hindemith's Sonata for Cello Solo, four of the five movements of which were composed in a single day.
Beethoven: Violin Sonata in G, Op 30 No 3
Elena Urioste (violin), Tom Poster (piano)
Brahms: Two songs for alto, viola & piano, Op 91
Jennifer Johnston (mezzo), Lise Berthaud (viola), Christian Ihle Hadland (piano)
Hindemith: Sonata for Cello Solo, Op 25 No 3
Leonard Elschenbroich (cello)
Schumann: Piano Quintet in E flat, Op 44 [29:00] Clive
Igor Levit (piano)
Signum Quartet.
Last on