Main content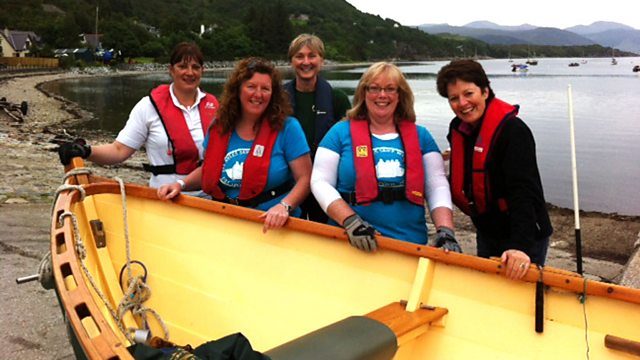 Skiffs on Loch Broom
Skiff-racing has long been declining in Scotland, but kit boats are now being built and rowed by communities up and down the coast. Helen Mark is in Ullapool to see them in action.
The skiff - a four-person, coxed rowing boat - was traditionally a common sight in the seas off Scotland's coastal communities. Changes in the populations of these towns and villages, many losing their traditional links with the sea altogether, has meant, though, that the racing of skiffs was becoming less common - until, that is, the advent of the self-build kit skiff.
Named the St. Ayles skiff (in honour of the Scottish Fisheries Museum, where the idea was born and which is built on the site of St. Ayles Chapel in Anstruther), the huge popularity of the kit skiff has taken the coastal rowing world by surprise. Communities up and down the coastline have banded together to buy, build and then share their own skiff, with some villages buying more than one and women particularly well-represented in the sport.
Helen Mark visits Ullapool for a trip out on Loch Broom in the Ulla with the village's over-forty women's crew, enjoying the calm before attending the opening of the inaugural St. Ayles Skiff World Championships. Crews from around the world, linked only by the fact that they have all bought and built their own St. Ayles skiff, have come together for a week's racing and a celebration of coastal rowing. All agree that the skiff has brought unexpected bonuses to their communities, uniting people in fundraising, in boatbuilding and then, finally, in getting out onto the water together.
Podcast
Countryside magazine featuring the people and wildlife that shape the landscape of Britain