Main content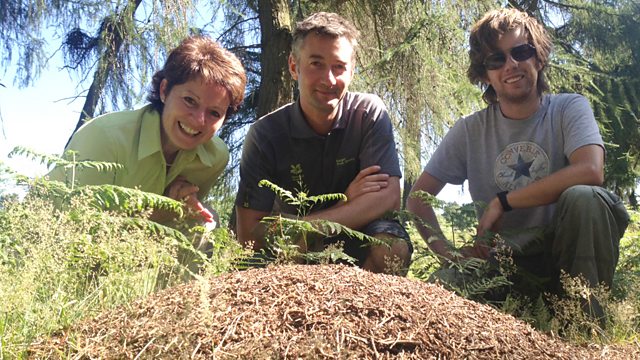 The Ants of Longshaw Estate
Helen Mark visits Longshaw Estate in Derbyshire and discovers a pioneering project in which 1,000 northern hairy wood ants are being fitted with tiny radio receivers.
Helen Mark visits Longshaw Estate in Derbyshire to meet some very special ants...
The northern hairy wood ant has an international, near-threatened conservation status with England's two main populations found in the Peak District (including Longshaw) and in the North York Moors. In a cutting edge experiment in communication and conservation, Samuel Ellis, a biologist from the University of York, will be attaching a one millimetre radio receiver to each ant in a bid to understand how the ants communicate and commute between the vast network of nests. 'The way the ants use this network has important implications for how they interact with their environment. And the way information is passed through the network may even have implications for our information and telecommunications networks.' The findings will also influence how the landscape is managed and how the habitat can be improved for the ants.
Longshaw Estate is home to more than a thousand nests containing 50 million worker ants. Helen hears from Chris Millner, National Trust Area Ranger at Longshaw who has worked alongside these industrious creatures for many years and from the other non-ant residents of the estate who regularly find themselves surrounded by ants as big as your thumb nail.
Podcast
Countryside magazine featuring the people and wildlife that shape the landscape of Britain