Main content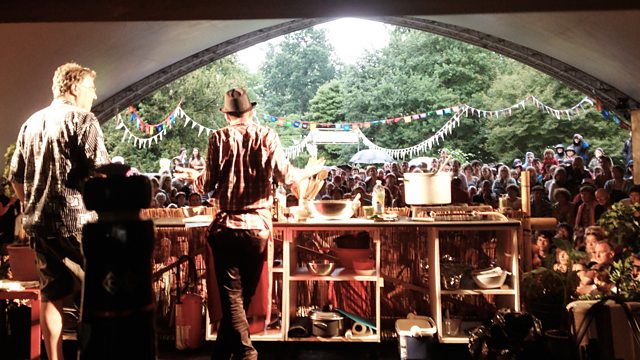 A World Stage for Food and Music
A World Stage for Food and Music: How cooks from 12 countries gathered to share food and music on stage at Womad. Presented by Sheila Dillon.
Every year at the WOMAD festival, one tent in a field in Wiltshire becomes the venue for a remarkable meeting of food and music. Solo artists and bands from all over the world gather to share recipes and stories with the audience, who get to taste dishes created in front of them, often by musicians who have never cooked in public before.
In this edition of The Food Programme, Sheila Dillon is at the 'Taste the World' tent and uncovers some of the food stories and experiences that have shaped these unique performances.
On the journey Sheila encounters Guo Yue, who grew up in Beijing during the Cultural Revolution and is now a master flautist and respected cook. There's also Nano Stern from Chile, Québécois band Le Vent Du Nord as well as South Louisiana's Steve Riley and the Mamou Playboys.
In the company of Taste the World's host Roger de Wolf, there will be roux bubbling, passionate story-telling and a culinary phone-call to the deep wilderness.
Last on

This video of WOMAD Festival's Taste the World Stage was filmed for us by Ammonite Films.
Hong Shao Yu (Red Stewed Fish) by Guo Yue
This is one of the traditional methods for cooking 'yellow-flower fish' – the fish of my childhood in Beijing – and was a favourite in my family. It is also a good recipe for cod, haddock or sea bass, sea bream, organic trout or grey mullet. The dish has an exceptionally strong, deep taste, scented with the beautiful star anise, and has a very dark reddish colour, like the walls of the Forbidden City. It is typical of north China – strong, distinctive, richly perfumed: a contrast to the gentle purity of the south.  
Ingredients:
Prime cod, salmon, haddock or any other fillets of fish.
If using a whole fish, clean inside and out, with fins and scales removed: score the fish on both sides
Sunflower oil
Ginger, washed but not peeled, 12-15 little slices
3 or 4 cloves of garlic, crushed but not chopped
4 spring onions, washed and cut into thin strips (both white and green parts)
Chinese red vinegar (I use Chinkiang rice vinegar)
Chinese cooking rice wine (I use Shaoxing cooking rice wine)
Light soy sauce
Water
White sugar
Star anise
Cinnamon bark
Sichuan peppercorn
Sesame seed oil
A little fresh coriander, finely chopped
Method:
If using fillets of fish, cut in to small pieces, add one egg well beaten, and a bit of plain flour. Mix well, add a pinch of salt .
If using whole fish you only need to dust the fish with a bit of dry flour.
Begin by heating a dry wok, before adding 4 tablespoons of sunflower oil and heating until very hot. When you put your fish into the oil, there should be a really dramatic sound! Let it sit in the oil as you turn the wok around in the air, tilting it gently to coat the fish evenly: we call this 'giving the fish a hot bath'. After a minute, turn the fish over: the cooked side should look nicely toasted. Turn the heat to medium-low and cook for 6 minutes.
Meanwhile, put the prepared ginger, garlic and spring onion into a bowl, and add 2 tablespoons of red vinegar, 1/2 tablespoon of cooking wine, 1 1/2 tablespoons of light soy sauce and 3 tablespoons of water: mix these ingredients together. Then sprinkle on 3/4 tablespoon of sugar, and add 4 or 5 star anise, 2 or 3 cinnamon bark, a few of Sichuan peppercorn , or alternatively 2 pinches of Chinese Five Spice (dried cinnamon, fennel, star anise, ginger and cloves) which also provides a good flavour. Now cover your fish with a lid, and leave to simmer gently on a medium-low heat for 10 minutes. Lastly, drizzle a little sesame seed oil over the fish, and serve with some finely chopped coriander on the top, to add a final touch of fresh, vibrant colour that contrasts well with the astonishingly dark, richly flavoured sauce.
Buckwheat Pancakes by Le Vent du Nord
500 ml (2 cups) buckwheat flour
1 litre (4 cups) water
5 ml (1 tsp) baking powder
2.5 ml (1/2 tsp) salt
Butter
Molasses
In a bowl whip the flour, water, baking powder and salt. Cook in a buttered frying pan, giving about a quarter of a cup of mixture for each galette.
Sopaipillas by Nano Stern
Original recipe makes 12 servings 
Ingredients:
9 ounces zapallo squash
 4 1/4 cups all-purpose flour
1 teaspoon baking soda
1 teaspoon salt
10 tablespoons butter, melted
2 cups canola oil for pan-frying
Directions
1.Peel, seed, and cut the zapallo into chunks. Place in a saucepan, cover with water, and bring to a boil over medium-high heat. Cook until zapallo is soft and easily pierced with a fork, 15 to 20 minutes. Drain and allow to cool slightly.
2.Mix the flour, baking soda, and salt together in a mixing bowl, and set aside. Stir together the squash and melted butter. Stir the flour mixture into the butter mixture until blended. Turn the dough out onto a lightly floured surface and knead until soft and satiny, adding a little more flour if necessary. Cover dough with a towel and allow to rest 15 minutes.
3.Roll out the dough to 1/8 inch thick, and cut into 3 inch diameter circles. Poke each circle a few times with a fork to make holes and prevent rising.
4.Pour vegetable oil into a large, deep skillet and heat over medium-high heat until hot, 385 degrees F (195 degrees C). Place several of the dough circles into hot oil; cook until lightly browned, 3 to 4 minutes. Drain on paper towels. Cook remainder of dough circles in batches.
Zapallo, sometimes called Jamaican pumpkin, is a type of winter squash from South America. If it's not available, sugar pumpkin makes a good substitute.
Pebre sauce
1 onion chopped finely
 1 or 2 tomatoes, chopped
 green ají chopped (jalapeño or chile)
1 tablespoon of oil
1 tablespoon of coriander, chopped
1 tablespoon of lemon juice
salt
Directions: In a medium bowl mix the onions, tomatoes,aji,oil, cilantro, lemon juice and salt, stir well  and place in little bowls to serve.
Cervelle de Canut by Babylon Circus
Cervelle de canut (Literally "Brains of silk worker", but don't be afraid…) 
Tastes good with some rye bread, or sticks of raw carrots or celery...
Preparation: 10 mn
For 4 persons
4 fromages frais cottage cheese drained well
1/2 fresh goat cheese
1 soup spoon of white wine
1 coffee spoon of chopped shallots
1 soup spoon of chopped chive
1 soup spoon of chopped parsley
1 soup spoon of olive oil
2 soup spoons of fraiche cream liquid (fleurette)
Salt and pepper
Drops of balsamic vinegar
In a terrine mix fromages frais with herbs and goat cheese.
Add the white wine, the olive oil, the salt, the pepper, and the vinegar
Whip the cream (crème Chantilly) and incorporate
Place in the refrigerator
Credits
| Role | Contributor |
| --- | --- |
| Presenter | Sheila Dillon |
| Interviewed Guest | Guo Yue |
| Interviewed Guest | Nano Stern |
| Interviewed Guest | Steve Riley |
| Interviewed Guest | Roger de Wolf |
| Producer | Rich Ward |
Broadcasts