Main content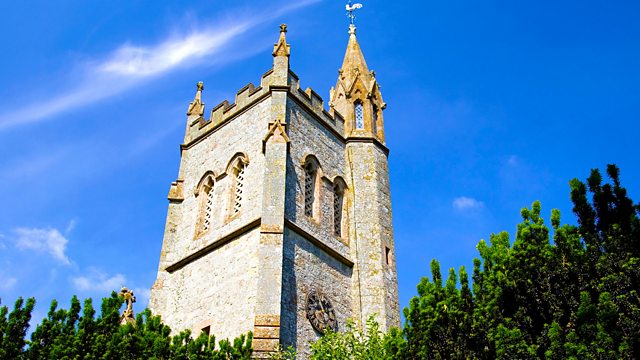 11/08/2013
marking the Edinburgh Festival from St Giles Cathedral. Preacher: The Very Revd Gilleasbuig Macmillan, with the Director of the Edinburgh International Festival, Sir Jonathan Mills.
Cathedral Choir directed by Michael Harris. Organist: Peter Backhouse.
Producer: Mo McCullough.
Last on
St Giles' Cathedral, Edinburgh
Opening announcement from R4 Continuity:
Now on Radio 4 it's time for Sunday Worship live from St Giles' Cathedral in Edinburgh.  The Minister, the Very Reverend Gilleasbuig Macmillan, is the preacher, and the Reverend Helen Alexander introduces the service from the Festival city.
FIDDLE MUSIC SOLO  (IAIN MCLARTY) –
Tune: O Whistle and I'll come tae ye, my lad!
HELEN – Welcome:
We welcome all who join us in worship wherever you are in the world. 
Outside this ancient church in the heart of the Old Town of Edinburgh people are coming together to celebrate a new day and the sights and sounds of a Festival city in summer. Soon kilted pipers will vie with one another on street corners, to be joined on the Royal Mile and the streets and squares beyond by instrumentalists of all kinds: trumpeters, guitarists, singers, bands with panpipes and drums - many from far beyond these shores, as well as some closer to home.
Like children gathered around the skirts of a great stone mother, visitors from every corner of the globe will join with those who live and work here to laugh and clap and sing and play around the walls of St Giles' as acrobats, jugglers and artists of all sorts draw happy crowds, and shops and booths display their wares.
And people will come inside, where we are gathered now. They will come in for all sorts of reasons: curiosity; to tick off an item on the tourist trail, to take a rest from the relentless tramping of pavements. And many will come to sit for a while in the beauty of this holy place; to drink in its sanctuary and peace; to reflect; perhaps to light a candle, to pray; to join in worship, as we do together now, by singing 'O God, you are my God alone' to the tune Resignation, an American folk melody with Scottish roots.
MUSIC – HYMN:  O GOD, YOU ARE MY GOD ALONE (Tune: Resignation)
Choir/Congregation/Organ             
PUBLISHED IN SCOTTISH CHURCH HYMNARY 4TH EDITION (CH4)
HELEN – PRAYER:
I was glad when they said unto me, Let us go into the house of the Lord.
Let us pray: 
Oh Thou in whom we live and move and have our being, we offer our gratitude for all things good and wise and fair; for the vibrancy and glory of the world; for all colour and dapple and shade; for sights and sounds that encourage and enliven our spirits; for the kindness of friendship and gifts of open-hearted hospitality.
Draw us by thy bold creative spirit to seek the best in ourselves and one another; to welcome help and wisdom to our lives; and to enter into glad co-operation with grace that encourages us to greater truthfulness and goodness.
O Thou in whose unity all diversity and difference are held together as one, help us to live the glory of our difference in race, colour and creed; in artistry and skill; that wherever we may be in this wide and precious world, we may each give thanks for the wonder of our place in it, and join with all in celebration of its gift; through Jesus Christ our Lord.  ALL:  Amen.
It is our privilege and delight that we are joined by the Director of the Edinburgh International Festival, Sir Jonathan Mills.
SIR JONATHAN MILLS – Reflection
I often speculate as to why festivals continue to be such a popular phenomenon into the early 21st century. What drives us to be so fascinated, almost addicted to this curious, intoxicating, social and artistic ritual?
There is no country or culture which does not have festivals of some kind. While they are regularly dismissed as trivial, their omnipresence would suggest they exist to fulfil a profound need.
Festivals are much more than the sum of their parts, simultaneously defined by an elusive mixture of artistic rarity and urban specificity. It must be a way of re-engaging with familiar places in forgotten ways.
In other times, less materially fortunate or obsessed than our own, festivals were crucial moments of social cohesion and expressions of the basic rituals of a community. For other societies, the festival was a form of social pressure release when strict social mores were relaxed or even reversed.
More recently, festivals have become gatherings of like-minded enthusiasts concentrating on a particular artistic genre.
The Edinburgh International Festival is very much an event in this mould. In fact it helped define the mould itself. Founded in 1947, it owes its origins to the urgent imperative to rebuild a sense of community in a continent torn apart by the tragedy of World War II; to restore faith and heal heartache through a celebration of one of humanity's finest qualities, the creation and sharing of the arts.
Those of us charged with the custody of these precious institutions have an enormous responsibility. In an era of disposable culture, a fundamental commitment to the imagination of the audience requires patience and determination. An imaginatively conceived and ambitious festival can offer not only an enthralling insight into how artists choose to depict and decipher the world around them. It tells an unequivocal and direct story about the times in which we live.
HELEN
The Cathedral Choir now sings an anthem by Sally Beamish, "Gaudent in Coelis - In heaven rejoice the souls of the saints".
MUSIC – ANTHEM:  GAUDENT IN COELIS
(Composer: Sally Beamish)    Choir unaccompanied
PUBLISHED BY NORSK MUSIKFORLAG
SIR JONATHAN – Scripture Reading
A reading from the Gospel of Luke, Chapter 2:
41Now his parents went to Jerusalem every year at the feast of the passover.
42And when he was twelve years old, they went up to Jerusalem after the custom of the feast.
43And when they had fulfilled the days, as they returned, the child Jesus tarried behind in Jerusalem; and Joseph and his mother knew not of it.
44But they, supposing him to have been in the company, went a day's journey; and they sought him among their kinsfolk and acquaintance.
45And when they found him not, they turned back again to Jerusalem, seeking him.
46And it came to pass, that after three days they found him in the temple, sitting in the midst of the doctors, both hearing them, and asking them questions.
47And all that heard him were astonished at his understanding and answers.
48And when they saw him, they were amazed: and his mother said unto him, Son, why hast thou thus dealt with us? behold, thy father and I have sought thee sorrowing.
49And he said unto them, How is it that ye sought me? wist ye not that I must be about my Father's business?
50And they understood not the saying which he spake unto them.
51And he went down with them, and came to Nazareth, and was subject unto them: but his mother kept all these sayings in her heart.
52And Jesus increased in wisdom and stature, and in favour with God and man.
MUSIC – HYMN:  FOR THE WAYS IN WHICH OUR SENSES LEARN
Words – Copyright: Gilleasbuig Macmillan
 (Tune: Oriel)    Choir/Congregation/Organ        
1.       For the ways in which our senses
Learn the wonder of the world,
And for skilled imagination
Blending mind with sight and sound,
God be praised, the Fount of Vision,
Depth of Art, and Nature's Ground.
2.        For the colour and the movement
Of the living things of earth,
And for craft of paint and sculptor
Bringing old life to new birth.
God be praised, the world's great Artist
Lavishing his spirit's wealth.
3.       For the sounds which from our childhood
Bring us comfort, guidance, cheer,
And for music's varied treasure,
Song and rhythm, string and air,
God be praised, who gives us voices,
Hearts to sing, and ears to hear.
4.       For the words of speech and writing,
Drama, poetry, book and pen,
And for human conversation
Linking hearts and warming friends,
God be praised for all that bring us
Nearer beauty, truth and heaven.
VERY REV GILLEASBUIG MACMILLAN – SERMON:
Festivals cover a wide span of human gathering, and one of their beauties is that they offer benefits in addition to their advertised purpose. A religious festival can lead to a meeting which leads to a marriage. A cattle show can bring about a good swap of recipes for fruit cakes. And an arts festival can bring together two or three strangers who discover a shared passion for restoring furniture. You know the point I'm making.
Three great gatherings come to my mind as I meditate on gatherings and festivals. One is the great Hindu festival, Kumbh Mela.  Every three years millions of people gather in a rotating series of four places - once every twelve years in each of them. They bathe in the River Ganges, and the purpose of it all is the cleansing of the soul.  Festivals may involve thinking and believing, to a greater or lesser extent; but what festivals certainly involve is doing, moving, engaging, whether or not they culminate in dipping in the Ganges.
Then there is the Haj, the annual pilgrimage of Muslims to Mecca, once in a lifetime if possible for each of them, and millions are involved in that too. Devotion to the Prophet, and to God, is expressed in ritual movement shared in crowds, around the sacred places revered for all these centuries.  The doing of it is a testimony of faith and faithfulness, and the manner in which these things are done is intended to bear witness to the goodness and peacefulness expected of Islamic people. Festivals have the capacity to combine anchorage in the past with openness to the future, so long as fidelity to the spirit is not equated with replication of the detail.
Then we think of Pope Francis' recent visit to Brazil, and to the final mass, when three million young people assembled on Copacabana beach and heard his call to them to bear witness to their Christian faith and care for those in need. Festivals are not alternatives to ordinary living. Papal masses with three million are not alternatives to going to the local church Sunday by Sunday. A great festival of the arts goes well with, and not at all against, the concert in the village hall, or reading a good book on a train.
There are psalms known as Psalms of Assent, associated with pilgrimages made by Hebrew people to Jerusalem to celebrate great festivals. 'I was glad when they said unto me, Let us go into the house of the Lord' - Psalm 122, sung by pilgrims as they approached Jerusalem, or possibly by the priests as the pilgrims climbed the temple steps. Occasional occasions have always mattered, and there can be something oppressive about demanding that a religious life be an endless series of Sundays, each identical to the ones before and after it.
The boy Jesus was lost at the age of twelve, when his parents went with a large group to Jerusalem to keep the Passover, and Jesus was found sitting with the religious teachers, 'both hearing them and asking them questions'.  Festivals are good opportunities for learning, and for asking questions.
It seems to me that religious practice is more important than religious ideas or opinions or beliefs.  For Christian people through the centuries, going to church has been more fundamental than having the right thoughts about God. I would even suggest that doctrines are an abstraction from practice, rather than practice being an expression or consequence of doctrines or belief.  Religion is more a matter of what we do, and less a matter of what I think. Thinking about festivals helps me in that direction.
Let me try to say what I mean. It is surely the case that for many people belief is primary, practice secondary - not that practice is unimportant, but that it is a consequence of believing. I would like to suggest that that is not our only option, and that for most of our Christian ancestors it was not their option. The alternative option is that the primary element in Christian believing is action, both the action of worship, going to church, and also the actions of daily living.  Instead of saying that you get your ideas and convictions straight, and then go to church if your beliefs justify churchgoing, I am saying that you can engage in the practice of churchgoing, and think about your personal opinions as a consequence of your churchgoing, and not always an essential consequence. Like the great festivals of the world's religions, the practice, the shared ritual, the doing of things bodily and earthy- these things are for many of our forebears and for many of us still today, quite primary. When people say to me, as they sometimes do, that for them faith is personal, individual, even private, I tend to react by suggesting that that is not the only way of looking at the matter, and for many, not the most important way.
Central to the position I am holding is the Holy Communion, the ritual act given by Jesus as the way of bearing witness to him, the way of expressing the meaning of his life, and especially, of his cross. He gave his followers not statements of doctrine or philosophical conclusions, but the custom of doing things with things, taking and sharing and consuming bread and wine.  We may tend to assume that what matters is what we believe about the Holy Communion, how we understand it; but I suggest that what matters is that we do it.
The Christian Church at the present time might do well to think more widely about the attitudes and customs of the past, and especially those we share with the other major world religions; and the word 'festival' suggests for me deeply significant elements, of journey and pilgrimage, ritual and ceremony, symbol and sign, movement and art.
MUSIC – ANTHEM:  O LORD, WE SING THY PRAISE
(Composer:  JS Bach)    Choir + Organ
PUBLISHED FOR THE CHURCH MUSIC SOCIETY BY OXFORD UNIVERSITY PRESS              
FIDDLE MUSIC (IAIN)  –
Tune:  Speed, bonnie boat (Skye Boat Song)
ELIZABETH McCLELLAND  - INTERCESSIONS:
Prayer 1
Let us offer our prayer for all who are involved in the arts – musicians, writers, painters, actors, producers, organisers – and all who watch and listen, attentive to both old and new; and let us pray for a blessing on their enterprise.
FIDDLE MUSIC 
Prayer 2
Let us pray for the meeting and mixing of the peoples of the world, and seek encouragement for every effort made for peace, for better understanding among nations, for readiness to see things from the other's perspective, for willingness to regard people we don't know more as potential friends than as possible enemies.
FIDDLE MUSIC
Prayer 3:
Let us remember before God the people who matter greatly to us, especially those who are in trouble at this time, those who are ill, and those who try to help them towards health; and let us join with the whole Church throughout the world in praying for the peace of all;  Through Jesus Christ, our Lord.  ALL:  Amen.
FIDDLE MUSIC
MUSIC – HYMN:  LIFT UP YOUR HEARTS  (Tune: Woodlands)
Choir/Congregation/Organ     
THE MINISTER  – Benediction:
MUSIC:  SUNG AMEN -  Choir
MUSIC -  ORGAN VOLUNTARY : FINAL (SYMPHONIE No1) BY VIERNE
Closing announcement from R4 Continuity:
Sunday Worship came live from St Giles' Cathedral in Edinburgh.  The preacher was the Minister, the Very Reverend Gilleasbuig Macmillan, and the service was led by the Reverend Helen Alexander.  The Cathedral Choir was directed by Michael Harris, and the organist was Peter Backhouse.  The fiddle was played by Iain McLarty and the producer was Mo McCullough.
Broadcast