Main content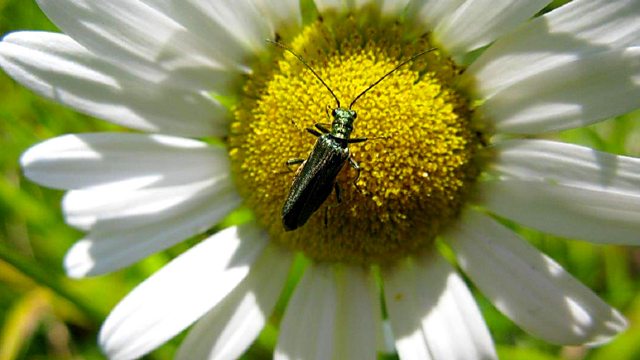 Pine Marten
Trai Anfield travels to mid-Scotland for an encounter with a shy, rare but also inquisitive member of the weasel family, the pine marten.
This week on Living World, presenter Trai Anfield travels to mid Scotland for an encounter with one of Britain's rarest mammals, the pine marten. Here in a remote landscape she meets up with Martyn Jamieson from the Field Studies Council for a safari with a difference, can they find a female with young, high in the tree tops? Although martens are not confined to woodland they do prefer this habitat as they are expert tree climbers. Like other Mustelids, pine martens are mainly carnivores and feed on small mammals, invertebrates and carrion, but they will also eat a lot of fruits and nuts. Best seen at dawn or dusk, pine martens are sometimes referred to as nocturnal, but they are frequently active during the day, especially in the summer months.
Until the 19th Century, pine martens were found throughout much of mainland Britain, the Isle of Wight and some of the Scottish islands. Habitat fragmentation, persecution by gamekeepers and a trade in marten fur, drastically reduced this distribution. Their low point in terms of numbers came in the 1920's when they were restricted to a small area of north-west Scotland, with small numbers in North Wales and the Lake District. More recently through changes in land management and conservation research, pine martens are slowly recolonizing their old areas but still remain one of the rarest native mammals in Great Britain, with a total population of around 3-4,000. In Ireland there are probably more but data is sparse there.
The planting of big conifer woodlands has really helped the marten recovery as a territory can be around 150 hectares in size. Finding one in this Scottish woodland will be a challenge for Trai. Luckily at this site martens are seen regularly, and in the evening Martyn and Trai head to a quiet location to sit and wait by a well-used area as the dusk gathers. Will they be lucky on this July night?
Producer: Andrew Dawes.
Last on

Clips

Squinty and her family feeding at an observation point.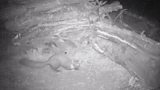 Squinty (postioned in the centre of the picture with only 1 eye reflecting in the infrared) with her family.  This image is a freeze frame from the night camera trap that witnessed movement at the observation point at 23:49 on 8th July 2013.
Broadcast