Main content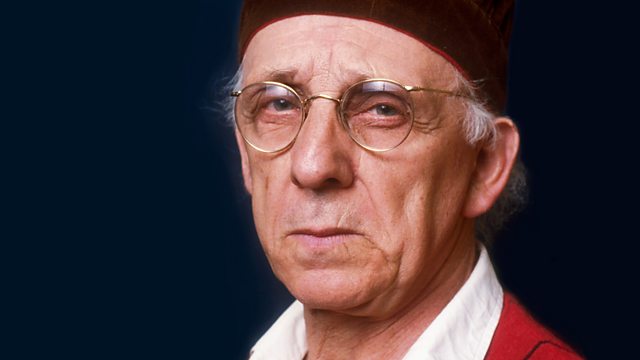 Ivor Cutler at 90
'I have a harmonium and it's going to explode in two minutes.' The deceptively quiet wordsmith is celebrated. From August 2013.
The deceptively quiet wordsmith was born in 1923 near the Rangers ground at Ibrox Park.
"I have a harmonium and it's going to explode in two minutes", were the opening words spoken on the Andy Kershaw Show in 1980 by a gentle voiced Scotsman called Ivor Cutler.
Championed by everyone from the Beatles to Billy Connolly, Ivor Cutler was a poet, humourist and absurdist whose appearances on BBC radio and television span over 5 decades. As well as producing a vast body of records, books and plays, Ivor was a notable eccentric, often seen cycling around London in plus fours, handing out homemade stickers and badges to strangers.
To mark what would have been Ivor's 90th birthday, BBC Radio 4 held a 'party', to celebrate his life and BBC archive in particular. Except a full house, with performers, fans, collaborators and even his long-term partner, Phyllis King, introducing their favourite poems, songs and memories of Ivor. Weirdness from the archives, pleasure for fans, and a singular introduction to those encountering him for the very first time.
Highlights include Bramwell and King re-enacting a morse code performance of "The Little Black Buzzer".
Presenter: David Bramwell is a writer, musician and, recently, presenter of Sony Award winning "The Haunted Moustache". He is the founder of the "Catalyst Club"; a place for enthusiasts to speak on any subject close to their heart. Ivor Cutler is a subject close to his, having kept correspondence with him in the 1980's.
Producer: Sara Jane Hall.
Last on
Music Played

Broadcasts