Main content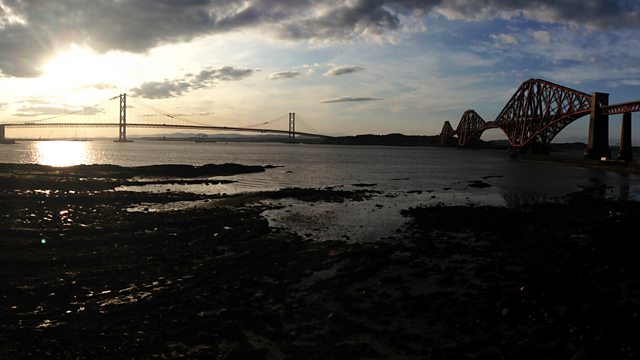 Crossing the Forth
In a few years' time, there will be three bridges across the Firth of Forth near Edinburgh. Helen Mark explores their significance to locals and to the people who work on them.
The profiles of the two Forth bridges, rail and road, are a familiar and much-loved part of the Edinburgh landscape. Spanning the Firth of Forth between North and South Queensferry, the cantilevers of the rail bridge stand as a monument to Victorian ambition and achievement in engineering and building. Learning lessons from the great Tay Bridge disaster of 1879, its architects took bridge building into an entirely new era and the vision and physical toil involved in its construction leave present-day engineers in awe. A recent ten-year renovation programme has left the bridge in line for World Heritage Site status, while, as Helen Mark discovers, its importance to the people who live and work with it day to day goes far beyond its function as a crossing of the firth. Local people tell Helen that it serves as a constant reminder of the men who laboured to build the bridge and who, in many cases, lost their lives in the process.
The road bridge was also a ground-breaker when it was opened in 1964, and quickly became an iconic landmark in its own right. But it will soon find itself overshadowed by a new neighbour, to be named, by public vote, the Queensferry Crossing. The bridge's chief engineer takes Helen to admire the view from the top of one of the road bridge's towers and discusses how it will feel, when the new bridge opens, to surrender the title of Bridgemaster.
The murky waters of this stretch of the Firth of Forth will soon have three bridges - one from the nineteenth century, one from the twentieth and one from the twenty first - and for engineers and local people alike, that says something very significant about Scotland and its place in engineering history.
Last on

Broadcasts

Podcast
Countryside magazine featuring the people and wildlife that shape the landscape of Britain