Main content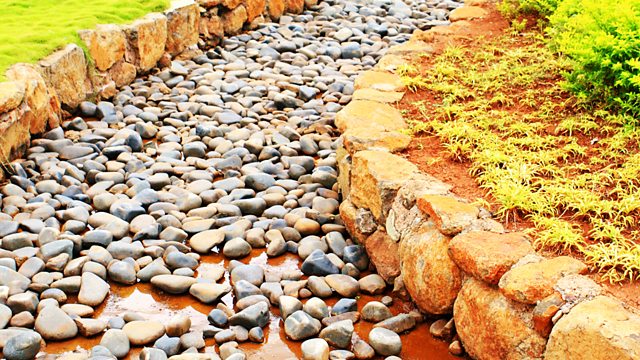 The world under garden stones. Brett Westwood and Phil Gates's investigation into common garden wildlife concludes. From August 2013.
Stones, patios, rockeries and walls may at first seem an unlikely habitat for wildlife but that's far from the truth as you can hear when Brett Westwood is joined by naturalist Phil Gates in a garden near Bristol and, with the help of recordings by wildlife sound recordist Chris Watson, they offer a practical and entertaining guide to the wildlife which you're most likely to see and hear associated with walls and stones in the garden. Many invertebrates like to sunbathe on sun-drenched stones whilst others live in the cool shade under the stones. Wolf spiders and zebra spiders (the latter so called because of their black and white markings) can be found sunbathing on patios or house walls. "Watch out for their courtship - this is real edge of the seat drama " says Phil of the wolf spider as the smaller males risk their lives as they approach the female signalling to her, often for hours, before he mates, or in some cases, is eaten! Stone walls may also harbour slow worms, although you can also encourage these into your garden with pieces of corrugated iron as Phil explains. Turning over some edging stones, Brett and Phil discover masses of black garden ants, which milk aphids for their sugary honeydew "rather like we milk herds of cattle", explains Phil. Snails in the garden are kept in check by Song Thrushes which use stones as anvils on which to crack the snail shells and extract the contents for a juicy meal. Perhaps most valuable of all are ivy-clad walls which offer shelter in winter for many species, as well as nesting sites for birds, and year round food. And if you have ivy and holly in your garden then you could be rewarded with the sight of a lovely Holly Blue butterfly which requires both to complete its life cycle.
PRODUCER Sarah Blunt.
Last on
More episodes
Next
You are at the last episode
Phil's Blog
For more information and photographs of the species discussed in the series by our series contributor Phil Gates, visit Phil's blog.
Gardening for Wildlife
For infomation about gardening for wildlife, here are a couple of websites to help get you started.<?xml:namespace prefix = o ns = "urn:schemas-microsoft-com:office:office" />
Information guide from BBC Nature
Broadcasts