Main content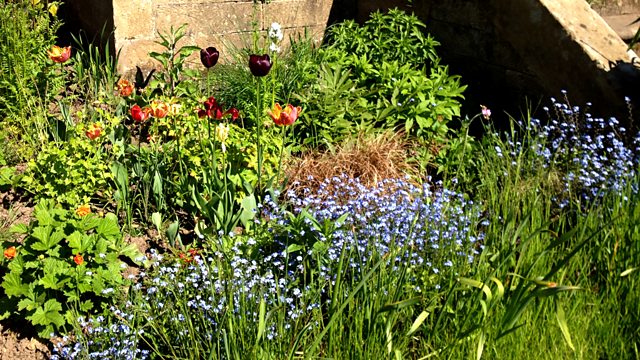 Midlothian
Eric Robson chairs a programme from Midlothian, Scotland, with panellists Bob Flowerdew, Carole Baxter and Anne Swithinbank.
Eric Robson chairs this week's episode of Gardeners' Question Time from Midlothian, Scotland with panelists Bob Flowerdew, Carole Baxter and Anne Swithinbank taking questions from an audience of local gardening enthusiasts.
Produced by Victoria Shepherd
A Somethin' Else Production for BBC Radio 4.
Q: For two years I've grown horseradish and had fantastic crops, but I struggle to store them for later use as our allotment insists the ground is cleared in October each year.
A: You're best to leave it in the ground until you want to eat it, but if you can't do that you can make your horseradish sauce base, which will store well. Alternatively you could store the roots in long flowerpots with slightly moist, sharp sand which should keep them plump but not let them rot.
Q: How do I get rid of nettles permanently? I've tried pulling them out in early spring and applying weed killer, but they always come back.
A: They are great for wildlife and they make an excellent compost. If you do really want to get rid of them you should cut them at regular weekly intervals and after a year they will eventually stop coming back. Another alternative is to smother them with black plastic for at least one or two growing seasons.
Q: Living and gardening in the Scottish borders I've come to understand the real meaning of hardy. I'm struggling to find any truly hardy blue flowering shrubs, any suggestions please.
A: It is difficult with such hard winters here. Buddleias should survive even in the cold but it's worth adding some grit and better drainage to help stop water logging which could cause problems. If you start with a smaller Buddleia it is more likely to adapt to the conditions than a larger plant. You could grow a Wisteria as a shrub by pruning it hard and keeping it in a pot so that you can move it undercover during the winter. A Buddleia or deciduous Ceanothus would also respond well to being in big tubs.
Q: We live 500-600ft up and have an impacted, heavy clay soil that is 1ft (30cm) wide and it's a border along the pavement edge of our front garden. It gets the full blast of any North or North-East winds. We would like to plant a hedge about 3 to 4ft (1-1.5m) high. Have you any suggestions?
A: You could go for Juniper which has a lovely smell, it doesn't grow fast and is easy to trim. You could grow a rose hedge such as Rosa Rugosa that would be very tough, hardy and not mind the clay soil. There are other roses you could use for hedges as well and try a mixture of colours. You could plant Cotoneaster simonsii that would be quite happy.
Q: Having just had my waste pipes repaired for root damage, can the panel suggest any scented, perennial, bushy, flowering plants that won't cause any further root damage in a South-facing front garden?
A: You shouldn't worry about most things because it's old pipes that are already broken that attract the roots into them to cause further damage. It's mostly trees and strong growing shrubs that are the problem. Just to be safe, go for herbaceous plants, as they are less invasive. You could go for a mixed border with a structure to grow climbing roses up with a scent and put Clematis up as well. Then you could add herbaceous perennials and grasses in-between and go for aromatics such as Monarda 'beauty of cobham' which is pink with a darker colour as well. You could also add some bulbs such as Snowdrops or Liliums.
Q: Does a late Spring and Summer mean you can plant later - in this case vegetables?
A: Well you have to really, there's not much choice. There are some vegetables that are very quick, including radishes and Pak Choi, which you can sow at almost any time and hope for a crop. Sweetcorn really needs at least ninety days minimum to produce the cob, so if you start late and summer ends early - you won't have a chance with it. Melons, even in the greenhouse, won't get going early enough either. In August it's not too late to be sowing a lot of the salad crops and leafy vegetables along with starting the over-winter onions and shallots in September. You also could try growing things in pots to move into the greenhouse later.
Q: What plants would the panel put in Penicuik's municipal shrubberies?
A: You want some evergreen, things such as Elaeagnus, some of the Hebes would probably do quite well and they flower for a long time, Winter stems (dogwoods), Viburnum burkwoodii or Viburnum 'dawn' would add some perfume. There are a lot of neglected deciduous shrubs that would be lovely, such as Deutzias and Dwarf Lilacs or the 'Bladder Nut', which produces a large thicket and scented flowers. Some common plants would be fantastic such as Forsythia that flowers every year. Flowering red currants and white currants would also look good and are very tough, along with gorse or dwarf gorse. For Autumn colour the deciduous Azaleas have beautiful flowers and perfume.
Last on

Broadcasts