Main content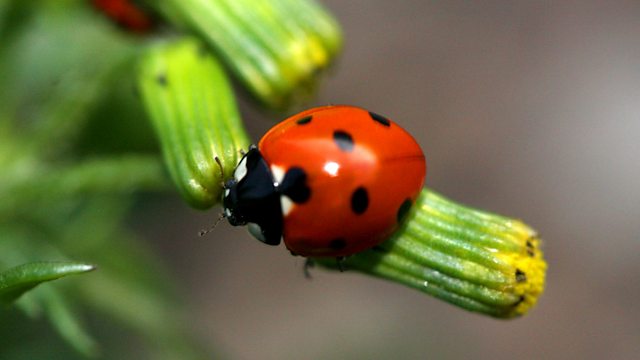 Trees, shrubs and umbrellas! Brett Westwood and Phil Gates's investigation into common garden wildlife continues. From July 2013.
If you want to take a closer look at the wildlife in your garden trees and shrubs, then you need an umbrella! The reason why becomes clear, when Brett Westwood is joined by naturalist Phil Gates in a garden near Bristol and with the help of recordings by wildlife sound recordist Chris Watson they offer a practical and entertaining guide to the wildlife which you're most likely to see and hear in garden trees and shrubs.
Storied vegetation creates the most diverse habitat for birds in gardens, mimicking the woodland edge. Willow Warblers, Blue Tits and Great Tits all use trees as a caterpillar food source and song posts. With the help of the umbrella, Brett and Phil discover looper caterpillars (larvae of Geometrid moths) and a staple diet of many nesting tits and warblers. They get their name from the way in they loop their body up and then stretch out. They are sometimes called 'measurers' or 'inch worms' as they appear to measure out an inch at a time! Phil then produces a strange looking object "It reminds me of dish mop" he laughs. It turns out to be Rose bedeguar gall (Robin's pin-cushion) and Phil explains how these and other galls are produced in a fascinating process in which insects, (a wasp in the case of the Bedeguar gall) reprogramme plant tissue development. Brett and Phil then move into the back garden to compare notes on the ideal tree for a small garden before finally discussing the value of old trees and dead wood in the garden; including feeding sites for birds like Nuthatches and sounding boards for drumming woodpeckers!
PRODUCER: Sarah Blunt.
Phil's Blog
For more information and photographs of the species discussed in the series by our contributor Phil Gates, visit
Phil's blog
.