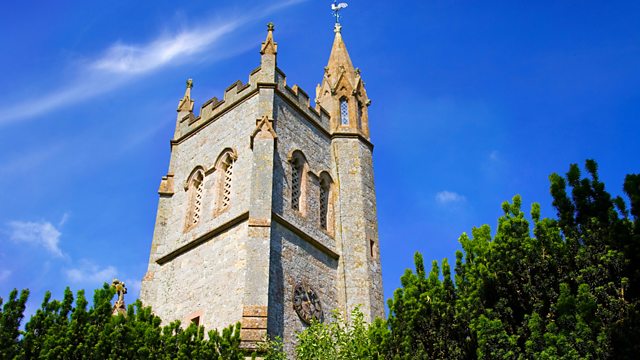 28/07/2013
Stuart Townend, known and respected around the world as one of the leading worship songwriters of his generation, leads the music at this year's service from the Keswick Convention.
'The Transforming Trinity' is the theme of this year's Convention, an annual Bible gathering which has been held in the Cumbrian town since 1875. In this service, preacher Rico Tice, Associate Minister at All Souls Church, Langham Place in London, explores the desire to 'Follow Jesus, the Son'.
Leader: John Risbridger
Producer: Simon Vivian.
Last on
Sunday Worship - Keswick Convention
<?xml:namespace prefix = o ns = "urn:schemas-microsoft-com:office:office" />
Please note:

This script cannot exactly reflect the transmission, as it was prepared before the service was broadcast. It may include editorial notes prepared by the producer, and minor spelling and other errors that were corrected before the radio broadcast.

It may contain gaps to be filled in at the time so that prayers may reflect the needs of the world, and changes may also be made at the last minute for timing reasons, or to reflect current events.
Radio 4 Opening Announcement:
BBC Radio 4. And time now for Sunday Worship which comes from this year's Keswick Convention in <?xml:namespace prefix = st1 ns = "urn:schemas-microsoft-com:office:smarttags" />Cumbria.  The service is led by John Risbridger, Chairman of Keswick Ministries, with music leader Stuart Townend, and it opens with the hymn: "Praise, my soul, the King of Heaven".
~ SONG 1: PRAISE MY SOUL THE KING OF HEAVEN
~ LEADER:
Welcome to the Keswick convention held annually in the heart of the English Lake District.  For 139 years Christians from all over the country, and indeed from many parts of the world, have gathered here for a feast of Bible teaching in this beautiful Lakeland town.  
In our convention this year we're exploring how the living God changes people through his Son Jesus Christ and by his Spirit.  And during this service we'll hear stories of people whose relationship with God has been transformed. 
So let us pray.
Our Father, with the Son and the Holy Spirit you live eternally in a relationship of perfect love and joy.  We praise you that, through your Son, our Saviour Jesus Christ, you invite us to enter into that love and to share in that joy.
We acknowledge that our sin has broken our relationship, brought damage to the world you entrusted to our care and caused division and breakdown within the human family.
We know when we truly experience your love, our relationships with others are transformed.  So we pray this morning, Father, that you would draw us deeper into that love by your Spirit that we might be changed into the image of our Lord Jesus Christ, in whose name we pray.
~ ALL: AMEN
~ LEADER:
We'll now hear the testimony of three people from the Bible.  All of them experienced the life changing power of God the transforming Trinity.
~ READER 1:
This is the testimony of King David from Psalm 40.
I waited patiently for the Lord;
    he turned to me and heard my cry.
He lifted me out of the slimy pit,
    out of the mud and mire;
he set my feet on a rock
    and gave me a firm place to stand.
He put a new song in my mouth,
    a hymn of praise to our God.
Many will see and fear the Lord
    and put their trust in him.
[Psalm 40:1-3]
~ READER 2:
This is the testimony of the Virgin Mary from Luke's gospel, chapter 1.
My soul glorifies the Lord
     and my spirit rejoices in God my Savior,
for he has been mindful
    of the humble state of his servant.
From now on all generations will call me blessed,
    for the Mighty One has done great things for me—
    holy is his name.
His mercy extends to those who fear him,
    from generation to generation.
He has performed mighty deeds with his arm;
    he has scattered those who are proud in their inmost thoughts.
He has brought down rulers from their thrones
    but has lifted up the humble.
He has filled the hungry with good things
    but has sent the rich away empty.
He has helped his servant Israel,
    remembering to be merciful
    to Abraham and his descendants forever,
    just as he promised our ancestors."
[Luke 1:46-55]
~ READER 3:
This is the testimony of the apostle Paul from Acts, chapter 22.
"I am a Jew, born in Tarsus of Cilicia, but brought up in this city.  I studied under Gamaliel and was thoroughly trained in the law of our ancestors.  I was just as zealous for God as any of you are today.  I persecuted the followers of this Way to their death.  
"About noon as I came near Damascus, suddenly a bright light from heaven flashed around me.  I fell to the ground and heard a voice say to me, 'Saul! Saul! Why do you persecute me?'
"'Who are you, Lord?' I asked.
" 'I am Jesus of Nazareth, whom you are persecuting,' he replied.  My companions saw the light, but they did not understand the voice of him who was speaking to me.
"'What shall I do, Lord?' I asked.
" 'Get up,' the Lord said, 'and go into Damascus.  There you will be told all that you have been assigned to do.'  My companions led me by the hand into Damascus, because the brilliance of the light had blinded me.
"A man named Ananias came to see me.  He was a devout observer of the law and highly respected by all the Jews living there.  He stood beside me and said, 'Brother Saul, receive your sight!'  And at that very moment I was able to see him.
"Then he said: 'The God of our ancestors has chosen you to know his will and to see the Righteous One and to hear words from his mouth.  You will be his witness to all people of what you have seen and heard.
[Acts 22:3-15]
~ SONG 2: AMAZING GRACE
~ LEADER:
Joining us here today is Robin Oake.  Robin's distinguished police career of 40 years saw him serving as an officer in London, Manchester and finally as Chief Constable on the Isle of Man.  He's also a former president of the Christian Police Association.
But, as we shall hear now, Robin wasn't the only member of his family to become a police officer.
~ TESTIMONY:
I was a very proud father the day my son Stephen followed me into the Police Service in Greater Manchester.  Steve was an example to us all.  Despite some of his experiences as a police officer, he always sought to find the good in everyone.
Steve had become a Christian before he joined the Force and ended his career in Special Branch and was therefore often involved quite often in anti-terrorism incidents.  In January 2003, following a series of arrests one morning, he attended another address in the evening and was confronted by  a 'wanted' terrorist who had escaped arrest in London.  In attempting to apprehend the man, there was a struggle in which Steve protected three of his colleagues.  But he was stabbed several times and died at the scene.
For that he was later awarded the Queen's Gallantry Medal.  But our world as a family was turned upside down.  Despite our Christian faith, bewilderment, despair, and even anger were just some of the emotions our family experienced in the aftermath of Steve's death.  The ground seemed to move under our feet.
The next morning after Steve's death, the media arrived and wanted to interview me.  During a very sympathetic Press Conference, I was asked what I thought of the man who killed my son.  Before replying, I prayed in the silence for the right answer but said, "I don't know all the circumstances or the man arrested, but I forgive him and pray that God will forgive him too."  Immediately the media's attitude changed drastically, wondering how on earth a Chief Constable could forgive a terrorist.  But, for us as a family, it took away all bitterness or thoughts of revenge.  We were reminded that the Lord's Prayer has as its middle line, "forgive us our trespasses as we forgive those who trespass against us..."
For my family and me, it's only in the light of forgiveness and with a strong belief in the love of God that positive change and transformation can come about.  Though it's been difficult, we've taken to heart the words of St Paul, the transformed soul: "Forgive as Christ forgives you."
~ SONG 3: HOW DEEP THE FATHER'S LOVE FOR US (Stuart Townend)
~ LEADER:
Our Preacher today is Rico Tice, a minister serving in London at All Soul's Church, Langham place.  Rico is also author of 'Christianity Explored' – an informal course which has helped many to understand and embrace the Christian faith.
Before Rico comes to speak to us, we will read from chapter 11 of John's gospel.
Jesus said, "I am the resurrection and the life.  The one who believes in me will live, even though they die; and whoever lives by believing in me will never die.  Do you believe this?"
~ RICO TICE:
For my talk, I've chosen the title 'Why bother with the Christian faith?', because to be quite frank, I spent many years thinking whatever was worth bothering about, it certainly wasn't Christianity.
I had a number of impressions of the Christian faith, all of them negative.  But all that was changed by my Godfather, who did what I suppose godfathers are meant to do, he made me think very deeply, but in a way that left me feeling very negative and pretty cynical about life.  On the 6th of August 1982 he was killed in a cliff fall.  He had been sailing his yacht, had moored at a small island to go for a walk, had slipped on a cliff path and fell to his death.  To be honest it was the first time I'd ever encountered the way death is like an assassin and takes your loved ones from you.  Nobody had ever spoken to me about death - at school or at home – and I realised that I did not have a philosophy of life that copes with death.  Do you?
But it wasn't just death that was the problem.  In 1981 I'd begun to keep a diary.  And I am embarrassed to say that I kept it because I was certain the world revolved around me.  I felt I owed it to you, to the future generations, to record my life.  So for 10 minutes each night I'd record my day – and to my amazement I found I wasn't the great bloke I thought I was.  No, I was a total selfish idiot.  I found there was a real selfishness in my thoughts, words and actions.  And it wasn't just me, it was my contemporaries as well.  I found I failed even by my own standards, let alone God's.  So in my diary, on the one hand I would be gutted when I saw starving refugees on the TV, but on the other I would think nothing of asking my parents for a larger allowance.
On the one hand, I'd call for 'world peace' and 'disarmament', but on the other I would never lay aside the weapons of malice, ridicule and sarcasm I used in my own self-defence at school.
Now I hasten to add that Christianity did not begin to present itself as a viable solution until I began to go to a communion service on a Friday at school.  Looking back, the reason I first went was not particularly spiritual.  There was a girl from the Girls' School next door, who also went to the service and I used to like watching her walk up the aisle to communion.  I really never spoke to her and I'm sure she doesn't realise she's the reason I'm now ordained.
Anyway, one Friday, the speaker said what was by far the most influential thing said to me in all my years at school.  He was giving a sermon on what he called 'Christ's Unconditional Love', and he said:
"Who is this man that having been unjustly tried, despised and rejected by his own people, deserted by his friends, been spat upon and flogged, and had his head crowned with thorns, had his hands and feet nailed to a Roman gallows, still prays for his murderers: 'Father forgive them, they know not what they do.'
Furthermore, he had said in The Sermon on the Mount: "Love your enemies, pray for those who persecute you."  And here he was doing exactly what he taught.  So there was a real correlation between life and lip.
Now I have to say that that was the first time the person of Jesus Christ made a real impression on me.  And I began to read the Bible and go to a tiny school meeting where it was explained.  And the Bible just came alive.  It was as though the person of Jesus Christ walked off its pages into my life.  And I found he met the issues of meaning and selfishness, which I had encountered through my Godfather's death and my diary.
First, selfishness, I found that when Christ died on the cross, it was much bigger than one man dying on Good Friday.  He died there on the cross in my place, for all my wrongdoing, for the diary, for all the times I had ignored God in His world and used his gifts but rejected the Giver.
For all the things I had thought, said and done that were wrong that were on my conscience.  The Bible tells me that God has a record of these things, his own video or diary of our lives, and either we can pay for them at the end of our lives.  So there is a place called Hell (the Lord Jesus, the most tenderhearted man that ever lived, warns us of it).  Or the Lord Jesus can pay for me as my substitute on the cross.  So at the cross I am given the gift of forgiveness and a fresh start.  It's as if those video-tapes illustrating all the negative aspects of my life have been erased; all those diary entries of sin ripped up.
One verse in the Old Testament explains it like this, Isaiah 53 verse 6: "All we like sheep have gone astray, each has turned to his own way, but the Lord has laid on Him the iniquity of us all".  Christ dies to pay my account, in death and blood.
A number of years ago I was playing rugby in Bristol against a club side called 'Dings Crusaders'.  Their grounds were known in the Bristol area as 'The Killing Fields'.  As I arrived at the ground, I saw my opposite number.  He was enormous.  He was built like an outside loo.  You see a guy like that and you ask: "what does his mother look like?".  But as I looked at him he was not stretching off at all.  I thought, very odd, just standing there.  So I walked around and saw he had a tiny baby boy in his arms.  I thought maybe he's babysitting, maybe his mother is playing.  Then just before kick-off, he handed the baby over, walked onto the pitch and ripped me limb from limb.  At half-time, he went back to the little boy, not into the huddle.  In the second half, he came back on and threw me around like straw in the wind.  As the final whistle went, that little boy was back in his arms.  There was no question who the father was.  There was no question who the son was.  I'd like to have seen anybody lay a finger on that little boy.
Now do you think God loved his Son Jesus Christ any less, and yet He sent Him to die upon the cross.  That must mean three things:
1. My wrongdoing, my sin, my diary must be serious, if Christ has to come and die.
2. I must be loved very much, if God is prepared to send His son to die for me, then he must value me.
3. Forgiveness is a gift, paid for by Christ at the cross, which I just need to unwrap.
Christianity is not about rules it is about receiving a gift.  That is actually why we give presents at Christmas, to remind ourselves of the present God gave us when He sent His Son.
But Christ didn't just die on the cross, He also rose again.  So there is a door marked 'Death', one by one we must each go through it.  But Jesus Christ has been through it and came back.  So on Good Friday, he was unjustly tried, condemned, crucified, certified as dead, put in a tomb and three days later he was walking around again.  So He got through death himself and he could therefore get me through, so I no longer feared death.  Christ would get me through, he proved it, he got through himself.
The reading we had from John chapter 11 Jesus declares at the tomb of his friend, Lazarus, before he raises him from the dead, "I am the resurrection and the life".  In other words, he is saying, Will you trust me with your death?  I got through death myself, I can get you through.
So why bother with the Christian faith?  Well maybe there are days when life seems meaningless, maybe there are days when our mortality is seen to be the reality that it is, maybe there are days when people seem selfish, and maybe, just maybe Jesus Christ is the answer to all those things.
~ SONG 4: WHEN I WAS LOST (Kate Simmonds)
~ PRAYER LEADER:
As we have been considering the harmony and beauty of relationship within the trinity let us pray for places in our world where relationships are fractured and harmony and peace urgently needs to be restored.
Our Father we pray for the nation of Syria, for an end to violence, for peace talks between the warring factions. We pray for the world leaders who have influence in this nation that they might use that influence wisely. We pray also for the nation of Egypt as this appears to be such a critical time in that land. May the people of these countries, and indeed the people of all countries humble themselves before you, and seek your help and guidance.
Lord in your mercy.
ALL:  Hear our prayer.
~ PRAYER LEADER:
Our Father we pray for families who are facing stress, and broken relationships. We pray for the restoration of those relationships. Grant to us the grace and strength to serve one another within our families, and to realise that there is always hope if we are ready to seek your help and guidance.
Lord in your mercy.
ALL: Hear our prayer.
~ PRAYER LEADER:
Our Father we pray this morning for individuals who may feel their lives are shattered and broken. We recall the love, and mercy of our Lord Jesus for the broken and marginalised of his day. We are grateful that we do not turn to a God without understanding of our situation, but one who has walked where we walk in the person of our Lord Jesus. When we are feeling powerless help us never to forget the love of God our Father, and the power of his Holy Spirit.
Lord in your mercy.
ALL: Hear our prayer.
~ LEADER:
After our closing prayer we'll sing the hymn written by our worship leader Stuart Townend: 'In Christ alone.'
Let us pray…
Lord Jesus, you are the resurrection and the life.  You healed the broken, liberated the oppressed, lifted the downcast and brought life to the dead.  We praise you that you continue to transform the lives of people all over the world today, giving forgiveness for sin, strength in times of weakness.  Give us grace to love and trust you and courage to embrace the life-changing work you desire to do in each of us as we walk in step with your Holy Spirit.
And may the blessing of God Almighty, the Father the Son and the Holy Spirit, be among us and remain with us always, in the name of Christ our risen Saviour.
~ ALL: AMEN.
~ SONG 5: IN CHRIST ALONE (Stuart Townend & Keith Getty)
~ BAND CONTINUE TO PLAY OUT
Radio 4 Closing Announcement:
Sunday Worship came from the Keswick Convention.  The service was led by John Risbridger and the preacher was Rico Tice.  The music was led by Stuart Townend and the producer was Simon Vivian.
Next week, Sunday Worship comes from St John's Church, Buxton and features Mozart's Missa Brevis in D. That's at the usual time of 10 past 8.