Main content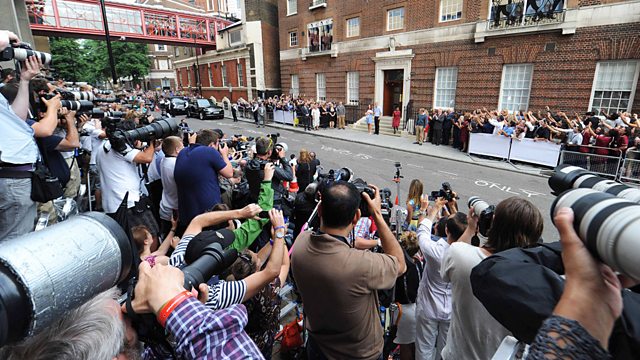 Covering the royal baby story
The challenge the royal baby story poses for Sunday papers and rolling TV news. Plus, Channel 5 ratings overtake Channel 4, and making internet porn filters work.
With the full coverage so far, spare a thought for those working on Sunday papers and on rolling news who have to come up with fresh ways of covering the royal baby story. Eleanor Mills, editorial director of the Sunday Times, Jonathan Levy, head of newsgathering at Sky news and Kevin Maguire of the (seven days a week) Mirror share their experiences and their plans for pacing the story over the coming days and weeks.
Channel 5 has overtaken Channel 4's weekly share of viewing for the first time in its history. Is this a blip or a symptom of an underlying issue for Channel 4? Mark Sweney, of the Guardian, gives his view.
And how practical might it be to impose the kind of effective filters on internet porn that David Cameron has announced this week? Dr Paul Bernal, lecturer in IT and law at the University of East Anglia talks through some of the issues, joined by Eleanor Mills, who has long campaigned to protect children from online pornography.
Presenter: Steve Hewlett
Producer: Simon Tillotson
Editor: Andy Smith.
Chapters
Covering the royal baby story

Kevin Maguire, The Mirror, Eleanor Mills, Sunday Times and Jonathan Levy, Sky News discuss

Duration: 14:00

Channel 4 beaten in ratings by Channel 5 for the first time - is it just a blip?

With Mark Sweney, Media Business Correspondent at the Guardian

Duration: 05:28

The achievability of effective internet porn filters

With Dr Paul Bernal, lecturer in IT & media law and Eleanor Mills, Sunday Times

Duration: 07:27