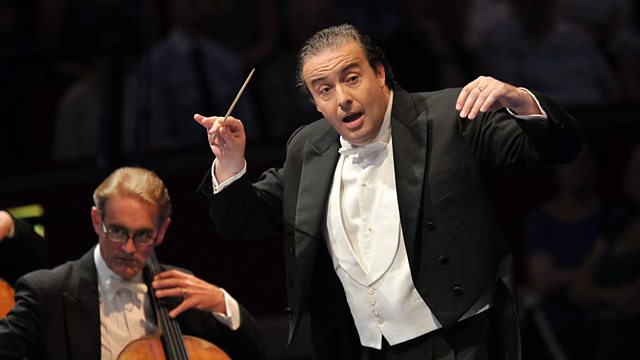 Prom 17: The Apotheosis of the Dance
with Penny Gore - and another chance to hear the BBC Philharmonic and Juanjo Mena at the BBC Proms in a joyful programme where the spirit of dance is never far off.
John McCabe: Joybox (BBC commission: world premiere)
Beethoven: Symphony No. 7 in A major
at approx 2.50
Falla: The Three-Cornered Hat (complete)
Ravel: Boléro
Clara Mouriz (mezzo-soprano)
Compañía Antonio Márquez (dance company)
BBC Philharmonic
Juanjo Mena (conductor)
The world premiere of John McCabe's 'Joybox' opened a concert of music inspired by or written for dance, from the Bohemian stamp and whirl of Beethoven's Seventh Symphony to the slow-burn crescendo of Ravel's 'Boléro'. Mezzo-soprano Clara Mouriz and the Compañía Antonio Márquez join conductor Juanjo Mena and the BBC Philharmonic in Falla's colourful Ballets Russes commission 'The Three-Cornered Hat', a tale of intrigue and jealousy shot through with the spirit of Spanish folk dances.
followed by highlights from the 2012 Cheltenham Festival.
Last on