Main content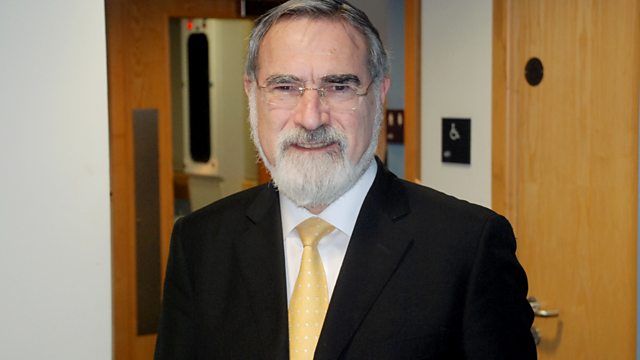 Chief Rabbi, Lord Sacks
The retiring Chief Rabbi, Lord Sacks, talks to Michael Berkeley about the need for more joy in Jewish music, and looks back at the highlights of his 20-year tenure.
Lord Sacks ends his twenty-year tenure as Britain's Chief Rabbi this coming autumn. At his retirement dinner (24 June) Prince Charles described him as "a light unto this nation" and praised him for promoting the principle of tolerance, expressing mounting anxiety at the apparent rise in anti-Semitism, along with other poisonous and debilitating forms of intolerance.
In this programme, Lord Sacks looks back at his life and career, and talks to Michael Berkeley about both the joyous and the sad music which has accompanied him during his time as Chief Rabbi. From the moment his father took the young Jonathan (as a reluctant teenager) to a concert at the Albert Hall he has been passionate about the power of music. But he has also been concerned about the lack of music written for the Jewish people. Composers from Mendelssohn and Mahler to Irving Berlin and George Gershwin have composed for other faiths and other peoples. He feels this is part of the reason why Jewish music needs invigorating - it needs an injection of joyousness. He also talks about composers whose music he feels augurs the nineteenth- and twentieth- century tragedies suffered by the Jewish people, as well as the music which he feels represents the possibility of national and religious reconciliation.
His choices include Mahler, Beethoven, Stravinsky, Simon and Garfunkel and Bach. He is a thoughtful but also an ebullient speaker who loves jokes.
Last on
Music Played
Pyotr Ilyich Tchaikovsky

1812 Overture (excerpt)

Ludwig van Beethoven

Cavatina (String Quartet in B flat, Op.130)(excerpt)

Stephen Glass, Raymond Goldstein & Stephen Levey

Ashrei

Igor Stravinsky

The Shrovetide Fair (Petrushka)

Gustav Mahler

Symphony No. 4 (3rd movement: Ruhevoll, excerpt)

Thomas Newman

Brooks was here (The Shawshank Redemption)

Johann Sebastian Bach

Concerto in D major for two violins, BWV.1043 (1st movement)
Broadcast