Main content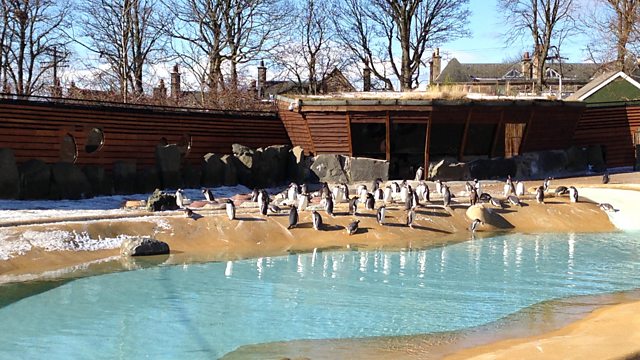 Animal Magic - 100 Years of Edinburgh Zoo
Documentary narrated by John Hannah telling the story of the people and the animals that have made Edinburgh Zoo what it is, as it celebrates its centenary year in 2013.
Edinburgh Zoo is celebrating its 100th Birthday this July. Home to over 1,000 animals including two megastars of the conservation world - the Giant Pandas -Edinburgh Zoo is one of the city's top attractions.
Narrated by John Hannah, this one-hour documentary tells the stories of the people and the animals that have made the zoo what it is today. We follow Darren McGarry, the zoo's head of living collections as he delves into the archives to uncover the vision of Edinburgh lawyer, Thomas Gillespie, who wanted to share his fascination with the wild by creating a modern national zoo for Scotland.
Penguin parades, elephant rides and chimps tea parties were all part of the fun of the zoo during its hay days in the fifties and the sixties. Stunning archive footage shows visitors enjoying the tea parties, elephant rides but most remarkable of all - penguins marching along Edinburgh city streets, complete with police escort.
But as the world changed and attitudes changed, Edinburgh Zoo has had to adapt to survive. Former Zoo Director Roger Wheater describes how he had to make some tough decisions during the 1970s and 1980s to balance the needs of the animals with those of the paying public. Naturalist, Chris Packham and Dr Lee Durrell, wife of the late Gerald Durrell, former animal collector and
conservationist speak of how the role of the zoo has evolved.
In 2011, amid declining visitor numbers and internal turmoil, a breeding pair of Giant Pandas arrived in the hope they would produce a cub. We follow the build up to their brief mating period and the first ever artificial insemination of a Giant panda in the UK.
Whether or not the pandas do produce a cub this year they have been a lifeline for the zoo, visitor numbers have soared and profit rocketed. The zoo's new chief executive, Chris West, hopes that the income generated can help fund the zoo's conservation work. But it is the power of the pandas to capture the public's imagination and pull in the crowds that is its most potent weapon in the conservation battle.
Credits
| Role | Contributor |
| --- | --- |
| Executive Producer | Jo Roe |
| Producer | Jane McWilliams |
| Director | Jane McWilliams |
| Narrator | John Hannah |