Main content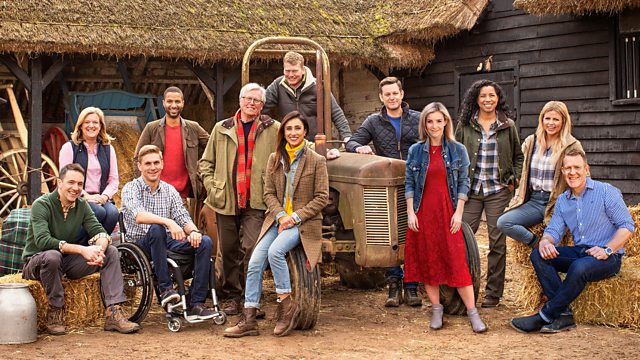 Cambrian Mountains
The Countryfile team explore the Cambrian mountains, one of Wales' best-kept secrets, nestled between the more famous Snowdonia and the Brecon Beacons.
The Countryfile team explore the Cambrian Mountains, one of Wales' best-kept secrets, nestled between its more famous neighbours - Snowdonia and the Brecon Beacons. Matt Baker takes to the saddle to help round up sheep on the hills and meets the farmers trying to put Welsh mountain lamb on the foodie map.
John Craven discovers why writers and artists have taken inspiration from the landscape. He puts his painting skills to the test when he joins a local arts group. In the Elan Valley, Jules Hudson finds out about one of the largest Victorian engineering complexes in its day: a series of dams built to hold back Welsh water destined for the taps of Birmingham.
Elsewhere, Julia is in Kent, putting her fears behind her to find out about a ground-breaking conservation project; and Adam gets a day off from the farm to visit a project where working horses have become more useful than a tractor. Tom Heap investigates claims that the illegal use of lead shot is leading to the unintentional deaths of wild animals.
Matt's road trip
Nestled between the better known Brecon Beacons and Snowdonia, this week Matt Baker is visiting the heart of Wales, the Cambrian Mountains. On his quest to immerse himself in local tradition Matt takes to the hills with upland sheep farmers Owain and James Pugh, who continue to use century old methods to farm their sheep. Matt then heads to the smallest town in Britain. He visits a brewery which uses local spring water to produce its beer and gets to the truth behind the watery legend that put this town on the map. But will these ancient waters really prove to hold healing properties?
Lead shot
Shooting is not just a sport it is also an important part of managing the countryside, but is it leading to the unintentional deaths of thousands of waterbirds? Tom Heap meets a former duck farmer whose birds were poisoned after eating lead shot. He discovers that although most shooters appear to obeying laws on the use of this sort of ammunition, many people are still ignoring them. So is it time for a change in the law or just a change in attitude?
John's living landscape
John Craven is in the picturesque Elan Valley in the heart of the Cambrian Mountains. With the UK's water vole population in rapid decline John goes on the hunt for this elusive mammal which is rumoured to be burrowing in these uplands. John also meets up with old friend and photographer Charlie Waite to get some tips on how to capture the stunning landscape around him.
Herefords and heavy horses
Adam Henson meets up with his neighbour who has taken delivery of a herd of over one hundred and seventy Hereford cattle. He then travels to Derbyshire to meet a couple with a passion for heavy horses. They show him a beautiful gentle giant of a shire horse and her very cute and leggy new-born foal. Adam then takes the reins himself and learns the art of driving a shire with a mare called Chelsea. She is used on a local engineering project to drag logs into a protected woodland, where they create insect hotels.
Helping rare bumblebees
The last recorded sighting of the short-haired bumblebee in England was at Dungeness in 1988. In 2000 it was declared extinct. But now a new project at the RSPB Dungeness Reserve has been set up to reintroduce them. Julia Bradbury meets queen of the bees, Dr. Nikki Gammans, to find out whether the project is working and to meet some members of our rarest species up close. She then meets local farmer Brian Neal, who is doing his bit to help and receives a surprise wild visit whilst out in the fields.
Credits
| Role | Contributor |
| --- | --- |
| Presenter | Matt Baker |
| Presenter | Julia Bradbury |
| Presenter | John Craven |
| Presenter | Jules Hudson |
| Series Producer | Teresa Bogan |