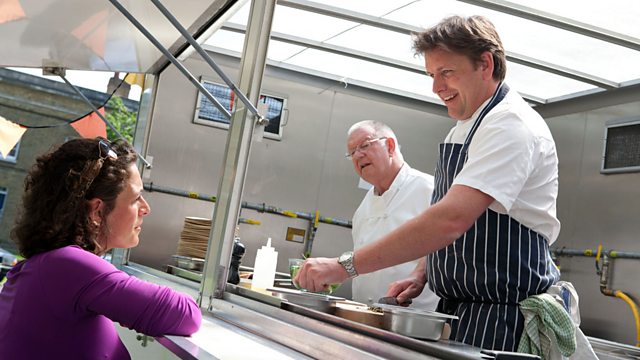 Great British Budget Menu
In this one-off Great British Menu special, three of Britain's leading chefs come face-to-face with one of the most pressing issues of our times: food poverty. Recent research estimates that nearly five million people in the UK are struggling to feed themselves properly and eat nutritiously.
Great British Budget Menu goes straight to the heart of the problem as James Martin, Angela Hartnett and Richard Corrigan live with three households where people are finding it hard to make ends meet. Food prices have risen by 25% in the last five years, hitting household budgets hard.
The chefs discover how tough it is for a pensioner to put food on the table and the difficulties working parents face cooking tasty, nutritious food for themselves and their children when supermarket offers on cheap convenience foods look tempting on their limited resources. Daily food budgets in households across the country can be less than many of us would spend on a cappuccino. Richard Corrigan visits a family of six in Mansfield who, on average, have just £1.66 per day to feed each member of the family.
The chefs have to eat just like the families do and need to call on every ounce of their professional skills when challenged to shop and cook on their households' budgets. Britain on the breadline is a wake up call for the chefs but, fired up by their experiences, they want to try and help by inviting the great and good to a special Budget Banquet where they willl raise the issues facing households in food poverty with the people who can do something about it.
The chefs' Budget Banquet challenge is to cook cheap nutritious meals on next to nothing for the Great British Menu judges - Prue Leith, Matthew Fort and Oliver Peyton - who are joined for this special event by the doyenne of home cooking, Mary Berry. Invited to taste the chefs' food and discuss the issues are politicians, high street supermarket representatives, well-known faces and movers and shakers from the charity world.
As a legacy beyond the programme, many of Britain's best known chefs - from the Hairy Bikers to Mary Berry - are also joining the challenge by helping to create low cost recipes for all us to cook at home. The recipes will be made available via www.bbc.co.uk/budgetmenu.
Meet the Chefs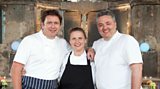 Read about the chefs who will be cooking up affordable fare on the Great British Budget Menu.
How much do the recipes cost?
In association with Great British Budget Menu, a series of legacy recipes have been created.  The first step was to put together a list of the ultimate store cupboard essentials (the complete list shoppable at under £20 in a number of high street supermarkets), a variety of these ingredients can then be used across the 52 recipes, each designed to cost under £1 per portion. 
The store cupboard ingredients are charged to recipes on a pro rata basis while all extra ingredients are charged at the full supermarket unit cost to reflect realistic shopping opportunities. The store cupboard is designed to last over a number of weeks.
Store cupboard ingredients
Great British Budget Menu recipes were designed to be cooked in conjunction with a low-cost store cupboard. The store cupboard is formed of good basic essentials that can be used across a variety of recipes and is designed to last over a number of weeks.
Here are the store cupboard ingredients which cost approximately £20 as of May 2013:
Salt
Ground black pepper
Olive oil
Plain flour
Crushed chillies
Dried mixed herbs
White wine vinegar
English mustard
Whole milk
Tinned chopped tomatoes
Tinned tuna (chunks in brine) x2
Beef, chicken or veg stock cubes
Butter
Pasta, penne
Rice
Brown sliced bread
Garlic
Eggs
Potatoes
Onions
Peas (frozen)
Sweetcorn (frozen)
Food Poverty: Sources
Our statistics on food poverty and other issues mentioned in the programme, came from the following sources:
Centre of Economic Business and Research
Church Action on Poverty/ Oxfam2013
Family Food 2011, DEFRA
ONS Trends in Household Expenditure
Kantar Worldpanel June 2012
Age UK 2013
Combating Malnutrition BAPEN 2009
Church Action on Poverty/ Oxfam 2013
Trussell Trust Report 2013
Kelloggs /Centre for Economics and Business Research 2013
Credits
| Role | Contributor |
| --- | --- |
| Series Producer | Daniel Barry |
| Executive Producer | Nicola Moody |