Main content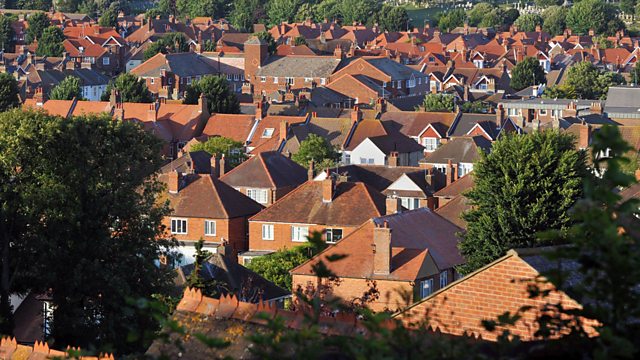 Suburbs
Texts and music on the theme of the suburbs, with readers Emily Joyce and Philip Frank. With Betjeman, Dickens, Kureishi, and DH Lawrence, plus Bach, Glass and Kaikhosru Sorabji.
Emily Joyce and Philip Franks take a literary walk through the suburbs, to music by JS Bach, Philip Glass, Kaikhosru Sorabji and others.
Suburbs sprung up in the 19th century along the rail routes that led out of rapidly growing cities like London and the major industrial centres. Suburbs now cover large swathes of our post-industrial landscape and have led to a particular culture which has evolved from the daily commute to work.
This edition of Words and Music wanders through suburbs, from those dark industrial places of Dickens's times to the uniform towns experienced by Hanif Kureishi and Adrian Henri. Suburbs provide a peaceful haven at the end of the working day, a near-rural setting, a nice place in which to grow up, in which to learn certain morals, but also a place of ennui, monotony and rebellion. The programme includes texts from Dickens's Old Curiosity Shop, Hanif Kureishi's Buddha of Suburbia, and poems by John Betjeman, DH Lawrence, William Cowper, Emerson, Tennyson, Arthur Guiterman, Gwen Harwood, Aesop, Margaret Atwood, Hardy, Kipling, TS Eliot, John Davidson, EE Cummings and Adrian Henri.
Music Played
Timings (where shown) are from the start of the programme in hours and minutes
John Betjeman

Hertfordshire (A Ring Of Bells). Read by Philip Franks

D. H Lawrence

Flat Suburbs S. W. in the Morning. Read by Emily Joyce

Ralph Waldo Emerson

Motto to New England Reformers. Read by Philip Franks

William Cowper

London Suburbs. Read by Emily Joyce

Alfred Tennyson

Suburban Garden. Read by Philip Franks

Arthur Guiterman

Our Suburb. Read by Philip Franks and Emily Joyce

Aesop

Astronomer (Fables). Read by Emily Joyce

Gwen Harwood

Suburban Sonnet. Read by Emily Joyce

Margaret Atwood

The City Planners. Read by Emily Joyce

Thomas Hardy

Snow in the Suburbs. Read by Philip Franks

Hanif Kureshi

Buddha of Suburbia, Chapter 1 (extract) Read by Philip Franks

Rudyard Kipling

The Sons of the Suburbs. Read By Philip Franks and Emily Joyce

T S Eliot

I journeyed to the suburbs, and there I was told. Read by Emily Joyce.

John Davidson

A Northern Suburb. Read by Emily Joyce

Charles Dickens

The Old Curiosity Shop, Chapter 45. Read by Philip Franks

E E Cummings

e/cco the uglies/t. Read by Philip Franks and Emily Joyce

Adrian Henri

Death in the Suburbs. Read by Philip Franks and Emily Joyce

Producer Note

I have lived in suburban London for most of my life and many of the places mentioned in the texts of this programme are very familiar to me. I love hearing the trains purring along the track at the bottom of the garden, which connect me instantly to the city centre. It's just as easy to escape beyond the city perimeter to the countryside and the sea. 

 

Suburban life can be solipsistic.  After recently spending some time away from work and Central London, the idea of being tied only to my little corner of Outer London, with its friendly shops, parks and its streets of proud Victorian villas, mock-tudor semis and '60s flats, made me think about what really is 'suburban'.  Where do the suburbs begin and where do they end?  Why does the label 'suburban' sometimes cause such unease?

 

Suburbs sprung up in the 19th century along the rail routes that led out of rapidly growing cities like London and the major industrial centres. Suburbs now cover large swathes of our post-industrial landscape and have led to a particular culture which has evolved from the daily commute to work.

 

There are many texts and poems about the suburbs, yet music which relates directly to suburban life is relatively rare.  Malvina Reynold's '60s hit, Little Boxes, is really the only music in this programme that has a direct link to the subject.  I have instead tried to capture the sound of the texts through music, but there are three types of music that do run through the whole programme: first, minimalist music, which captures the oft-perceived uniformity of suburbs; secondly, quirky waltzes that represent the real and idiosyncratic soul of those same suburbs; and thirdly, pastoral music that connect the suburbs to the countryside and the delightful comfort of suburban gardens.

 

The programme begins with the sound of trains rolling across Elliot Carter's pastoral piece, Sound Fields, as the suburbs, like those of John Betjeman's poem 'Hertfordshire', encroach on the countryside.  Then we arrive in the suburbs where Erik Satie's Avant-dernieres pensees has a square rhythm that fits perfectly the 'new red houses [that] spring like plants in level rows' seen by D. H. Lawrence in his poem 'Flat Suburbs'.  Emerson writes about the 'beam of goodness' coming down and 'doubling daylight everywhere', which is set against John Tavener's Ikon of Light, which also has a square rhythm that follows on from the Satie.

 

William Byrd's The Bells not only introduces the bells at the beginning of William Cowper's poem 'London Suburbs', but also builds up from the opening ground bass just as cities grow outward and mature, while Vaughan Williams' Linden Lea echoes the suburban aspiration to escape the city into the tranquillity of Tennyson's 'Suburban Garden'.

 

The next part of the programme portrays suburban 'ennui'.  Malcolm Arnold wrote The Fair Field to celebrate the 10th anniversary of the Fairfield Halls in Croydon, probably one of London's most iconic suburbs.  It is a fabulously quirky piece and sets up Arthur Guiterman's humorous insight into American suburban life in his poem, 'Our Suburb'.  On the other hand, Gwen Harwood's 'Suburban Sonnet' follows a Bach fugue and is a bleak portrayal of the bored, even depressed, housewife, who once played to Rubinstein and now half-practises a fugue, disturbed by the screaming of her two children squabbling at the foot of the piano.

 

Margaret Atwood and Thomas Hardy paint pictures of the suburbs in snow.  While Margaret Atwood follows 'The City Planners' as they trace 'the panic of suburb order in a bland madness of snows' to the minimalist music of Howard Skempton, Thomas Hardy follows a sparrow who has made his home in a suburban tree, big with snow.  Harrison Birtwistle's early composition, Oockooing Bird, picks up the sound of the sparrow as it dances around the snowy tree.

 

Hanif Kureishi, himself brought up in South East London, writes about 'suburban morals' in the opening of his novel, 'The Buddha of Suburbia', which leads neatly into Rudyard Kipling's poem, 'The Sons of the Suburbs'.  I chose Philip Glass' 'Heroes' Symphony to open this section of the programme, partly because Hanif Kureishi mentions the Three Tuns in Beckenham, which is where David Bowie played many of his early gigs. The Glass also adds to the minimalist stream that runs through the programme.  Kaikhosru Sharpurji Sorabji was also a son of the suburbs, being born in Chingford, and his explosive Transcendental Study provides a stark warning to Kipling's suburban sons going on a bend, for 'it's Bow-street and gaol when you do.'

 

Suburbs grew too in industrial areas and John Davidson's poem 'Northern Suburb' together with Dickens' trip to 'a long suburb of red brick houses' in his novel, 'The Old Curiosity Shop', paint a brilliantly vivid picture of these dark and mournful places.  Mosolov's terrifying orchestral piece, Iron Foundry, responds to the shrieking engines described in Dickens' industrial suburb and segues, through the sound of trains, into Adams' Shaker Loops and the conclusion of the programme.

 

The poets E E Cummings and Adrian Henri close the programme.  Menotti's symphonic poem for orchestra, Apocalypse, underpins Henri's 'Death in the Suburbs', and mirrors the subtle sense of humour that Henri injects into his telling of the end of the world as it surely will spread out from a place like Bromley South or Orpington.

 

Elizabeth Arno (producer)