Main content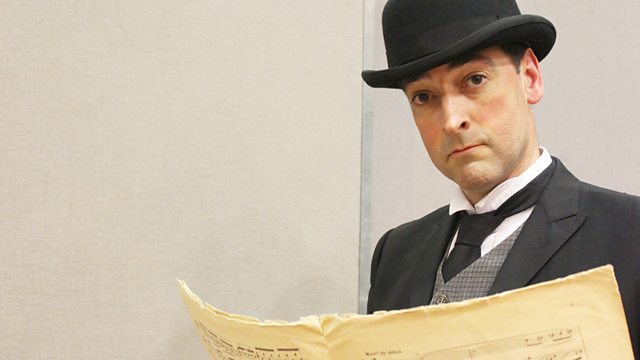 Alistair McGowan - Three Pieces in the Shape of a Pear
4 Extra Debut. The story of three key relationships in the life of French composer Erik Satie. Written by and starring Alistair McGowan, with Nathaniel Parker and Imogen Stubbs.
Alistair McGowan's witty and poignant drama about his musical hero - the visionary and eccentric French composer Erik Satie and the three key relationships in his life.
Starring Alistair McGowan as Erik Satie, Nathaniel Parker as Claude Debussy, Imogen Stubbs as Suzanne Valadon and Charlotte Page as Paulette Darty.
Satie is now most famous for his delicate and dreamlike 'Gymnopedies', but he was a man ahead of his time - turning his back on the musical conventions of his day and composing spare, 'white' pieces with strange titles, such as 'Flabby Preludes for a Dog' and 'Three Pieces in the Shape of a Pear'
But he was also a complex and solitary man. McGowan's drama looks at three key figures in Satie's life - his friend and rival, Claude Debussy; his first love, the artist Suzanne Valadon and the society soprano, Paulette Darty, for whom he nurtured a long, but undeclared, devotion.
But despite the poignancy of Satie's romantic life, this is a fresh and funny portrayal of an engagingly eccentric figure - a man who saved time deciding what to wear by buying seven, identical, yellow, corduroy suits (one for every day of the week) and who, for a time, consumed only white foods in the hope of instilling that simplicity and purity into his own body and music.
All other parts played by members of the company.
Directed by Emma Harding.
Alistair McGowan tells the story of the love letters that composer Erik Satie never sent.

Alistair discusses his Satie obsession and the programmes that resulted with Suzy Klein
Credits
| Role | Contributor |
| --- | --- |
| Writer | Alistair McGowan |
| Erik Satie | Alistair McGowan |
| Claude-Achille Debussy | Nathaniel Parker |
| Suzanne Valadon | Imogen Stubbs |
| Paulette Darty | Charlotte Page |
| Willy Gaulthier-Villar | Kevin Eldon |
| Ravel | Kevin Eldon |
| Bertrand | Michael Bertenshaw |
| Dreyfuss | Michael Bertenshaw |
| Emma Debussy | Philippa Stanton |
| Waiter | David Seddon |
| Policeman | David Seddon |
| Musician | Jonathan Storey |
| Director | Emma Harding |
| Producer | Emma Harding |