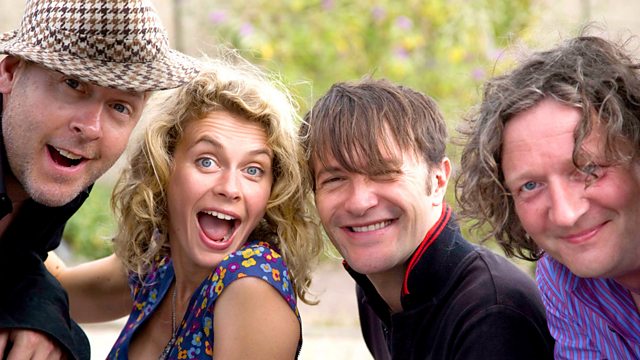 Harry Shearer, Marcus Brigstocke, Imogen Edwards-Jones, James Oswald, Stealing Sheep, Glenn Tilbrook and The Fluffers
Clive cranks the volume up to 11 with star of 'This Is Spinal Tap' and 'The Simpsons', actor and voice artist Harry Shearer. In new play 'Daytona', Harry plays ballroom dancing enthusiast Joe Zimmerman, who with wife Elli, plans to win the next big competition. But the unexpected arrival of a figure from their past threatens to throw everything off balance. 'Daytona' is at London's Park Theatre until 18th August.
Clive's herding sheep with farmer and writer James Oswald, who wrote debut crime thriller 'Natural Causes' while tending to his 350 livestock in rural Fife. In the next instalment, 'The Book of Souls', Detective Inspector Tony McLean returns to solve the disturbing mystery of the Edinburgh Christmas killer.
Danny Wallace dines out with bestselling author Imogen Edwards- Jones, whose 'Babylon' series of novels are set in the sexy world of a luxury five star hotel. Imogen now reserves a table for us at 'Restaurant Babylon', where there are celebrity fights and trysts, corpses at the table, coke in the toilets and sex in the bin! Bon Appetit!
Comedian and star of Radio 4's 'The Now Show' Marcus Brigstocke talks to Clive about his new show, where the greatest minds in modern Britain are invited to solve all the problems of modern life. There is no issue too small, no problem too great for the Policy Unit; an hour of silliness which may accidentally stumble upon something useful, but probably not.
'Marcus Brigstocke's Policy Unit' is at Latitude Festival, Suffolk on 21st July.
With musical mayhem from Glenn Tilbrook and The Fluffers, who perform 'Best of Times' from their album 'Pandemonium Ensues'.
And from lo-fi, psych-folk trio Stealing Sheep, who perform 'Shut Eye' from their album 'Into The Diamond Sun.'
Producer: Sukey Firth.
Last on
Listen to Loose Ends anytime, anywhere.