Main content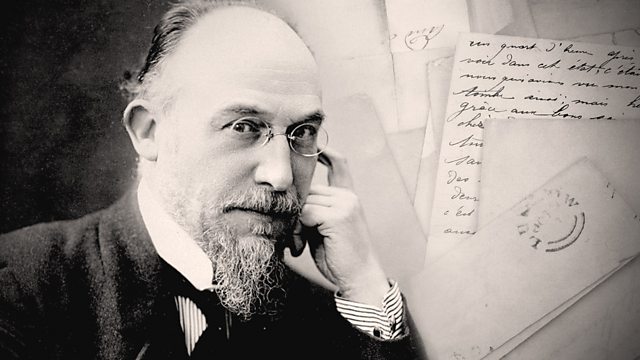 The Unsent Letters of Erik Satie
4 Extra Debut. Alistair McGowan travels to Paris on the trail of his musical hero, the eccentric composer Erik Satie. From July 2013.
Alistair McGowan travels to Paris on the trail of his musical hero, the visionary Erik Satie - now most well-known as the composer of the Gymnopedies. Satie was famously eccentric - he replaced traditional musical directions like 'ralentando' and 'fortissimo' with instructions to the musician such as, 'While watching oneself approach' and 'like a nightingale with a toothache' and in order to save time deciding what to wear every day, he bought seven, identical, yellow, corduroy suits - one for every day of the week.
Satie's radical new approach to music was initially dismissed by the musical establishment, but he was to prove a highly influential force in the new French music of Debussy, Ravel and anticipated 20th century minimalism.
As Alistair talks to Satie biographers and musicians, he uncovers the story of Satie's one and only love affair, with the artist Suzanne Valadon. Their affair lasted only six months, but years later, after Satie's death, bundles of unsent letters to Suzanne were discovered in Satie's apartment.
Featuring interviews with Robert Orledge, Ornella Volta and Jean-Pierre Armengaud.
And at 14.15 on Monday 15th July, you can hear Alistair play Satie, in a Radio 4 Afternoon Drama, Three Pieces in the Shape of a Pear, written by Alistair himself, and starring Nathaniel Parker as Claude Debussy, Imogen Stubbs as Suzanne Valadon and Kevin Eldon as the critic, Willy Gaulthier Villars.
Translations of Ornella Volta's interviews were voiced by Philippa Stanton
Produced by Emma Harding
FURTHER READING:
Satie Seen Through His Letters, edited by Ornella Volta, translated by Michael Bullock. Marion Boyars Publishers Ltd; New edition (May 1994)
Satie the Composer by Robert Orledge. Cambridge University Press (4 Dec 2008).
Last on
Alistair McGowan's witty and poignant new drama about his hero, the composer Erik Satie.
Broadcasts

Featured in...
A collection of documentaries on modern and contemporary classical music.