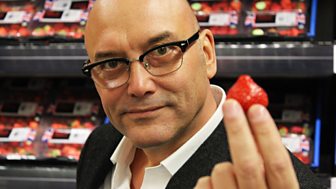 Series 1
Gregg Wallace goes behind the scenes with Britain's biggest food retailers - across a year - to discover how they source, make and move the food we find on the supermarket shelves.
On iPlayer
This programme is not currently available on BBC iPlayer
On TV
There are no upcoming broadcasts of this programme
Last on
Sat 10 Dec 2016 14:00
BBC One
How does the weather affect what food we buy? Gregg explains...
Supermarket Shopping Secrets