Main content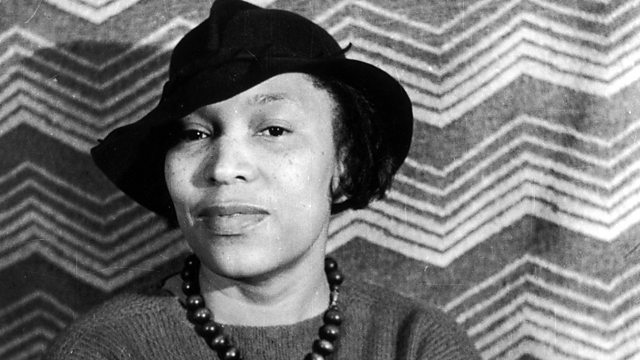 Zora Neale Hurston; Mumsnot; Do Looks Matter At Work?
How important are looks at work? Plus sex after ovarian cancer, Zora Neale Hurton, and does a woman have any value if she doesn't have any kids? Jenni Murray presents.
The influence and inspiration Zora Neale Hurston and her acclaimed novel 'Their Eyes Were Watching God' have had on generations of black women writers. Mumsnot: If a woman doesn't have any kids, does she have any value? Lulu Le Vay tells Jenni Murray about being made to feel marginalised just because she's child free. Dr Sarah Blagden on the impact of ovarian cancer treatment on women's sex lives.
Last on

Chapters
Post Ovarian Cancer Sex

Imperial College Medical Oncologist Dr Sarah Blagden and two survivors on post-surgery sex

Duration: 11:53

Zorah Neale Hurston

Writer and PhD student Janine Bradbury on Hurston's turbulent life and lasting appeal

Duration: 07:26

Lookism

Honey Money author Catherine Hakim and writer Anna-May Mangan on how looks can impact life

Duration: 07:59

Commissioning Affordable Jewellery

Toby Austin and Clara Breen talk to Judi Herman about creating commissioned jewellery

Duration: 06:03

Mumsnot

Journalist Lulu Le Vay on why women with no children should be valued, not marginalised

Duration: 08:15

Post Cancer Sex

A new study has revealed that the majority of women who have undergone treatment for ovarian cancer experience a negative impact on their sex lives, with 77% of women reporting pain and discomfort during sex. Dr Sarah Blagden, Consultant Medical Oncologist at Imperial College and Ovarian Cancer Action research centre has done the first UK study on 'sexuality and the ovarian cancer survivor'. Dr Blagden discusses the treatments available to ovarian cancer patients experiencing sexual problems and stresses that doctors should routinely ask these women how surgery has impacted on their sex life. In prostate cancer clinics it is standard practice that men are routinely questioned about erectile function, so why when women have undergone ovarian cancer surgery and an abrupt surgical menopause, are they never asked how this affects their sex lives? We also hear from two ovarian cancer survivors who reveal how treatment made sex difficult and how no consultant, at any point, asked them about their sexual wellbeing.

The results of the study will be published today here

Zorah Neale Hurston

The Radio 4 Book at Bedtime next week is Their Eyes Were Watching God by Zora Neale Hurston. This widely acclaimed novel has been an inspiration to generations of black women writers, including Toni Morrison, Alice Walker, and Zadie Smith. Writer and PhD student at Sheffield University Janine Bradbury joins Jenni Murray to talk about Hurston's turbulent life and the lasting appeal of her greatest novel.

Lookism

Are your looks your destiny? How does your appearance affect your career and how much you earn?  Author of Honey Money: Why Attractiveness Is The Key to Success, Catherine Hakim and writer Anna-May Mangan join Jenni Murray to discuss how what you look like and how you dress influences your life.

Commissioning Affordable Jewellery

The idea of commissioning a piece of jewellery sounds like a costly luxury. But it needn't be if what is precious to you is not gold, silver, and gems, but perhaps the meaning behind the piece, a life event that it celebrates, or the elegance or excitement of the design, whatever the materials. As part of a series on commissioning affordable pieces of jewellery, Toby Austin and designer-maker Clara Breen told Judi Herman about their collaboration on a very personal gift for Toby's partner Susanne - a ring for her 30th birthday. If you have commissioned a piece of affordable jewellery to commemorate an event in your life, do email us with the details.

Mumsnot

Mumsnet is ranked number seven on the Woman's Hour Power List, and the imminent birth of the royal baby is set to further raise the social and cultural capital of motherhood.  But with one in five women childless at 45, what about 'Mumsnot'?  Journalist Lulu Le Vay asks, "If a woman doesn't have any kids, does she have any value?" She joins Jenni to discuss her experience of being made to feel marginalised.

Credits

| Role | Contributor |
| --- | --- |
| Presenter | Jenni Murray |
| Interviewed Guest | Janine Bradbury |
| Interviewed Guest | Lulu Le Vay |
| Interviewed Guest | Sarah Blagden |
| Interviewed Guest | Florence Wilks |
| Interviewed Guest | Angela Walker |
| Interviewed Guest | Catherine Hakim |
| Producer | Steven Williams |

Broadcast