Main content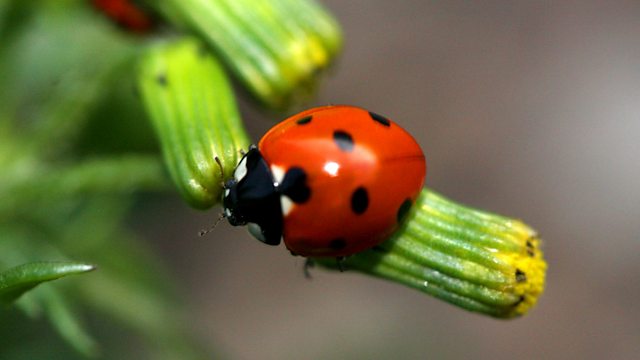 4 Extra Debut. 'Tiggy hogs and coffin cutters' kick off Brett Westwood and Phil Gates's investigation into common garden wildlife. From July 2013.
What looks like a woodlouse, can roll up into a ball, and was at one time thought to cure digestive disorders when swallowed? Well the answer can be found in the first of a new series of five programmes in which Brett Westwood joins naturalist Phil Gates in a garden near Bristol, and with the help of wildlife sound recordist Chris Watson, they offer a practical and entertaining guide to the wildlife which you're most likely to see and hear in different habitats around the garden, beginning with log piles and long grass. Here they find "tiggy hogs and coffin cutters", local names for woodlice; endearing little armoured scavengers that feed mostly on fungi. And where you find woodlice you might also find their predators; a spider, "which has got these enormous fangs and the woodlice meets a sticky end!". The decaying leaves which accumulate in log piles are also good hibernation sites for bumblebees; which in spring will emerge to collect nectar and pollinate garden plants. So log piles can help ensure pollination! In the long grass nearby, Brett and Phil go looking for cuckoo spit, and an insect which can catapult itself to a height of 140 times its body length! They are also attracted by a hive of activity; the sounds of red mason bees buzzing around artificial nesting sites which have been built for them; these are short lengths of drainpipe containing dozens of hollow tubes in which the bees make their nests and lay their eggs. Artificial nests are a great way of encouraging pollinators into your garden. Finally they discuss the merits of wood mice in a garden and the creatures they attract; "What could better than being in bed at night and hearing Tawny Owls hunting in your garden, wood mice are something you really do need!"
Producer Sarah Blunt.
Last on
More episodes
Previous
You are at the first episode
Close up of a red mason bee (Osmia rufa)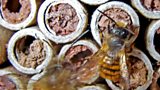 A close up of a red mason bee (Osmia rufa).  Image courtesy of Phil Gates.
Phil Gates Blog
More information and photographs of the species discussed in the series by our contributor Phil Gates is available on Phil's blog.
Broadcasts