Main content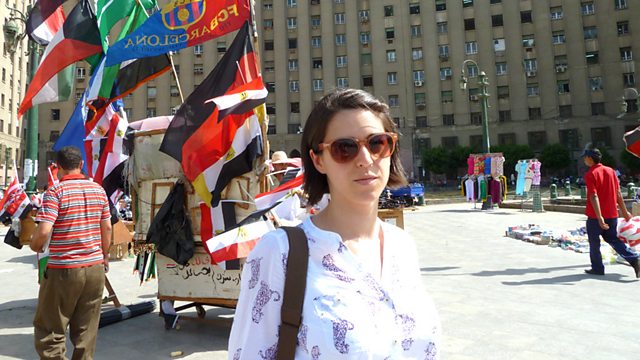 Egypt
Amidst protest and upheaval, Suzy Klein travelled to Cairo to ask how Egypt's cultural identity is evolving, and what role music will play in its future.
Suzy Klein travelled to Cairo to meet musicians and cultural activists, and find out how Egypt is forging a new cultural identity in 2013. Recorded in a climate of upheaval and protest that has resulted with the deposition of President Mohammed Morsi, Suzy hears how Egyptian cultural identity spans 7000 years of history and includes Pharaonic, Arabic, Coptic and Western Classical music, and that musicians today are taking to the street to defend this plurality of cultural expression.
In 1871 Giuseppe Verdi's grand opera Aida was given its world premiere at the newly built Cairo Opera House. In June 2013, on the stage of the new opera house, singers and musicians appeared in full dress once more for a performance of Aida, but this time holding protest placards against interference from the sixth culture minister to be appointed in two years. Suzy speaks to Nayer Nagui, conductor of the Cairo Opera Orchestra, and journalist Ati Metwaly and asks whether the protests within the arts mirror wider unrest across the country, and what role the arts have in protecting cultural diversity in a country of 80 million people. She also takes the artists' concerns to the now deposed Minister for Culture Alaa Abdel Aziz, and asks for a direct response to their allegations.
Cultural activist Basma El Husseiny, who runs Culture Resource, a non-governmental arts body, tells Suzy how the fine arts in Egypt have traditionally been associated with ruling elites and that as she takes music, theatre and dance out into deprived communities, the need for new modes of expression amongst the Egyptian people is stronger than ever.
One of the most significant religious minorities in Egypt today are the Coptic Christians. Founded in the 1st century AD, the Copts have preserved their music over 20 centuries as an oral tradition. Since the advent of recording technology the Insitute of Coptic Studies in Cairo has been working to catalogue and record this tradition, and now it has been digitised. Dr Michael Ghattas tells Suzy how the music of the Copts can be traced back to Pharaonic times, and why Egypt's Coptic community worry for their future in Egypt today.
With a tradition dating back to at least the 14th Century, the Egyptian oud is one of the lynchpins of Arabic classical music. In a suburban flat surrounded by 78rpm gramophone records, archivist and oud player Mustafa Said explains to Suzy how, since the 1950s Arabic classical music has looked to the West for ways to innovate and why he believes it is now crucial that musicians draw inspiration from the classical repertoire of an older era and use this music to find a new way to look forward.
Finally, in a small music studio in downtown Cairo, Suzy meets 22 year old composer Bahaa El Ansary, and musician and curator Mahmoud Refat. Refat's "100 Copies" label and venue has been a key player in the experimental music scene in Egypt over the last 10 years, and he talks frankly about how, since 2011, musicians in Egypt are pigeonholed as 'revolutionary' by Western media, to the detriment of the vibrant music scene that has long existed in Egypt.
Last on
Credits
| Role | Contributor |
| --- | --- |
| Presenter | Suzy Klein |
| Interviewed Guest | Nayer Nagui |
| Interviewed Guest | Ati Metwaly |
| Interviewed Guest | Alaa Abdel-Aziz |
| Interviewed Guest | Basma El-Husseiny |
| Interviewed Guest | Michael Ghattas |
| Interviewed Guest | Mustafa Said |
| Interviewed Guest | Bahaa El-Ansary |
| Interviewed Guest | Mahmoud Refat |
Broadcast