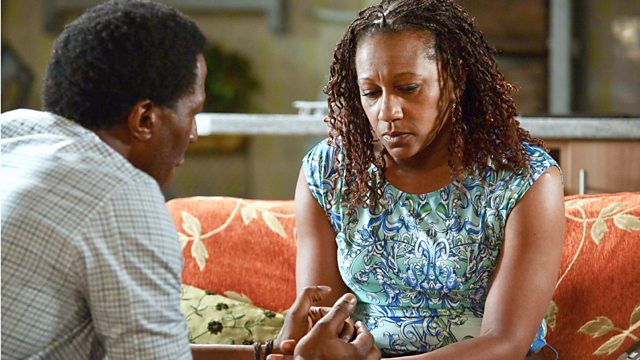 05/07/2013
Dexter teases Ava about coming home at 2am. Cora invites Dexter to lunch. She realises Ava's still seeing Sam and gives the ultimatum that Dexter know by lunch. Ava tells Sam he doesn't understand how much he's hurt Dexter. She invites Dexter to lunch, who turns up with flowers. He twigs something's up. Cora tells him to speak to Ava. He bursts in as Sam is urging Ava to tell Dexter about them. Dexter's horrified as Ava takes Sam's hand.
Abi tells Cora she shouldn't snub a friend like Patrick. Cora dolls up for the dance only to find Patrick's got another partner, Betty Spragg. She leaves, quietly fuming.
Bianca goes to Shirley, worried Jean might say something. Meanwhile, Ian – on top of the world after having got his woman back – enters the restaurant to find it trashed, the sprinklers on and Carl booked in for lunch. Bianca and Shirley find Jean curled up in the street, tear-stained. They beg her to act normal. She breaks down seeing Ian and Denise trying to clear up. Janine arrives and calls the police. She tells Ian to consider his list of enemies. He promises to cover the damage. Shirley and Bianca make Jean promise to keep quiet.
Michael goes to Janine now that she's back, but leaves with a flea in his ear. Kat tells him he needs to be adult about the situation for Scarlett – like she and Alfie are for Tommy's sake. He goes to Janine, tells her he's tired of the games. If she wants him to back off, he will, but he says he's missed her. Later, he tells Kat that all's well: he's making Janine fall in love with him again.
Peter tells Lucy he doesn't want to see her hurt over Joey.
Last on
Credits
| Role | Contributor |
| --- | --- |
| Dexter Hartman | Khali Best |
| Ava Hartman | Clare Perkins |
| Sam James | Cornell S John |
| Michael Moon | Steve John Shepherd |
| Alice Branning | Jasmyn Banks |
| Kat Moon | Jessie Wallace |
| Janine Butcher | Charlie Brooks |
| Billy Mitchell | Perry Fenwick |
| Ian Beale | Adam Woodyatt |
| Denise Fox | Diane Parish |
| Jean Slater | Gillian Wright |
| Shirley Carter | Linda Henry |
| Bianca Butcher | Patsy Palmer |
| Peter Beale | Ben Hardy |
| Lucy Beale | Hetti Bywater |
| Abi Branning | Lorna Fitzgerald |
| Cora Cross | Ann Mitchell |
| Patrick Trueman | Rudolph Walker |
| Phil Mitchell | Steve McFadden |
| Betty | Tessa Wyatt |
| Executive Producer | Lorraine Newman |
| Director | Daniel Wilson |
| Writer | Fiona Peek |