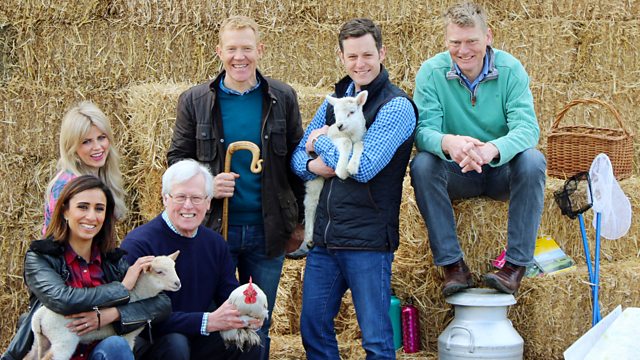 Kent
The Countryfile team are on the coastal flatlands of Kent. This beautiful but remote area is a haven for wildlife and a huge variety of flora and fauna.
On Romney Marsh, Matt Baker finds out about the gangs of smugglers who once used the area to deal in alcohol, tobacco, guns - and even sheep!
Julia Bradbury visits Scotney Castle and discovers something precious lurking in the waters of the old swimming pool.
Tom Heap is in the north of England, asking if multi-million pound plans to bring super-fast broadband to more of the countryside are worth all the effort and expense.
And on his farm, Adam Henson becomes one of the first to use a new vaccine which will protect his sheep against a deadly virus.
Last on
Owls and seals
The BBC's Summer of Wildlife is all about getting out and exploring all the wonderful wildlife on your doorstep.  So Countryfile has challenged naturalist and filmmaker Richard Taylor-Jones to film the wildlife near his Kent home.  With camera in hand Richard set off on a mission to prove you don't have to go far to see great wildlife - and prove it he does! He sneaks a peek at a little owl, shows us the tricks of the trade when filming barn owls and gets up close to common seals as they frolic and play on the shores near his home.
Julia and the newts
Julia Bradbury gets up close with some unlikely visitors to an outdoor swimming pool in the beautiful grounds of Scotney Castle. A number of great crested newts, a European protected species, have made the disused pool their own. But there is a problem. While the newts can easily enter the water, they cannot climb back out and that means they are unable to contribute to the species' wider population. Julia lends a helping hand to expert Lee Brady as he tries to overcome this dilemma.
Smugglers and sheep
Matt Baker delves into the history of sheep farming on Romney Marsh. He meets Paul Boulden and his great uncle John, whose family have been farming Romney Sheep for more than 130 years. Matt gets stuck in, trying his hand at an old shearing technique. He also explores the darker past of wool on the marsh. Once our most valued export, wool was given the first customs duty in 1275 during the reign of Edward I. This sparked the beginning of smuggling, with armed gangs killing and reigning havoc in order to move this coveted product to the beaches of the south coast.
The Schmallenberg vaccine
Adam Henson meets a farmer who lost over forty percent of his lambs to Schmallenberg, a deadly virus carried and passed onto animals by midges. As we've seen over the last 18 months in the UK, it has caused the death and deformity of large numbers of unborn calves and lambs. But the tide is turning in the farmer's favour. Adam visits a laboratory where they have developed a vaccine which makes animals immune to the virus. Back on his farm Adam takes delivery of one of the very first batches of this vaccine, which he uses to treat his sheep.
Credits
| Role | Contributor |
| --- | --- |
| Presenter | Matt Baker |
| Presenter | Julia Bradbury |
| Presenter | Adam Henson |
| Presenter | Tom Heap |
| Series Producer | Teresa Bogan |