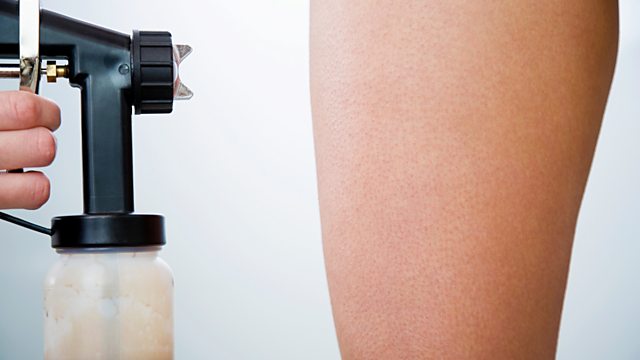 Tanning Tales
Kit Hesketh Harvey explores the meteoric rise of the spray tan. From Katie Price to Kate Middleton, no well dressed woman, or man, would now be seen without one. While social position used to be judged on accent and clothing, it now comes down to skin tone; with burnt umber tones being more prevalent in the north and subtle olive tones more common in the south. But, as one tanning expert bluntly explains to Kit, there's one thing we can all agree on: brown fat looks better than white.
As one who modelled himself on Adam Ant and the New Romantics of the 80s, Kit is not unfamiliar with the muddy, fake-tan look that could be achieved thirty years ago with a bottle of sticky brown liquid. However, he remains a spray tan virgin. In the hands of celebrity tanner James Read, aka The Tantalist, will Kit agree to don a paper thong and discover what all the fuss is about?
Seemingly recession proof and, most importantly, the safest way to achieve the sun kissed look, fake tan has become the fastest growing sector of the cosmetics industry with a retail value of over 100 million pounds in the UK alone.
Kit talks to those who have shaped the industry to discover if this is a trend that's here to stay and why we all now wish to be beyond the pale. And he visits Liverpool, the fake tan capital of Britain, where over half the population are sneering at the vagaries of the weather and are tanned all year round.
Producer: Lucy Lunt.