Main content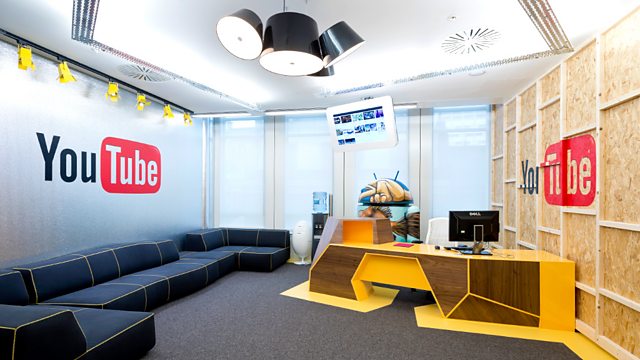 Will Gompertz meets the people taking YouTube to the next level and changing how we make and watch TV.
As part of Radio 4's Year of Culture initiative, the BBC Arts Editor Will Gompertz meets the cultural entrepreneurs who are shaping our lives and defining the very spirit of our age.
These are not Turner Prize winners or the recipients of grants from the Arts Council or the Lottery Fund. These are the people behind the scenes, pulling the strings and plotting a path of consumer-driven success. They are the designers of the latest 'must have' piece of technology or clothing, the brains behind an artist's development, and the tastemakers that know what will work at the box office and what will sell on the high street. Their impact goes beyond mere commerce, it shapes contemporary culture. They are the Zeitgeisters and it's about time we met them.
Programme 3. YouTube - For a platform that was launched in 2005 as a means of sharing personal videos on the internet (the very first YouTube video was called 'Me At The Zoo' and was uploaded by co-founder Jawed Karim), it has become a major player in how we consume video content and increasingly in how we make it. Today 100 hours of video are uploaded onto YouTube every minute... six billion hours of video are watched every month. And by the time you finish reading this description, those figures may already be out of date.
The BBC Arts Editor, Will Gompertz, in searching for the next generation of cultural Zeitgeisters, meets the people who are moving YouTube up to the next level: 'YouTubers' like Benjamin Cook, who posts regular episodes of 'Becoming YouTube' on his channel Nine Brass Monkeys; Andy Taylor, who's 'Little Dot Studios' aims to bridge the gap between television and YouTube; and Ben McOwen Wilson who is Director of Content Partnerships for YouTube in Europe.
Producer: Paul Kobrak.
Last on

Broadcasts