Main content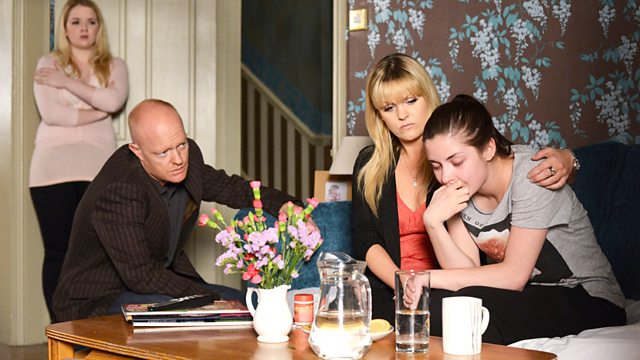 27/06/2013
Max and Tanya are determined to keep Lauren from harm, but it only takes something small to send her spiralling again. Kirsty is on edge when she thinks Carl has rumbled her plan.
Lauren comes home from hospital, weak and pale. Tanya refuses Max's help and ushers him out with a baby mobile and a box of old baby belongings. Tanya gets a call from the Banford clinic and leaves Lauren in Abi's care while she meets an official looking man at Booty. Lauren apologises to Abi. Learning Lauren's home, Joey races over. Abi won't let him in but Lauren's desperate to see him and heads out, despite Abi's protests. Lauren falters outside the Vic, then heads to the cafe where she blames Lucy for letting her leave with the man in R&R. Lucy implies she and Joey are together. Lauren storms to the Vic and pleads Kirsty for one last drink, then tries to serve herself. Joey and Carol try to restrain her. Tanya and Max drag Lauren home, watched by a worried Joey. Once home, Max and Tanya lay into each other until, in tears, Lauren screams at them to stop – she's listened to them fight since she was little. Tanya marches Max out. She comforts Lauren, and mentions getting her some professional care. Lauren scoffs that the doctors are only trying to scare her. Determined, Tanya puts Lauren to bed and starts to pack a suitcase.
Kat buys Kirsty a pregnancy test. Kirsty takes the test but is interrupted by the doorbell . She hides the test in a bin bag before seeing the result. She's alarmed to watch an altercation between Max and Carl from the window. Max shows Kirsty the finished nursery. Annoyed at the messy flat, Max knocks over the bin bag. He tries to clear up and Kirsty grabs the bin bag, further scattering its contents, including the pregnancy test. Kirsty tries to conceal the test from Max and ends up dropping it. Max picks up the negative pregnancy test, stunned.
Music Played
Timings (where shown) are from the start of the programme in hours and minutes
Credits
| Role | Contributor |
| --- | --- |
| Tanya Cross | Jo Joyner |
| Max Branning | Jake Wood |
| Lauren Branning | Jacqueline Jossa |
| Abi Branning | Lorna Fitzgerald |
| Cora Cross | Ann Mitchell |
| Lucy Beale | Hetti Bywater |
| Joey Branning | David Witts |
| Kirsty Branning | Kierston Wareing |
| Carl White | Daniel Coonan |
| Kat Moon | Jessie Wallace |
| Lola Pearce | Danielle Harold |
| Executive Producer | Lorraine Newman |
| Director | Jennie Darnell |
| Writer | Simon Ashdown |
| Carol Jackson | Lindsey Coulson |
| Bianca Butcher | Patsy Palmer |