Main content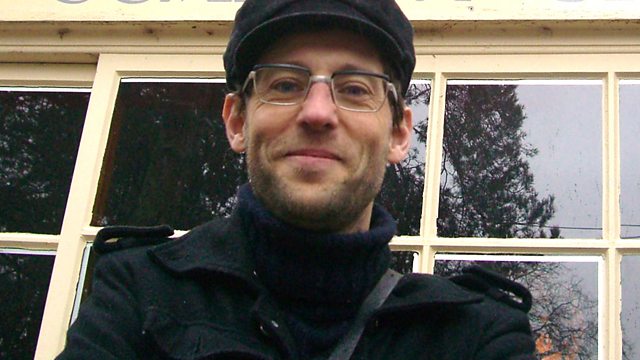 Time Travelling in Italy - Finding My Religion
David Bramwell presents a portrait of the Damanhur, a community who claim to have created a time machine in the world's biggest underground temple, north of Turin.
In 1979, in the Italian Alps, a fledgling community of 28 people (calling themselves Damanhur) began secretly digging into a mountain at night. Their purpose: to build the world's largest underground temple, the equivalent in size to St Paul's Cathedral. Thirty years on, the 'Temples of Humankind' continue to grow. Despite being described as the Eighth Wonder of the World, this is not the most interesting thing about Damanhur.
Now a thousand-strong eco-community, Damanhur also claims to have conquered time travel, taught plants to sing, visited Atlantis and saved the planet from destruction. Its residents take part in bizarre rituals and regularly work throughout the night in service to the group, yet many still hold down highly-paid professional jobs in the outside world.
Is it another case of a deluded cult or has Damanhur achieved something remarkable in the cynical 21st century?
Sony Award winning presenter and musician David Bramwell (Between the Ears: "The Haunted Moustache") takes a sound journey through the community, deep into the bowels of its temple, where the Time Machine has been created, listens to a jazz singer improvise with a musical plant, and has a lesson in esoteric physics.
He also attempts to unravel Damanhur's history and purpose, challenging some of its unfeasible claims through conversations with its residents, and attempts to become a Time Traveller himself.
Producer: Sara Jane Hall
Presenter: David Bramwell
First broadcast in June 2013.
David and Macacao Tamerisk with the famous singing plants of Damanhur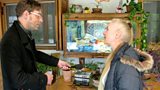 The outdoor temple at Damanhur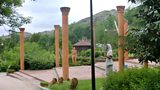 Figurines found in the grounds of Damanhur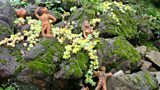 An example of a Selfic Healing Device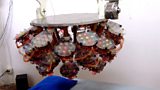 Producer Sara Jane Hall listening to the plants