Main content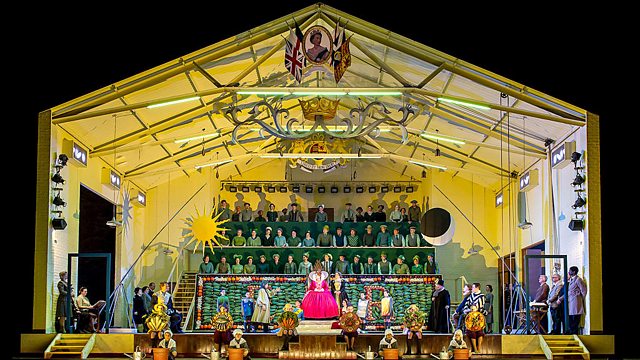 Britten's Gloriana
In his centenary year, Britten's Gloriana, depicting the relationship of Elizabeth I and the Earl of Essex, live from the Royal Opera House. Starring Susan Bullock and Toby Spence.
Commissioned by the Royal Opera House and 'dedicated by gracious permission to Her Majesty Queen Elizabeth II in honour of whose coronation it was composed', Britten's 'Gloriana' is the story of an old queen's infatuation with a hot-headed younger man.
At its premiere, there were mutterings that the opera's emphasis on an ageing, ungracious monarch was an inappropriate way to celebrate the coronation. But sixty years later it's easier see that with its masterly exploration of the tension between public and private, heart and duty, and its contrasting scenes of grandeur and intimacy, 'Gloriana' is in fact among the finest of Britten's operas.
Broadcast live from the Royal Opera House, Covent Garden, starring Susan Bullock as the Virgin Queen and Toby Spence as the impetuous Earl of Essex.
Presented by Louise Fryer in conversation with John Bridcut, including comments from performers and director Richard Jones. Plus the Radio 3 Opera Guide to Gloriana, with the Britten experts Paul Kildea and Philip Reed, and the soprano Dame Josephine Barstow.
Elizabeth I, Queen of England.....Susan Bullock (soprano)
Robert Devereux, Earl of Essex.....Toby Spence (tenor)
Frances Devereux, Lady Essex.....Patricia Bardon (mezzo-soprano)
Charles Blount, Lord Mountjoy.....Mark Stone (baritone)
Penelope, Lady Rich.....Kate Royal (soprano)
Sir Robert Cecil.....Jeremy Carpenter (baritone)
Sir Walter Raleigh.....Clive Bayley (bass)
Henry Cuffe.....Ben Bevan (baritone)
Lady-in-Waiting.....Nadine Livingston (soprano)
Blind Ballad Singer.....Brindley Sherratt (bass)
Recorder of Norwich.....Jeremy White (bass)
Housewife.....Carol Rowlands (mezzo-soprano)
Spirit of the Masque.....Andrew Tortise (tenor)
Master of Ceremonies.....David Butt Philip (tenor)
City Crier.....Michel de Souza (baritone)
Chorus and orchestra of the Royal Opera House, Covent Garden
Paul Daniel, conductor.
Act I
Scene 1: A tournament
At a tournament, Robert Devereux, Earl of Essex, and Charles Blount, Lord Mountjoy, quarrel over who is most valued by Queen Elizabeth. The Queen herself arrives and reprimands them. She asks them to attend her at court as friends. Essex and Mountjoy make peace and the crowd acclaim Elizabeth.
Scene 2: The Queen's apartment
The Queen and Sir Robert Cecil discuss Mountjoy and Essex's rivalry. The Queen admires Essex's daring and courage, but Cecil tells her that it would be politically dangerous to favour the reckless Essex too much. He warns the Queen that a new Spanish Armada may
attack Britain. Essex is announced. He sings to the Queen to distract her from her political troubles, and then begs her to let him go to Ireland to suppress the rebellion led by the Earl of Tyrone. The Queen is reluctant to commit and Essex grows impatient, accusing
Walter Raleigh and Cecil of conspiring against him. The Queen still refuses to give Essex an answer and sends him away. Alone, she prays for strength to rule her people well.
Act II
Scene 1: Norwich
The Queen visits Norwich and is entertained by a masque celebrating Time and Concord.
Scene 2: The garden of Essex's home
Essex's sister Lady Penelope Rich meets Lord Mountjoy for an illicit tryst. Essex and his wife Frances join them. Essex complains about the Queen's refusal to let him go to Ireland. He, Lord Mountjoy and Lady Rich dream of gaining power as the Queen ages, but Frances urges caution.
Scene 3: The Palace of Whitehall
An extravagant ball is in progress. Members of the court admire Lady Essex for her magnificent dress. The Queen enters, commands the musicians to play an energetic dance, and then orders the ladies to retire to change their linen. Lady Essex returns in a plainer dress, and tells Lady Rich that her original dress has been stolen. She soon realizes who the thief was – the Queen appears wearing the stolen dress, which is too small and tight for her. Realizing that she has made a fool of herself, Elizabeth leaves, and Mountjoy, Essex and Lady Rich comfort Lady Essex. Essex expresses his anger at the Queen's behaviour, but calms down when Elizabeth returns again and announces that he will indeed be sent to Ireland. Everyone celebrates.
Act III
Scene 1: The Queen's apartment
The Queen's maids gossip about Essex's failure to conquer the Irish rebels. Essex bursts in and insists on seeing the Queen immediately, even though she is still wigless and in her dressing gown. The Queen initially seems glad to see Essex, but grows impatient as he complains about his enemies at court and refuses to apologize for his failures in Ireland. Essex leaves and the Queen's ladies dress her and make up her face for the day ahead. Cecil enters and warns the Queen that the Irish still pose a threat to her kingdom, as does Essex, who is growing rebellious. Finally convinced that Essex is not to be trusted, Elizabeth agrees to keep him under house arrest.
Scene 2: A London street
A blind Ballad Seller and a crowd describe Essex's attempts to form a rebellion, while Essex's followers attempt to gather new recruits. A City Crier announces that Essex has been proclaimed a traitor, and that anyone who offers him support will be guilty of treason.
Scene 3: The Palace at Whitehall
Cecil, Raleigh and the other councillors attempt to persuade the Queen to sign Essex's death warrant but she is reluctant. Elizabeth asks to be left alone, and laments her indecision and continued fondness for Essex. Lady Essex, Lady Rich and Lord Mountjoy come to plead for mercy for Essex. The Queen responds kindly to Lady Essex's pleas and promises her that she and her children will be safe, whatever happens. However, Lady Rich provokes the Queen's anger by suggesting that she needs Essex in order to rule effectively. Elizabeth refuses to listen further, calls for Raleigh and signs Essex's death warrant. Alone, she meditates on her relationship with Essex, her need to appoint an heir to the throne and her own approaching death.