Main content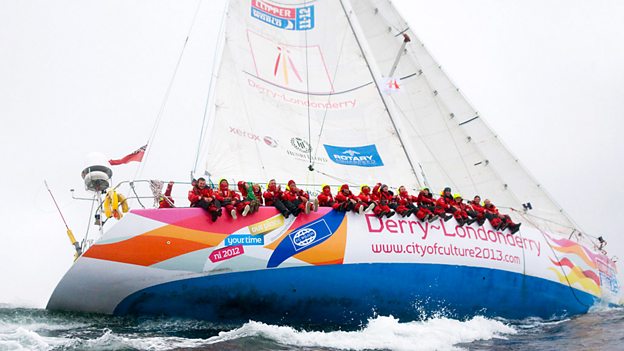 The Legenderrys
Following Derry city bursary winners as they participate in the various stages of the Clipper Round the World Yacht Race
Supporting Content
'Cameras captured the hard slog'

In the lead up to City of Culture in 2013 Derry City Council sponsored a yacht named 'The Derry~Londonderry' in the Clipper Round the World Yacht race, the longest ocean challenge in the world. Starting out from Southampton – and lasting over a year - the tiny 68' vessel circumnavigated the globe in a race against nine other boats from countries as far afield as Australia and China. 

On board were Niall Boyle, Shauna O'Neill and Pod McConway, three unemployed young people from the city, who were given the chance of a lifetime when Derry City Council hosted their participation in the race through a Bursary scheme initiated by race founder Sir Robin Knox Johnston.

 

A TV film crew followed them over three different legs as each joined the 18-strong crew enduring the highs and lows with extreme temperatures, relentless seas and the tedium of the doldrums as they battled for a place on the coveted winners' podium.

 

The result is a fascinating new three-part series 'Legenderrys' made for BBC Northern Ireland by Besom Productions.
 

Margo Harkin, producer/director from Besom Productions said: "I am in awe of what all the crew and especially the young people achieved in the race. Our cameras saw the hard slog and endurance required day in day out to achieve their goals - often in very dangerous conditions. Niall, Shauna and Pod are truly inspirational and I think their story will be a real eye opener for people."

 

Programme one joins shy 23-year-old Niall Boyle as he joins a team of 17 total strangers in sweaty, cramped living conditions to complete Leg One of the race from Madeira to Rio De Janeiro. They will cross the Equator and enter the perils of the doldrums as they battle it out with nine other boats in the race to the finish.

 

The Legenderrys is a Besom Production for BBC Northern Ireland with funding from Northern Ireland Screen.