Main content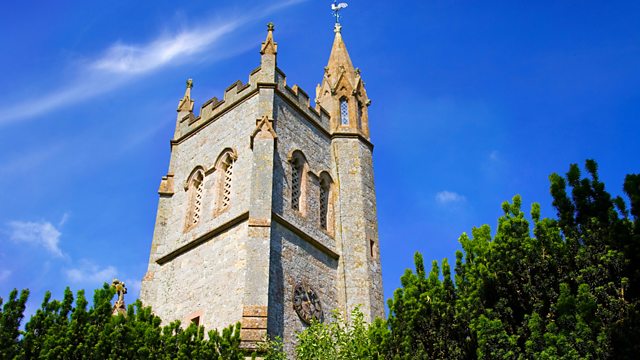 23/06/2013
His Story: Our Story - Live from St Martin-in-the-Fields, Trafalgar Square. The Revd Richard Carter explores the way his own vocation - in its various forms - has been shaped by Jesus' story.
Leader: The Revd Sam Wells; Director of Music: Andrew Earis.
Sunday Worship - St Martin-in-the-Fields
BBC Radio 4 Sunday Worship June 23 2013
His Story: Our Story
Opening announcement from Continuity:
BBC Radio 4. It's ten past eight and time for Sunday Worship: His Story: Our Story. It's the time of year for ordinations to the Priesthood. The Revd Richard Carter explores the way his own vocation - in its various forms - has been shaped by Jesus' story. The service is led by the Vicar of St Martin-in-the-Fields, Trafalgar Square, The Revd Sam Wells. We go live to St Martins now as the choir sings an introit by Herbert Sumsion – 'You shall receive power when the Holy Spirit has come upon you'
Choir introit: You shall receive power – Sumsion
Introduction
Welcome to St Martin-in-the-Fields. Today we're reflecting on the way our personal stories reflect and embody and perform Jesus' story.
We take it for granted that the Bible is a book that we can pick up and put down like any other. But the truth is, before the Bible became a book, it was a collection of scrolls. It wasn't a text for private devotions. It was a script for performance, a rallying cry for mission, a tirade seeking repentance, and a chorus of comfort. It was a community-forming sacrament. Reading it aloud was a church-creating event. It didn't have a static meaning. Every time it was read aloud in a congregation its truth became new in the context of its hearers, and every time those hearers returned to listen again they were a new and different community to the one that had heard it before.
When Jesus laid down the book in the synagogue in Nazareth and said, "Today this Scripture has been fulfilled in your hearing," he set a template for every reading of Scripture ever since. Rather than the familiar "This is the word of the Lord" or the somewhat tame "Here ends the reading," the announcement afterwards might better be, "Lord, fulfil this Scripture today." The response might be, "And make our lives and our deeds a scripture for the blessing of your people in days to come."
Let us pray
Prayer of Preparation
Open our hearts, Lord, as we open a book,
and give meaning and shape and purpose to our lives
as we seek wisdom and insight and understanding in what we read.
Take from our souls all that hinders the work of your Spirit
and make us eager to respond when you call our name,
that our faith bring you joy, just as your faithfulness gives us hope. Amen.
Hymn: Lord, Jesus Christ
Psalm 139:1-18
The Psalms speak of our being made to bear God's story. Here are some verses from Psalm 139.
O Lord, you have searched me and known me. You know when I sit down and when I rise up; you discern my thoughts from far away. You search out my path and my lying down, and are acquainted with all my ways. Even before a word is on my tongue, O Lord, you know it completely. Where can I go from your spirit? Or where can I flee from your presence? For it was you who formed my inward parts; you knit me together in my mother's womb. I praise you, for I am fearfully and wonderfully made. My frame was not hidden from you, when I was being made in secret, intricately woven in the depths of the earth. Your eyes beheld my unformed substance. In your book were written all the days that were formed for me, when none of them as yet existed. How weighty to me are your thoughts, O God! How vast is the sum of them! I try to count them--they are more than the sand; I come to the end--I am still with you.
Anthem: Come my way, my truth, my life – Harris
Reading: Mark 10:17-22
Here is an occasion when Jesus says to a man, "You must make my story your story." A reading from Mark chapter 10.
As he was setting out on a journey, a man ran up and knelt before him, and asked him, "Good Teacher, what must I do to inherit eternal life?" Jesus said to him, "Why do you call me good? No one is good but God alone. You know the commandments: 'You shall not murder; You shall not commit adultery; You shall not steal; You shall not bear false witness; You shall not defraud; Honour your father and mother.'" He said to him, "Teacher, I have kept all these since my youth." Jesus, looking at him, loved him and said, "You lack one thing; go, sell what you own, and give the money to the poor, and you will have treasure in heaven; then come, follow me." When he heard this, he was shocked and went away grieving, for he had many possessions.
Link
Richard Carter is a priest at St Martin-in-the-Fields who has spent much of his life in South East Asia and the Pacific. He discovered there that he couldn't tell his own story without finding his story in Jesus' story. Here he tells us what that means, and what it feels like.
Richard's sermon – part 1
I have always felt sorry for the rich young man who we heard about in today's Gospel. He seems so enthusiastic. Jesus lists the commandments he must keep.  "Teacher" the young man replies, with obvious pride, "I have done all these things since my youth."  But Jesus' next words seem to hit like a sledge hammer: "Go, sell what you own, give your money to the poor and you will have treasures in heaven, come and follow me."  Demands are hard when they come one at a time; in this case there are five huge ones: go, sell, give, come, follow me.
We might like the idea of the Christian faith but these demands will turn your life upside-down. How can we inhabit such a story? Are we rather too much like that rich young man, sadly walking away because he is holding on to too many other things?
This story is my story. As a young man I worked for Voluntary Service overseas in Yogyakarta, Java, Indonesia. These four years blew the breadth of my world open.  It was one of the most exciting and creative periods of my life. I was a teacher of drama and English but also a learner, more than I dreamed possible - my heart, eyes, senses were wide open. The world I had entered into and the community I discovered seemed alive with miracles and possibility.
But then after four years the time came to move on. I thought like young men do - move up. I took a position working for the British Council in Jakarta. I was on 12 times the salary I had earned as a volunteer. I still remember arriving in this city.  I have never felt lonelier in my life. It seemed there was no way forward and no way back and darkness welled up in me as thick and overpowering as the diesel fumes and traffic, and population density of this overwhelming city.
In the house I had rented, I was surrounded by eight metre high perimeter walls.  On the top of the walls was barbed wire.  All the expatriate houses are like this in Jakarta.  In these houses the only Indonesians you meet are the ones employed to cook or clean for you. These walls are the signs of fear wealth brings.
The money I was now earning, the sign of my so called promotion, seemed disgusting to me.  It's difficult to be paid so much in a city where, when you walk under the bridges, there are families encamped in the dust, babies wrapped only in newspaper. Whenever the taxi stops, children run towards you banging on the window to ask for money - "Mista mista! minta uang… Money mista money!" - or to try and sell you food or trinkets.  When I was paid for the first time I wanted to give it all away.  I felt contaminated by the wealth not just because of the poor but because it made me poorer.  It had separated me from the people and place I loved - all that I believed in.
I went to the expatriate house church.  It has a huge front room with a grand piano. They are very welcoming.  I am the only young person there.  A bible passage is read, it is the story of the rich young man.  I ask how is it that we can read a passage like this when on the other side of the wall there are people sleeping under bits of plastic, in total poverty, with absolutely nothing.  They look at me sympathetically. You see in the story I am the rich young man who has been unable to let go of everything.  I am the rich young man and feel the poorest of all because I want to be on the other side of the wall.  I am the one who is imprisoned because the high walls are not protecting me, they are imprisoning me.  And those walls are not just made from concrete they are the walls of fear inside me that are keeping me from God.  "Go sell all you have, give your money to the poor, come and follow me."  I want to live on the other side of the wall, for is it not here that I have found riches beyond ambition or price? Christ's story has begun its work on me, and it's going to take all of my life.
I wonder in your life when Christ has called you. Called you to live on the other side of the wall.
To go, sell, give away, come and follow - a deeper truth, a greater hope. I wonder when Jesus story has become your story.
Choir: Be thou my vision – Bob Chilcott
Richard's sermon – part 2
"Go sell, give, come, follow." My own calling led me to become a priest and Melanesian Brother in the Solomon Islands in the South Pacific, one of the most economically deprived yet spiritually rich parts of the world.  Seven years ago this same calling would led me to St Martin-in-the-Fields here in the centre of London where I have the privilege of serving in a church with an open door – engaging with those on the other side of the wall and the many diverse people who are drawn into this place.  I have learnt that the Christian story belongs to all.  It is already written in hearts and lives. The Gospel is not a manual for our self-preservation, we are not a social club of like-minded people who sing hymns:  it is story which turns lives upside down and calls us to stand with Christ in seeming emptiness and with open hands, and there contrary to expectation, to discover not only loss but love, God's abundance and the longing for justice. 
Last week my two worlds met; a group of eleven Melanesian Brothers and Sisters from four Anglican religious communities in the Solomon Islands came to St Martin in the Fields in the centre of London to lead a mission called "Simply Living." These brothers and sisters jolt us out of security. In their prayer and ministry life itself is at stake- the food they plant, the cyclones and rise in sea levels that threaten, the peace between ethnic groups they long for-  The Gospel is not something to be learnt as a tract, it is to be breathed, inhabited,  passed on, made flesh..
Go, sell, all you have, give, follow. It is when hands are opened, it is when hearts are broken, it is when we discover the humility to acknowledge our need of God that we allow God room to come in.
On the last night of this Mission in St Martin's I look around and as the Melanesian Brothers and Sisters are playing their panpipes and singing everyone is dancing, without self-consciousness.  Children are dancing with a parishioner well over 90, a Buddhist nun is dancing, homeless people, refugees, visitors, our Chinese and English speaking congregations are all dancing together. Outsiders have come in and insiders have come out and I see a vision of how the Church can be, if only we have the courage to live Christ's inclusive story here and now. 
From the other side of the world the Melanesian Brothers and Sisters remind us of our Christian calling, singing in Solomon Island's pidgin: Lord iu takem laef blong mi – Lord you take my life, I give it now to you, I lift up your name…
Music: Richard sound track
Prayers with sung prayer response Take, O take me as I am
Let us pray.
Searching God, you have made us to be bearers of your story. As your story includes times of exile and slavery, wilderness and rejection, be close today to all who find themselves facing their own dying days, their own time of trial, their own wilderness years. As you wove our lives in secret, intricately redeem all in us that seems lost today.
Take, O take me as I am
Summoning God, you call us to go, sell, give, come, follow. Give courage to any who feel trapped, and cannot go; to all who are weighed down in responsibility, and cannot sell; to those anxious for their own finances, and cannot give; to everyone beset by doubts and fears, and reluctant to come; to those whose trust has been broken, and are hesitant to follow. Walk with us every step of the way.
Take, O take me as I am
Sheltering God, in our poverty you surround us with people of beauty, and goodness, and truth. Take from our lives the wealth that is a barrier to your love, and replace it with the companions that we meet in knowing our need of you. Shape us into communities of resurrection, of imagination, of hope, where all need one another and all need you, and all needs become occasions of your grace.
Take, O take me as I am
Our Father…
Link/Close
God could have told a story without us. But instead God has drawn us into the story, and made each one of us a scripture that, when opened up and read in faith, can become a blessing to God's people. Just as the Bible is made up of 66 books, so God's kingdom is made up of the diverse stories of God's grace in us. The Bible becomes a new story when we live on the other side of the walls and divisions we have created through fear. Maybe it's time for you to cross those walls yourself. We discover our true story when we are drawn into the wideness of God's mercy.
Hymn: There's a wideness in God's mercy
Blessing
Go, and meet God in the poor in spirit;
sell, and know the freedom of the children of God
give, and you shall have treasure in heaven.
come, and enter the glory prepared for you from the foundation of the world
follow, and you will become part of Christ's story;
and may God the Father, the Son, and the Holy Spirit bless you,
that you may always know that with God, you never walk alone. Amen.
Choir: A Celtic Benediction – Antony Baldwin
Voluntary