Main content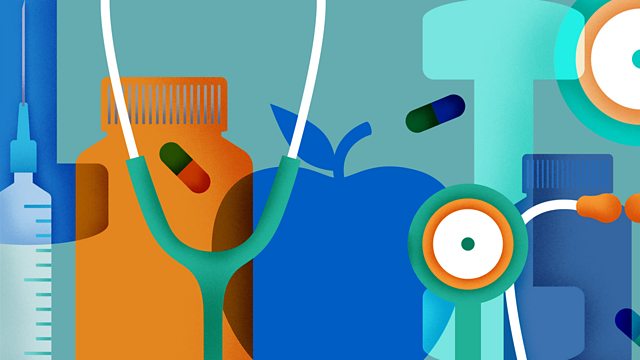 Preventing breast cancer, Iodine deficiency, Antibiotics for back pain
Dr Mark Porter goes on a weekly quest to demystify the health issues that perplex us.
Last on

Programme Transcript - Inside Health
Downloaded from www.bbc.co.uk/radio4 
THE ATTACHED TRANSCRIPT WAS TYPED FROM A RECORDING AND NOT COPIED FROM AN ORIGINAL SCRIPT.  BECAUSE OF THE RISK OF MISHEARING AND THE DIFFICULTY IN SOME CASES OF IDENTIFYING INDIVIDUAL SPEAKERS, THE BBC CANNOT VOUCH FOR ITS COMPLETE ACCURACY.
INSIDE HEALTH
Programme 1.
TX:  25.06.13  2100-2130
PRESENTER:  MARK PORTER
PRODUCER:  ERIKA WRIGHT
Porter
Hello and welcome to a new series of Inside Health – the programme that takes a quizzical, evidence based look at the real stories behind the headlines, providing clarity where there is confusion.
And a couple of stories caught our eye while we were off air, one over egged:
Headlines clip
The stuff of Nobel prizes – half a million sufferers of back pain could be cured with antibiotics!
Porter
And another that might have a little more to it:
Headlines clip
Iodine deficiency may lower UK children's IQ.
Porter
We will be taking a closer look at iodine in pregnancy, and asking if antibiotics really do have a role in back pain later on.  But first something that is all over this week's headlines – the latest guidance from the National Institute for Health and Care Excellence (NICE) on protecting women from breast cancer.
For the first time NICE is advocating that preventative medicines – in this case the oestrogen blockers tamoxifen and raloxifene – be offered to women at higher than average risk in light of evidence that they reduce the chances of developing breast cancer by more than a third.
But what's striking is how NICE defines which women might benefit.  It is not just the small number at very high risk, like Angelina Jolie, who carry comparatively rare genetic mutations like the breast cancer gene BRCA1. NICE is suggesting that the bar for offering preventative medication be set much lower – at a threshold that is likely to include half a million or more women. So, could you could be one of this new group deemed to be at moderate risk?
Professor Gareth Evans is Consultant in Clinical Genetics at St Mary's Hospital in Manchester, and helped develop the new recommendations.
Evans
The biggest risk factor that identifies women is family history.  So if you have a family history, particularly if you have a close relative – mother or sister under 40 or two relatives on the same side of the family – you're at least going to be considered to be possibly in that moderate risk category.  If you have a more extensive history, say two close relatives under 50 – say mother, maternal grandmother, mother, sister or for instance sister and paternal grandmother because it can be inherited from the father's side of the family – then that's going to be starting to push you towards a high risk category.
Porter
The Americans are looking at doing a similar thing and they're using an online calculator that the general public can access to decide whether they're at low, moderate or high risk – is there a similar tool here in the UK?
Evans
There are similar tools and in fact people can go on some of the online tools that exist to assess risk.
Porter
Because family history's quite complicated isn't it, there's lots of different variants, quite a difficult thing to get your head round.
Evans
That's right and if – if for instance there are half-sisters and half-brothers and it starts to get quite complicated.  Ideally it should be input by someone who knows about family history into an appropriate program and there are programs around such as Tyrer-Cuzick which calculates risk including other risk factors like when you started your family, when you had your first pregnancy, the younger you have your children the more protected you are, having more children may also add a further layer of protection and breastfeeding, although breastfeeding you need to do it for quite a long time to get substantial risk reduction, is also protective.  When your periods started, when your menopause is, whether you've used HRT your weight and potentially we're starting to introduce other risk factors like alcohol.
Porter
Because I'm thinking if there are hundreds of thousands, possibly millions of women out there who this guidance might apply to they're going to have to work it out for themselves or discuss it with their GP, they're not going to have access to you.  If they're already seeing somebody like you and getting advice then they're probably in the high risk category and that's a bit of a no brainer – we keep a close eye on those women anyway – this larger group is a new group and I mean they'll be ignorant of the fact at the moment, they won't know?
Evans
Yes I mean the guideline specifically is about women with a family history.  So if you have a family history of breast cancer – so in a blood relative – you can ask your GP about whether you can be referred and if – the GPs have a fairly specific algorithm which says if there's this sort of history they can referred at least to secondary care – so that's your local breast unit, your local family history clinic.  And then if you're high risk you can be referred on to tertiary care – to genetic centres – and potentially gain access to things like MRI screening.
Porter
And these women at moderate risk are they going to be offered increased surveillance as well – so breasts scans etc?
Evans
Yes, so women at moderate risk potentially qualify for annual mammography screening between 40 and 49 years of age and…
Porter
As opposed to starting it at 50?
Evans
As opposed to starting at 47-50 which is when the national screening programme kicks in and it's annual rather than three yearly because we need to do it a little bit more frequently in younger women because of the slightly more rapid growth of the breast cancers and the fact that the tissue is a bit denser, so it's harder to pick up the cancers.
Porter
And in terms of impact of looking at the tamoxifen and the use of similar drugs like that, I mean how much protection is it likely to offer these women?
Evans
Tamoxifen nearly halves the risk, so if you were looking at 10 women who would have developed breast cancer you will save four of those women from developing breast cancer, so it's a substantial reduction in risk.  I mean for instance we know that women who have their ovaries removed at 40 halve their risk but most women would maybe rather take tamoxifen for five years than have their ovaries out at 40.
Porter
But the tamoxifen is providing protection in a similar way to removing – you're removing the female hormone oestrogen effectively, which is like a "a fertiliser" for breast cancer, is it that simple?
Evans
It's pretty much that simple, essentially what's happening is oestrogen and progesterone stimulate the breast cells, the breast cells divide and they divide more frequently and that increases the likelihood of accumulating genetic changes which then eventually lead to a cancer.  So the more a woman is exposed to oestrogen in her lifetime, the earlier she starts her periods, the later she finishes her periods, the more risk that she's at.
Porter
The figures suggested in the guidance is five years for duration of therapy, has that been chosen for a specific reason, might there be more benefit from taking the drug longer or is it simply we don't know yet?
Evans
We don't really know because those studies haven't been done.  I mean most of the evidence previously suggested for instance for women with breast cancer that there wasn't much difference between taking tamoxifen for five years and 10 years.  There's a recent study that suggests there might be slightly more benefit from taking it but for women where you're actually preventing breast cancer what we know is five years of taxmoxifen continues to protect you up to nearly 20 years into the future.  So certainly at the moment we haven't got the evidence to say take it for longer, five years clearly has major benefits.
Porter
Do we have much experience of women's response to this concept, I mean are they keen to take tamoxifen, looking at the early trials, looking at what's happening in other countries?
Evans
It's mixed at the moment.  If you look at some of the data out there then it suggests the uptake of these sorts of chemopreventive measures are quite small.  But if you mine down on it and actually look at where it's properly offered and women are given the ability to make a proper informed decision then it starts to go up to above one in five women, about 20%, that would opt to take a chemopreventive agent like tamoxifen or raloxifene.
Porter
Professor Gareth Evans. Well to discuss the implications of the new guidance I am joined by Inside Health's Dr Margaret McCartney; Professor Jack Cuzick from the Wolfson Institute of Preventive Medicine – and one of the team behind the Tyrer-Cuzick online risk calculator we have just heard about and Head of Policy at Breakthrough Breast Cancer Dr Caitlin Palframan.
Palframan
This group of moderate risk women are often very concerned about their health and do want to know what they can do to reduce their risk of breast cancer.  I think unlike when we're talking about people who have a faulty BRCA gene and the people in very high risk categories, in this category of moderate risk the discussions become maybe even more nuanced – so how high actually is this person's risk, is the discussion that the doctor should be having with their patient, what are the options that are available to them and what are the benefits and risk of those options.  And I think having a frank discussion of all of that is really important when you're talking people who are maybe not at that much higher risk than the general population.
Porter
Jack, can you put the benefits in context – how effective is this drug if used in the right groups of women?
Cuzick
The evidence in our overview shows that overall you get about a 40% reduction in breast cancer.  To put that in context:  if you took a thousand women who were aged 50 at double the population risk, which is kind of the number we would start with, there would be 11 fewer breast cancers over the first five years and it looks like another 11 in the next five years.  Now the downsides, the most common downside, are blood clots, so called thromboembolisms or blood clots and they would increase from about six in the general population up to 12, so there'd be about six more of those.  And there'll be an increase in womb cancer, which typically over that period there would be two in the general population and that would go up to about five.
Palframan
I think though it's important that what Jack was saying is about that population that's at twice the risk of the general population and actually a considerable number of people that the NICE guidelines are recommending get this treatment are actually at much higher risk than that.  So we think in the highest risk population the benefits are perhaps more clearly outweigh the risk.
Cuzick
Yeah I think that's a good point, that at a higher risk of course the benefits are going to go up and the risks are going to stay the same, so the balance is going to be more favourable.
Porter
I can understand this being done in a specialist breast clinic where people have expertise in working out risks and calculations but Margaret, this could be happening in your GP's surgery when someone comes in and goes well I've heard on the radio they're giving tamoxifen, am I one of the women who might benefit?
McCartney
I suppose one of the problems that we have and one of the uncertainties that persists, even after these trials, is that we haven't really looked at all cause mortality, so we haven't looked at the play off between deaths from breast cancer versus deaths from the side effects of the prophylactic taxmoxifen and where that interacts and where the balance of risk and harm is there. So well obviously it's much better to prevent breast cancer if you can and it's important to note that's very different from screening for breast cancer because using tamoxifen you're trying to stop a breast cancer in the first place.  If you're screening for breast cancer y ou're trying to detect an early breast cancer, so they're kind of two different processes.  But I think it's still very, very important that we look at the overall risk benefit calculation after 20, after 30 years and make sure that we are still benefiting women rather than creating a disadvantage.  And these are the kind of really big issues – are we more likely to die taking tamoxifen or not?  So yes preventing breast cancer, that's the ideal, that's what you would like to do but you also have to know is that actually going to be more likely to save my life or not.  So it's really big questions we need to ask I think and until we've really done these long term studies that are powerful enough to look for all cause of deaths, not just breast cancer deaths but also blood clot risk, also womb cancer risk, so there's lots of other factors I think needed to be added in to give women properly informed choices.
Porter
And presumably that's going on, it's just that – you have to start from somewhere.
Cuzick
We will continue to do this, I mean the trial follow up in one of the trials is now after 20 years.  We don't have complete data but we do know a lot about the side effects of tamoxifen, we know that the main risk is blood clots and that stops once you stop taking treatment, it's not a long term effect.  The benefits of reducing breast cancer are long term benefit.  Probably the womb cancers are also long term risk which will go on after you stop.  We don't yet have clear figures about the fact that the reduction in incidence of breast cancer is going to be translated into a reduction in mortality, that will take more time.  And so there is a certain amount of uncertainty there but it has been the case in every other treatment.
Palframan
We also – I mean tamoxifen has been used for years and years for breast cancer treatment, so this isn't a drug that's being just used for the first time in England, so I think…
McCartney
Sure but every time I give it it's not really for the experts to decide where the benefits and the risks lie in terms of an individual woman's choice.  I think it's fair enough for there to be a conclusion that we think overall this is likely to be beneficial but I think we have to be absolutely honest with women about the side effects, about the unknowns and about the uncertainties that we will need further detail for many years to know.
Palframan
I completely agree with you Margaret and I think that is clear in the guideline, I mean they're saying for this population of people at high risk the benefits outweigh the risk but for any given women that may not be the right choice and it may be they don't want to do anything and may be they prefer to take…
Cuzick
I mean there are clear statements in the guidelines that for example for women who've had a blood clot previously they're at an increased risk of developing another one and that's – those are women that should not take tamoxifen.
Porter
Given that the vast majority of women won't be at high risk of developing breast cancer, Margaret, would you advocate people going online and using a calculating tool like the one that Jack's helped developed so that they can decide whether they're at risk or not?
McCartney
Yeah it's an interesting one, I mean generally information is good and patients…
Porter
Because most will be reassured by it won't they?
McCartney
Yeah, yeah that's true.  Risk calculators are free to use, they're openly available, so anyone can go online and use them but I suppose if someone is concerned that they do have a family history they're open to speak to their GP about it. 
Palframan
I think when in doubt it's a good idea to go to your GP, better to be safe than sorry.
Porter
Jack, how confident are you that your online risk calculator works?
Cuzick
It's been validated in many, many populations now and widely used.  It gives a very accurate prediction, we're continuing to refine it as new risk factors come in but for the standard factors, based on family history, weight, hormone replacement therapy use, it's really quite accurate.
Porter
In summary do you think this is a major step forward – this guidance?
Cuzick
I think it is a major step forward.  Heart disease – we've talked about diet and exercise for decades but what's really had an impact on heart disease is use of statins.  And we now are beginning to take that same idea into cancer.  Diet is important, exercise is important but for the high risk individual you need to do more and in some cases that will be tamoxifen.
Porter
Caitlin?
Palframan
Yeah I think we want to prevent breast cancer in everyone ultimately, we've been able to chip off this small population of people who are at higher risk that we may be able to give them drug treatment that can reduce their risk and I think that is a really historic step for breast cancer, it's the first time that we've been able to offer drug treatment that can reduce people's risk for breast cancer.
McCartney
I mean I think it is definitely a step forward but it's a small step forward even though it's only going to affect a small part of our population overall.  I think we have to be really careful about taking care to ensure that we address the uncertainties, I think we have to be really careful that we give balanced information to women about whether or not they want to take this or not.  And I think we have to be I think very careful as well about what direction we're going down in in terms of how we're trying to prevent breast cancer, are there other things we should be looking at as well in terms of how we look after our population.
Porter
Dr Margaret McCartney, Professor Jack Cuzick and Dr Caitlin Palframan, thank you all very much.
If you want to find out if you may be at increased risk of breast cancer there is a link to the online calculator developed by Professor Cuzick on our website – along with the new guidance from NICE. Go to bbc.co.uk/radio4 and click on I for Inside Health.
Now back to those headlines.  First concerns about iodine deficiency, prompted last month by a paper published in the Lancet highlighting a link between a lack of iodine in mothers and low IQ in their children.  Which may come as a surprise to many doctors who are likely to think of iodine deficiency as a thing of the past.
Iodine is essential for the normal functioning of the thyroid gland in the neck, and as a medical student I was always taught that deficiency used to be common, but that it hadn't been a major issue in the UK since the mid-20th Century. My predecessors may have seen lots of people with swollen thyroid glands or goitres – so common in the midlands, where levels of iodine in the soil are particularly low, that it became known as Derbyshire neck – but I wouldn't.
So why is iodine deficiency making a comeback now - and what should we be doing about it?
Mark Vanderpump is a Consultant Endocrinologist at the Royal Free Hospital in London.
Vanderpump
Historically post-war it was recognised that the country and particularly the children were particular malnourished and so there was a focus on encouraging all children to have milk in their first break at school.  And at the same time there was a change in agricultural and farming practice so that iodine was entered into the food chain through the cows' milk, through artificial feeds.  And so over – between the 1950s to the sort of 1970s to '80s this was described as an accidental public health triumph in that the actual issue seems to have disappeared and goitre as an issue has disappeared within this country as a clinical problem.
Porter
So a goitre is a swelling in the neck, it's a swelling of the thyroid gland, and it's a sign that the glands are not getting enough iodine?
Vanderpump
And that's the thyroid gland's response to growing up or living in an iodine deficient environment, so it's our main clinical sign.  What we have found and other industrialised countries have found is that despite there being no change in the iodine content in the milk is that we're now finding that iodine deficiency is being found again in the school children of this country.  There are various explanations for that but it seems most likely that dietary habits have changed and that milk intake is much lower in our children than it would have been…
Porter
No school milk for many children, yeah.
Vanderpump
… would have been in previous generations.
Porter
So we were accidentally reinforcing children with iodine.
Vanderpump
And the World Health Organisation argues that you should just iodise all salt, so we're not talking about taking anymore salt but just introducing iodised salt, which tastes exactly the same as ordinary salt, that enters into our diet about 10% of the salt we add at the table is our salt intake.  So one of the issues this has got wrapped up a bit with is the focus on reducing salt in the diet to prevent hypertension and strokes.  But you can very effectively iodise your salt and still have the same low salt message to treat both problems.
Porter
But is salt in the UK not routinely iodised?
Vanderpump
So the last survey that was done in Cardiff in Wales took 36 different salt preparations and only two were iodised.
Porter
So what do you think the consequences of potential iodine deficiency are for the UK population at the moment?
Vanderpump
Well the main issue really now is looking and targeting pregnant women because those are the most susceptible group, where mum's thyroid status is key to the mental and neurological development of the baby and the foetus, particularly in the first 12 weeks of the pregnancy, when the baby's thyroid hasn't yet grown and is not making any thyroid hormone, so mother's thyroid status in that first 12 weeks is completely key.  One of the problems in the UK is that it's probably only about 50% of pregnancies are planned and so most women will only know that they're pregnant in the middle of that crucial first 12 weeks of the pregnancy.  There is evidence to suggest that if you introduce iodine supplements at that particular point you might be too late in doing something about it.  You probably need to be taking an iodine supplement at least three months before the pregnancy to allow that phase of transient sort of settling down to happen, so that you conceive when your thyroid iodine status is optimised.
Porter
In much the same way as you might do with folic acid for instance – start taking it before conception.
Vanderpump
Or even – even vitamin D, it's exactly the same type of story.  And you can make an argument for a folic acid, vitamin D and iodine supplement as an ideal supplement to be taking three months pre-pregnancy.
Porter
Is there a downside to taking iodine, is there any harm in doing it?
Vanderpump
Well there have been now historical studies looking at large populations where the iodine levels which are similar to ours have been addressed and those are mostly in Scandinavia and particularly in Denmark and what they've demonstrated is that although you improve the situation for the younger people and the pregnant women you do have a slight increase in thyroid disease in the more elderly members of the community – they tend to have a rise in their rate of thyrotoxicosis or an overactive thyroid.  So there is a balance but you can do it in a way that's very gradual and raises your level quite subtly without inducing a big problem in your older age group.  So the World Organisation think it's quite simple – you should just iodise all salt because in that way you just do the whole population.  The alternative argument is that you pick your targeted group pre-conception but you have to be aware that that doesn't cover 50% of pregnancies.
Porter
What proportion of pregnant women in the UK do you think might be iodine deficient to some degree?
Vanderpump
Well when we looked at 12-14 year old schoolgirls we found that two-thirds were significantly iodine deficient and bearing in mind that's pre-conception, because we were looking at the group who are going to be the mums in the next five to 10 years or so.  And of course the important point to make is that when you become pregnant your thyroid hormone requirements go up significantly and your iodine levels need to match that production.  So if you're finding a problem pre-pregnancy it's only going to get worse during the pregnancy, so we might be talking about the majority of women entering pregnancy in this country being iodine deficient.
Porter
Dr Mark Vanderpump, and you will find some useful links on iodine, including a guide to supplementation during pregnancy, on our website. Head for the Inside Health page at bbc.co.uk/radio4.
The other story that had us champing at the bit was new research from Denmark suggesting that some types of back pain can be treated with antibiotics. It created quite a stir, but the findings were massively overblown by the resulting coverage in the media.
Headline clip
Antibiotics could cure 40% of chronic back pain patients.
Porter
The researchers found that a three month course of antibiotics seemed to ease pain and improve mobility in people who had ongoing problems after disc prolapse – a so called slipped disc – and who showed particular changes on their MRI scan.   Known as Modic changes they suggest inflammation in the bone which researchers believe to be caused by a low grade bacterial infection. Quite how the bacteria get into the spine and damaged disc remains unclear, but one theory is that they gain entry via the gums when people brush their teeth.
So - a small study suggests some benefit in a group of people with very specific type of back pain and characteristic MRI changes. How does that justify headlines suggesting antibiotics are a cure for back pain, that could help half a million people in the UK alone, and be the stuff of Nobel prizes?
Inside Health's Dr Margaret McCartney has been examining the evidence and the lead author from the study – Hanne Albert who is Associate Professor at the University of Southern Denmark   - is on the line.
Dr Albert, do you think the coverage of your research here in the UK accurately reflected what you actually found?
Albert
No that is not precise but this is headlines and headlines are never precise.  I think it's very important to understand that this cure is only for a specific group of patients with chronic low back pain who have modic changes after a previous slipped disc.  This is not for everybody.  This is only for a very small group and that is very important to remember.
Porter
Margaret, you as a GP, I certainly had lots of people coming to the surgery with cuttings form the Daily Mail and other newspapers saying look I want some antibiotics for my back pain, did you have a similar response?
McCartney
Absolutely, I think the headlines were extraordinary, there was a huge amount of extremely uncritical press attention paid to this paper.  I think primarily because of the press release that was sent out by a PR company who were acting for the people that had been behind the study whose title was "Announcement of breakthrough medical cure for the cause of one of the world's most debilitating diseases".  The press release was sent out by a company who were acting for Mass Medical who are an organisation who are offering to train doctors to provide these antibiotics for patients.  Dr Albert, that company is co-owned by yourself, the headline was announcement of breakthrough medical cure and I just wonder really how you…
Albert
But I think it is a breakthrough.
McCartney
Well the problem with this trial is that a lot of the outcomes weren't significant.  There was no placebo response which was quite unusual and the other problem is that at the end of the day there were no more people on the antibiotic group who actually returned back to work, had less sick leave, compared with the other group, there was no statistical difference between the two groups.  Which means that calling it a cure I think is somewhat premature.  And normally a study like this would have to be replicated first of all by some other researchers, somewhere else, to show that it does actually – is actually a real effect and it wasn't just produced by chance.
Albert
When you say there's no difference in sick leave, yes, well but there was a significant reduction in everything else – in pain, in hours with pain, in low back pain, and back pain and so forth.  And true – it's true that you should replicate this but should I keep my mouth shut for 10 years until this was replicated?  I don't think so.
Porter
How's it been – what's the response been from specialist working in this area?
Albert
I think that the response has been incredible – positive.  I had expected response like the thing that I get today but I think that a lot of surgeons they realise that they have very good results with some groups of their patients and some groups of patients it doesn't work what they do, even they do their very, very best.  And I think that a lot of surgeons saw a kind of hope here.  Okay may be there's a sub-group of low back pain patients here that maybe I should give them a try first if they have modic changes to give them antibiotics which is a much less problematic thing than doing surgery and putting in metal things.
Porter
So what happens next Margaret to convince you that this is more than a happy accident?
McCartney
Well I mean the obvious thing is to try and do a replication trial and do it somewhere else and do it big enough and powerful enough that can be really pretty certain about what the effects are and to look at real life patient effects.  The other thing they have to do is look for the harms as well, particularly about antibiotic use and we're all very concerned about the amount of antibiotics we use quite rightly, so we have to be sure that we're doing the right thing – we're not increasing antibiotic resistance in our community without actually benefiting people.  So I think we have to do bigger trials, better trials and trials in other centres.  I also think that it is a problem if people publish research when they have a clinic behind them that's seeking to really make money out of training people for this and that to me is a conflict of interest that interestingly wasn't declared in the actual paper when it went to publication.
Porter
So what's happening now in terms of your research in Denmark, are we going to see a bigger trial, a multicentre trial – where's this going now?
Albert
I think the important thing is to take it out of Denmark.  Now we've tried this on a part of the Danish population and there's a huge group in Norway who's trying to replicate this, there's people in Birmingham working together with other people and there's a big thing coming up in Holland and probably also in Spain.  And I also think that it's important to think that was the first step in this direction.  But it's very important to understand that this is not when you and I we go out in the garden and we dig our garden and we have low back pain, this is not for us because we are – we do the exercises and it's all over in a couple of weeks – it's only for this very, very severely affected group of patients.
Porter
Dr Hanne Albert - and you will find a link to her research on the Inside Health page of bbc.co.uk/radio4. 
And please do get in touch if there is a health issue that is confusing you and that you would like us to look in to. You can send a tweet to @bbcradio4 including the hashtag insidehealth or e-mail us via insidehealth@bbc.co.uk.
Just time to tell you about next week's programme when I'll be finding out about the latest developments in pacemakers and investigating why some private clinics continue to offer steroid jabs for hay fever even though they've fallen out of favour in the NHS.  Join us next week to find out why.
ENDS
Broadcasts