Main content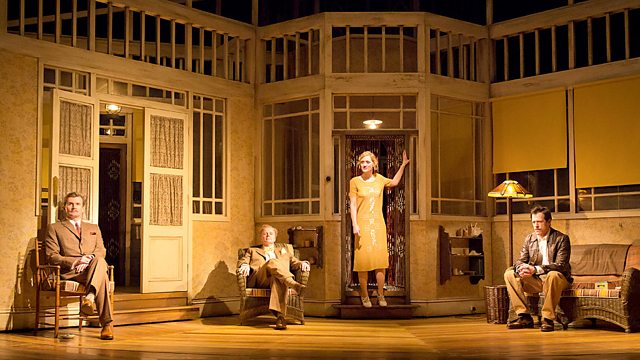 Melanie Phillips, Breaking the Fourth Wall, Jonathan Dee
Including Melanie Phillips on her memoir, why and how theatre and TV has broken the fourth wall by addressing its audience and an interview with American writer Jonathan Dee.
With Matthew Sweet.
Journalist and broadcaster Melanie Phillips discusses her autobiography Guardian Angel, which reveals details of her unhappy and stifling childhood and her relationship with her fragile mother. Through the prism of this family story, Melanie also explains her dramatic transition from the darling of Britain's liberal left, to the Daily Mail's star columnist and reflects on why she felt it was important to tell this very personal story.
The National Theatre is currently mounting Eugene O'Neill's 1928 play Strange Interlude. It is a naturalistic drama performed in a traditional box set, but the characters interrupt the dialogue to share their thoughts with us and even come forward and address the audience directly. Breaking the imaginary fourth wall is usually a theatrical trick but TV characters like Mrs Brown and Miranda do it and of course Shakespeare is famous for soliloquies. Director Simon Godwin, theatre critic Susannah Clapp and TV writer Philip Martin discuss just how porous the fourth wall can be with contributions from Charles Edwards, who is appearing in Strange Interlude.
Pulitzer Prize-nominated author Jonathan Dee on his new novel A Thousand Pardons.
Chapters
Melanie Phillips

Melanie Phillips discusses her autobiography and explains her political transition

Duration: 15:11

The Fourth Wall

Simon Godwin, Susannah Clapp and Philip Martin discuss the theatrical "Fourth Wall"

Duration: 16:45

Jonathan Dee

Pulitzer Prize-nominated author Jonathan Dee on his new novel A Thousand Pardons

Duration: 12:21

Melanie Phillips

Guardian Angel: My Story, My Britain written by

Melanie Phillips

is published by emBooks as an eBook.

Strange Interlude

Strange Interlude

is on at the National Theatre, London from Monday 1 July until Sunday 1 September 2013.

Jonathan Dee

A Thousand Pardons written by Jonathan Dee is published by Corsair.

Credits

| Role | Contributor |
| --- | --- |
| Presenter | Matthew Sweet |
| Participant | Melanie Phillips |
| Participant | Simon Godwin |
| Participant | Susannah Clapp |
| Participant | Philip Martin |