Main content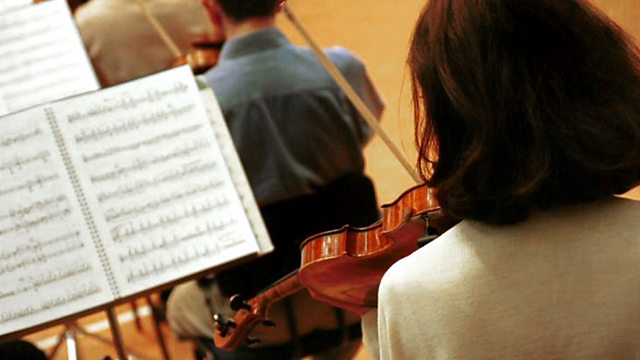 Louise Fryer introduces Balfour Gardiner's A Berkshire Idyll and Havergal Brian's Symphony No 5. Plus the BBC Concert Orchestra performing wartime music.
Louise Fryer continues Radio 3's celebration of British music.
The second of this week's concerts from the BBC Concert Orchestra was given earlier in June as part of The Southbank Centre's The Rest is Noise festival, focusing on the music of the twentieth century. Entitled 'The Home Front', the programme celebrates the part that BBC Radio and British cinema played during World War II to boost morale.
The concert begins with John Ireland's Epic March, followed by music associated with two 1940s BBC Radio favourites - Music While You Work and Sincerely Yours, featuring music sung by Dame Vera Lynn.
Representing British Cinema are: Seascape, from Clifton Parker's score to Western Approaches; Richard Addinsell's famous Warsaw Concerto, written for the 1941 film Dangerous Moonlight; and William Walton's incidental music to Henry V, which was dedicated to 'Commandos and Airborne Troops of Great Britain'.
To get into the swing of things at the concert, the audience were encouraged to wear their finest 1940s clothes - an invitation that we'd like to extend to our listeners!
Following the concert, two more British works. Firstly, a chance to hear Henry Balfour Gardiner's Delius-inspired Berkshire Idyll performed by the BBC Symphony Orchestra with conductor David Parry.
And every day this week Afternoon on 3 is featuring a British symphony - today's is Havergal Brian's 5th. Written in 1937, this is a setting of the poem The Wine of Summer by Lord Alfred Douglas, Oscar Wilde's one-time friend and lover.
Ireland: Epic March for orchestra
2.10pm
Music While You Work - selection
Sincerely Yours - music of 'the Forces' Sweetheart' Dame Vera Lynn
Parker: Seascape, from Western Approaches
2.35pm
Addinsell: Warsaw Concerto
2.45pm
Walton, arr. Christopher Palmer: Henry V - A Shakespeare Scenario
Samuel West (narrator),
Laurie Ashworth (soprano),
Victor Sangiorgio (piano),
Hertfordshire Chorus,
BBC Concert Orchestra,
Keith Lockhart (conductor).
3.45pm
Balfour Gardiner: A Berkshire Idyll
BBC Symphony Orchestra,
David Parry (conductor).
4pm
Brian: Symphony no. 5 (The Wine of Summer)
Donald Maxwell (baritone),
BBC Scottish Symphony Orchestra,
Nicholas Kok (conductor).