Main content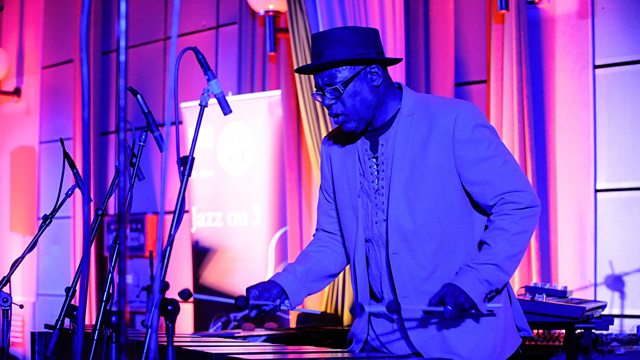 Black Top, Laura Jurd
Jez Nelson presents a double session at the BBC's Maida Vale studios: improvising group Black Top with guest spoken-word artist HKB Finn, plus trumpeter Laura Jurd and her quintet.
Jazz on 3 is visiting the historic Maida Vale studios for the first time ever. Jez Nelson hosts an exclusive session in front of a live audience, featuring bands that represent the best of two different generations of UK jazz.
The musicians of Black Top have been at the cutting edge of the music for over 20 years and present their first ever full-length broadcast as a band. This freely improvising group includes saxophonist Steve Williamson, Orphy Robinson (percussion), Pat Thomas (piano) and Byron Wallen (trumpet), plus a special guest, HKB Finn, adding spontaneous spoken-word nuggets to the music.
Young trumpeter and composer Laura Jurd has recently emerged as one to watch, making waves with her imaginative and ambitious material at the helm of various ensembles as part of the Chaos Collective. Here she presents her quintet, featuring Lauren Kinsella's free-ranging vocals.
Presenter: Jez Nelson
Producers: Peggy Sutton & Chris Elcombe.
Last on
Music Played
The Laura Jurd Quintet recorded at BBC Maida Vale Studio 3, London on 5 June 2013

Untitled

Line up: Lauren Kinsella (vocals); Laura Jurd (trumpet); Elliot Galvin (piano); Conor Chaplin (bass); Corrie Dick (drums)

Laura Jurd Quintet

Sognefjord

Composer: Laura Jurd

Laura Jurd explains her influences

Laura Jurd & Elliot Galvin

Zelený Vínecek [Excerpt]

Composer: Iva Bittová

The Laura Jurd Quintet recorded at BBC Maida Vale Studio 3, London on 5 June 2013

Laura Jurd Quintet

Raw On The Inside

Composer: Laura Jurd

Laura Jurd Quintet

Oh So Beautiful

Composer: Laura Jurd

Laura Jurd Quintet

Journey Through The Ages

Composer: Laura Jurd

Laura Jurd Quintet

No Man Is An Island (Dedication to Martin Read)

Composer: Laura Jurd (Original poem by John Donne)

Black Top recorded at BBC Maida Vale Studio 3, London on 5 June 2013

Untitled

Line up: HKB Finn (vocals); Byron Wallen (trumpet); Steve Williamson (tenor saxophone); Pat Thomas (piano, keyboards and electronics); Orphy Robinson (marimba, Xylosynth, keyboards and electronics)

Black Top

You, Knee, Verse

Composer: Black Top

Black Top

Hope Is A Lifestyle

Composer: Black Top
Broadcasts