Main content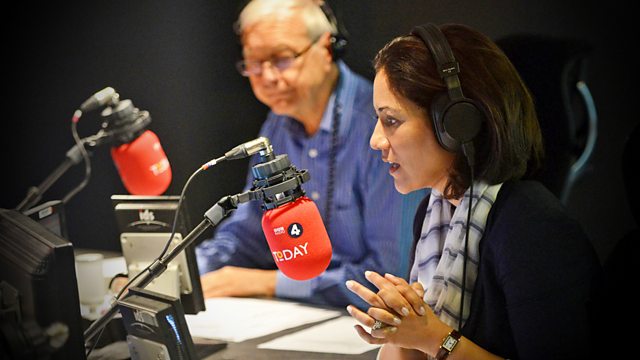 21/06/2013
Morning news and current affairs with James Naughtie and Justin Webb, including Jeremy Hunt on the failures and future of the CQC, plus why is gin 'under threat'?
Morning news and current affairs with James Naughtie and Justin Webb, including:
0751
Teacher Jeremy Forrest has been found guilty of abducting a schoolgirl. Melanie Gill, a psychologist, and Alice Robinson, an assistant head teacher and former president of the Association of Teachers and Lecturers, discuss how schools, parents and the police should deal with this kind of abusive relationship.
0810
The Care Quality Commission has been revealed to have covered up its own failures in monitoring the bad performance of a Cumbria hospital. The Health Secretary, Jeremy Hunt, answers questions on what needs to be done.
0820
The juniper, the source of gin, is under threat from a fungus, according to scientists. Dr Deborah Long, from Plantlife Scotland who is carrying out research on the disease, explains whether it can it be saved.
0823
There used to be more than a hundred foghorns stationed around the British Isles but now there are fewer than 30. The BBC's arts correspondent Rebecca Jones reports that a special requiem has been written which will be performed by ships at sea, three brass bands on the shore and the Souter Lighthouse foghorn near South Shields tomorrow afternoon to mark the demise of the foghorn.
0838
Mortality rates among people with diabetes are falling dramatically. Dr Lorraine Lipscombe, who conducted the research in the UK and Canada, to explains what was found and Dr Gerry Rayman, a consultant physician at Ipswich hospital and advises Diabetes UK, discuss the findings.
A rundown of stories from Friday 21 June including programme highlights and comment.