Main content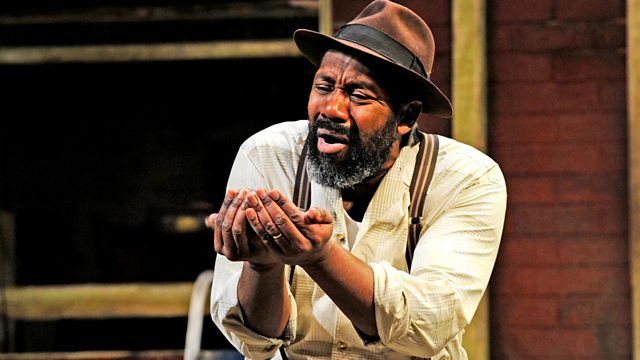 Lenny Henry, Joan Bakewell, Foghorn Requiem and the Kate Greenaway prize winner
John Wilson talks to Lenny Henry as he returns to the stage in Fences. Joan Bakewell offers her choice for Cultural Exchange. Foghorns become musical instruments in a new requiem.
With John Wilson.
Lenny Henry returns to the stage after a succesful run playing Othello. He now stars in the Pulitzer prize-winning play Fences by American playwright August Wilson. Lenny Henry discusses the importance of the play and the challenge of memorising his lines in a role where he's rarely off the stage.
The winner of the CILIP Kate Greenaway Medal for children's book illustration is announced today. Previous winners include Raymond Briggs, Shirley Hughes, Lauren Child and Quentin Blake. John talks to this year's winner.
The foghorn is a disappearing sound from the British coastline - increasingly made redundant by the advances of GPS technology. Now an ambitious project is using GPS technology in the service of a Foghorn Requiem. Composed by Orlando Gough, the requiem features three brass bands, a flotilla of vessels positioned offshore, and the Souter Lighthouse Foghorn itself. Composer Orlando Gough and artist Lise Autogena discuss a one-off musical performance that aims to fuse the sounds from land and sea.
In tonight's Cultural Exchange, Joan Bakewell discusses her choice - Luchino Visconti's sumptuous 1963 film adaptation of di Lampedusa's novel The Leopard.
Joan Bakewell chooses the 1963 film The Leopard, directed by Luchino Visconti
Chapters
Fences

Lenny Henry discusses the importance of the play and challenges faced learning his lines

Duration: 10:27

Foghorn Requiem

Composer Orlando Gough and artist Lise Autogena discuss the one-off musical performance

Duration: 06:35

Winner of the CILIP Kate Greenaway Medal

Levi Penfold, winner of the CIILIP Kate Greenaway Medal for the illustrated book Black Dog

Duration: 04:47

Joan Bakewell - Cultural Exchange

Disscussion on The Leopard, Luchino Visconti's film adaptation of di Lampedusa's novel

Duration: 05:53

Fences

Lenny Henry stars in

Fences

,  playing at The Duchess Theatre in London. Opening night 26th June until 14th September.

The CILIP Carnegie and Kate Greenaway 2013 Awards

Foghorn Requiem

Foghorn Requiem

will be performed on 22nd June by three brass bands, ships at sea and the Souter Lighthouse Foghorn.

Credits

| Role | Contributor |
| --- | --- |
| Presenter | John Wilson |
| Interviewed Guest | Lenny Henry |
| Interviewed Guest | Joan Bakewell |
| Producer | Jerome Weatherald |
| Editor | John Goudie |