Main content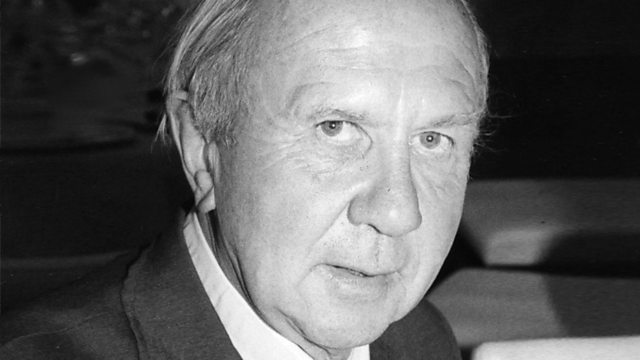 Derek Tangye - The Cornish Gardener
4 Extra Debut. John McCarthy explores the unusual life of the writer Derek Tangye, and his 'Minack Chronicles', set in the west country. From June 2013.
John McCarthy explores the fascinating life of British author Derek Tangye and reveals a remarkable and enigmatic portrait of this influential writer.
Popular writer Derek Tangye who lived in the West Country for almost fifty years penned a score of books collectively known as 'The Minack Chronicles'. The stories illustrate the anomalous lives Derek and his wife Jeannie led when, in the 1950's, they abandoned their sophisticated metropolitan lifestyle to live in isolation working a cliff top daffodil farm with their beloved animals in the farthest reaches of Cornwall.
As McCarthy travels to the area surrounding Minack, the main inspiration for Tangye' work, he explores the world of a writer whose literary triumphs mask a mysterious and complex life. His descriptions in the books of the 'glorious anthem' of a cat's purr and the 'sweet moment when a long-awaited harvest awakes' provide an atmospheric backdrop to the captivating discoveries and secrets of his life.
Derek Tangye was educated at Harrow and subsequently worked as a journalist. During and after the war he was a member of MI5 and throughout his days at Minack was a neighbour of novelist John Le Carre. A few years after Derek Tangye's death in 1996 a national newspaper ran allegations that he was a Russian spy. The sensational headlines were quickly dismissed by those who knew him but last year during a Tangye centenary event an audio project also revealed a life a lot bleaker than the books portrayed, uncovering the author's intense jealousy and the extent to which the couple managed to avoid the Second World War.
Speaking with the Tangye's inner circle, followers and experts in spy history, McCarthy attempts to uncover some of the mysteries and unanswered questions surrounding the author whilst evoking the struggles and triumphs he encountered making a living from the land. He'll examine the Tangye's marriage, the motivation behind the couple's decision to discard glamour to live in a neglected cottage, and why after Derek Tangye's death his inspirational books fell so quickly out of print.
In recent times there has been renewed interest in Tangye's books with publishers set to re-launch his canon of work using 21st century technology. McCarthy will discover the impact and merits of the anthologies past and present and consider whether Tangye's chronicles should receive greater recognition for their contribution towards literature.