Main content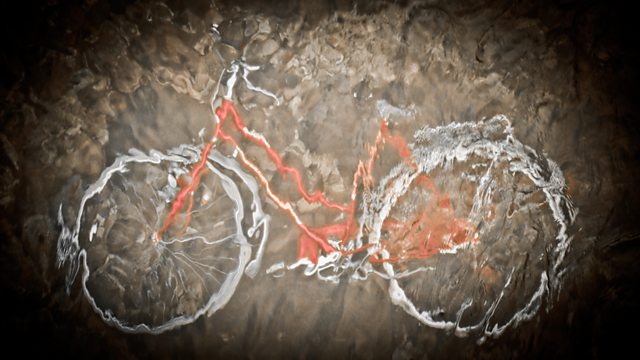 The Drowned World
JG Ballard's story of a scientific mission surveying drowned cities. This is a future where the Earth's atmosphere, and human consciousness, has eroded. Adapted by Graham White.
As part of Radio 4's Dangerous Visions season, Graham White's adaptation shows a future in which the earth's atmosphere is destroyed. As a scientific mission surveys England's drowned capitals before their final abandonment, two lovers find themselves reverting to a primitive state of consciousness.
In a future in which solar flares have wreaked havoc with the earth's atmosphere, Dr Robert Kerans is part of a scientific mission to survey the drowned cities of what was once the temperate zone before they are abandoned for good.
The de-evolution that the ecological crisis has provoked seems to have affected the expedition's crew. Kerans, alongside his enigmatic lover Beatrice, whom he is trying to persuade to leave, attempts to make sense of the disappearance of a crew member who has succumbed to the lure of the emerging new water world.
Kerans and Beatrice also start to embrace the breakdown they see around them, until an encounter with the maverick scavenger Strangman and his piratical crew forces them to face what de-evolution may really mean, as he drains the drowned city in search of the powers of civilization it may once have held. Ballard's vivid futurescape imagines the surreal results of Darwin's theories going into reverse.
Dangerous Visions - you will be disturbed as you see the present reflected in the glass
of an uneasy future.
Clips

Credits
| Role | Contributor |
| --- | --- |
| Beatrice | Hattie Morahan |
| Kerans | James D'Arcy |
| Strangman | Tim McInnerny |
| Colonel Riggs | Robert Blythe |
| Dr Alan Bryant | Paul Stonehouse |
| Lieutenant Hardman | Ben Crowe |
| Daley | Matthew Watson |
| Caesar | Don Gilet |
| Producer | Peter Kavanagh |
| Writer | JG Ballard |
| Adaptor | Graham White |