Main content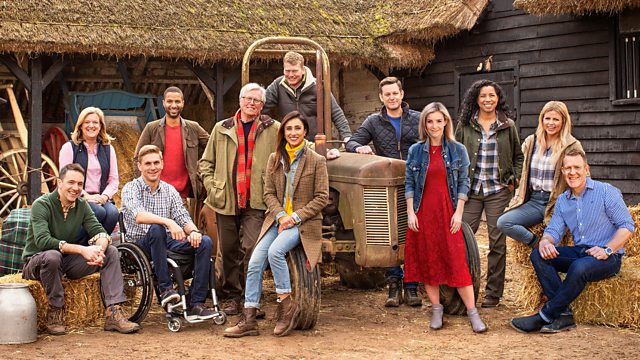 Fife
Countryfile is in the historic kingdom of Fife. Matt Baker explores Tentsmuir forest - a haven for wildlife where the artist in residence has set up a virtual trail.
Countryfile is in the historic kingdom of Fife. Matt Baker explores Tentsmuir forest - a haven for wildlife where the artist in residence has set up a virtual trail so that any visitor is guaranteed to see badgers, otters and other animals which make their home in the forest.
James Wong finds out all about the old fishing boat called a Skiff. Once used for fishing off the north Scottish islands, this sturdy rowing boat is now raced by local clubs up and down the coastline but how will James fair in a regatta?
Helen Skelton is also in Fife, at Falkland Palace which was once the playground of royalty in the 16th century. Mary Queen of Scots would once have gone hunting and hawking there and the oldest surviving real tennis court is still seeing some action - not least when Helen takes on Mary in a singles match.
Ellie Harrison is on the mut-flats off the Hampshire coast looking for native oysters and Little terns.
Tom Heap is across the Irish sea investigating one of the most controversial issues in the countryside - culling badgers. The cull in England to reduce the spread to bovine TB may be new but in ireland they've been doing it for years. Tom looks at what the Irish experience can tell us about the best way to tackle this costly problem.
Adam Henson meets a dog with a rare talent. Jess, the eight-year-old springer spaniel bottle feeds the lambs on her owners Devon farm.
Matt's wildlife web walk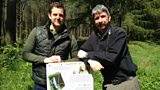 Matt Baker meets up with Derek Robertson, resident artist in Tentsmuir forest, to discover a wildlife walk with a difference. Using a tablet, he scans QR codes along the forest path. Each code reveals a webpage showing Derek's drawings and video footage of a different local animal. Derek also shows Matt some of the animals he's been observing and drawing in the forest during his residency this year, including red squirrels, eagles and otters.
Badger culling in Ireland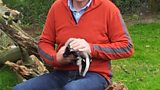 Plans to trial badger culls in England this summer have become one of the most controversial issues in the countryside. But this won't be the first time that this method has been used to reduce the spread of TB in cattle. Tom Heap travels to the Republic of Ireland, where levels of TB have fallen since the introduction of systematic badger culling. He also discovers that there have been significant improvements in biosecurity, which have helped reduce levels of cross-infection between badgers and cattle – and between herds. So what can England learn from the Irish experience?
Helen and the pleasure palace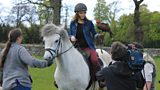 Helen Skelton experiences the life of the Stuart monarchs at Falkland Palace. Built by James IV and James V in the 16th Century, Falkland Palace became the Stuarts' country residence for 200 years and a favourite place of Mary, Queen of Scots. The monarchs came to the palace to hunt wild boar and deer, practice falconry and play tennis. Helen joins 'Mary, Queen of Scots' for a spot of real tennis on the oldest court in Britain. Then she has a go at hunting rabbits the royal way – with a hawk, on horseback.
James goes coastal rowing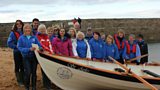 The 'skiff', a hand-made fishing boat, has become the latest craze in coastal rowing.  Originally a boat from Fair Isle used for fishing and travelling between Shetland and Orkney, it was brought back to life in 2009 when a reconstruction of an old fishing boat was created for the Scottish Fisheries Museum in Anstruther.  Since then enthusiasts all over the world have taken to them. James Wong meets some of the local teams and tries out his coastal rowing skills in a regatta.
Adam and the working dogs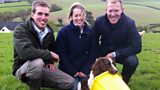 Adam's working dogs are an essential part of the team. Using the right dog for the right situation is important as different dogs have different strengths, so Adam shows us how he utilizes his. He also meets up with farming couple Louise Moorhouse and Leo Henley Lock who have recently taken on a council farm on the edge of Dartmoor in Devon. Their farm dog isn't your normal working sheepdog. Jess is a springer spaniel and helps out in some rather unusual ways. Jess can collect and carry tools, carry food buckets and even bottle-feed the lambs. 
Rhian tracks sea eagles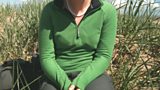 Countryfile follows RSPB Sea Eagle expert, Rhian Evans, for the day as she tracks sea eagles along the Tentsmuir coastline. White-tailed eagles last bred in East Scotland approximately 200 years ago. Since 2007, the RSPB has been releasing radio tagged sea eagles back into the region in the hope that after a few years they will eventually breed. Rhian is using her tracking device to search for the birds' roosting areas. Will she find her first sea eagle nest?
Polish Tentsmuir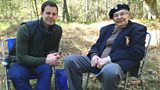 Polish forces fled to Britain during World War 2 after being forced out of Poland by the Nazis and the Soviet Union. Many were relocated to Scotland where they built coastal defences against a potential Nazi invasion of Britain. Remains of their work are still evident at Tentsmuir today, both on the beach and hidden within the forest. Matt Baker meets Lech Muszynski, whose father trained in Tentsmuir during the war and finds out what life was like for the Poles. Like many of the Polish soldiers, Lech went on to marry a local Scottish girl and become part of the Fife community.
Discover the Polish soldiers in Tentsmuir
Credits
| Role | Contributor |
| --- | --- |
| Presenter | Matt Baker |
| Presenter | Ellie Harrison |
| Presenter | Tom Heap |
| Presenter | James Wong |
| Presenter | Helen Skelton |
| Presenter | Adam Henson |
| Series Producer | Teresa Bogan |