Main content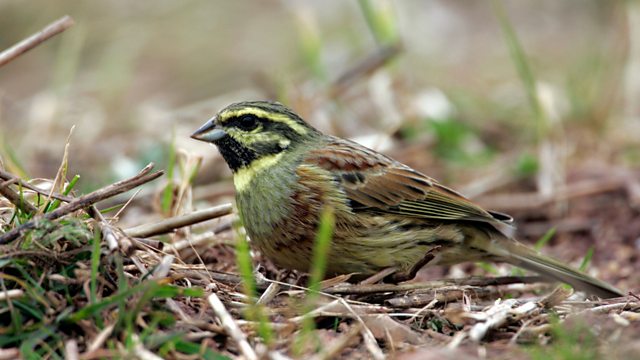 Cirl Bunting
Steve Backshall presents the story and sound of the cirl bunting.
Tweet of the Day is a series of fascinating stories about our British birds inspired by their calls and songs. Steve Backshall presents the cirl bunting.
Cirl buntings are related to yellowhammers and look rather like them, but the male cirl bunting has a black throat and a greenish chest-band.
Their rattling song may evoke memories of warm dry hillsides in France or Italy. Cirl buntings are Mediterranean birds more at home in olive groves than chilly English hedgerows. Here at the north-western edge of their range, most of our cirl buntings live near the coast in south Devon where they breed in hedgerows on farmland.
Cirl Bunting (Emberiza cirlus)
Image courtesy of RSPB (rspb-images.com)
Podcast
Discover birds through their songs and calls. 265 programmes of 90 seconds, over a year