Kanya King; Life after the tsunami; Cervical cancer tests and screening; Bank notes
Sonali Deraniyagala lost her husband, children and parents in the 2004 Boxing Day Tsunami. She tells Jane about her life since that day and how she came to write her memoir, Wave. Kanya King talks to Sarah Jane Crawford about being the founder of the MOBO Awards. The number of women aged 60-64 who have a smear test is at a 15 year low. We discuss the reasons for this drop in numbers and what the implications are. And we hear about a cheap and simple test for cervical cancer that has cut the death rate from the disease in India by 31 per cent. Presented by Jane Garvey.
Last on
Sonali Deraniyagala:WAVE – a memoir of life after the Tsunami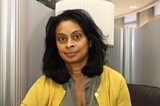 Sonali Deraniyagala left London with her husband and two sons in 2004 for a Christmas holiday in Sri Lanka. On 26 December 2004 the most destructive Tsunami in living history struck the Indian Ocean. While she survived the devastating wave that spinned and hurled her inland for 20 minutes, her parents, her husband and children, Vik and Malli, were all killed. Eight years on, she has written her haunting and moving story. She joins Jane to share her story and discuss how the book helped her memory to slowly function again and allow her to recall her rich life before the tsunami.  
'Wave; a memoir of life after the tsunami' by Sonali Deraniyagala, published by Virago.
Power List Interview: Kanya King
The
MOBOs
, or Music Of Black Origin awards, are a huge event on the UK music calendar, playing host to artists like Beyonce, Emeli Sande, Jessie J, and Rhianna, and with a global TV audience of over 250 million. However before their launch in 1996 they were an idea borne in founder Kanya King's bedroom. As a young single mother who had dropped out of university, she used her vision and determination to create awards to celebrate the music she loved, and to make a huge impact as a mixed-race woman in the male-dominated music world.  Just three years later, in 1999, she was awarded an MBE, and earlier this year she was named as one of the 100 most powerful women on the Woman's Hour Power List. "Success in life is not always about having the right education or the most money," she has said, "sometimes it's about having the right mindset." So what is that mindset? The MOBOs were founded 18 years ago, and so to mark their coming of age, Radio 1Xtra presenter Sarah Jane Crawford met Kanya King to find out just how she made it - how she took the MOBOs from bedroom to boardroom, and how she gained power, and also helped others, all along the way.
Women on bank notes - update
In May we reported the Bank of England's decision to replace Elizabeth Fry with Winston Churchill on the £5 note. This will mean that, apart from the Queen, no English banknote will feature a woman. Caroline Criado Perez – co-founder of The Women's Room – launched an online petition to keep women on English banknotes and she is now mounting a legal challenge to the Bank's decision.
Falling numbers of women having cervical cancer smear test
The uptake of smear tests in women aged 60 to 64 is at a 15 year low, a charity has warned. Jo's Cervical Cancer Trust has raised concerns about the "worrying" decline in figures in England. It has also said that it's troubled about the number of younger women who do not attend cervical screenings. So why are we seeing a drop in numbers? And what can be done to prevent it? Rebecca Shoosmith from the charity joins Jane to discuss.
Cervical Cancer Vinegar Test
A cheap and simple test for cervical cancer has cut the death rate from the disease in India by 31%. The test involves swabbing the cervix with diluted vinegar, which can make abnormal cells briefly change color, and it's believed it could save tens of thousands of lives each year in developing countries by spotting early signs of cancer.  Pap smears and tests for HPV, a virus that causes most cervical cancers, have dramatically reduced cases and deaths in the developed world. But poor countries can't afford those screening tools.Dr Surendra Shastri, from the Tata Memorial Hospital in Mumbai, has been leading the 12 year study into the test. 
Credits
| Role | Contributor |
| --- | --- |
| Presenter | Jane Garvey |
| Interviewed Guest | Kanya King |
| Interviewed Guest | Sonali Deraniyagala |
| Producer | Emma Wallace |
| Producer | Shoku Amirani |
Featured in...
Interviews from Woman's Hour, including some of the best names in the business.